M Alfonso: The Cuban "Madonna"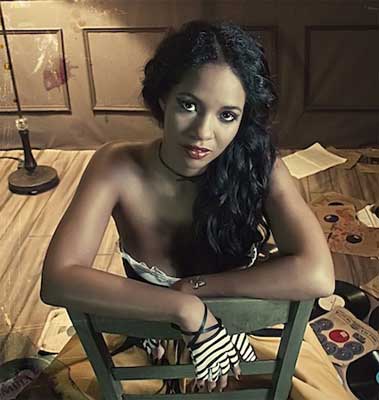 Helson Hernandez
HAVANA TIMES, April 20 — Today we're talking with M Alfonso, a young performer from the island who has a promising career. Explaining her beginnings in music, M said, "When I was 7, I got an offer to sing with Silvio Rodriguez."
HT: What's your full name?

M Alfonso: Madonna Alfonso; that's "Madonna" – like the US singer.
HT: Tell us about your first album.

M: My first album was Señales, on the EGREM label. Its songs were fairly wide ranging, yet it won an award at the 2009 Cubadisco competition for the best fusion album. This award was a big surprise for me since it was my first album and I was going up against some of the best known musicians on the island.
HT: And what about Eme, your most recent CD.

M: Yes, this is my second album, on the Colibri label. We're still working on it, slowly, but I think that by the middle of this year it may be out on the market.
I'm very detail oriented. We're finishing what is going to be the design of this CD. It will have photographs by Joseph Ross, who directed my video that was released this past September. This one will have surrealistic images that have a lot to do with the idea that we want for this production.
HT: Did you have any special purpose with this latest album?

M: Well, yes, the idea of ?? Señales was make a tribute to the music of the 50's, those who hear its contents will realize that there are points of contact with cha-cha, son and boleros – only viewed from a perspective that's much younger, because I just turned 26. Señales is my own projection of Cuban music, with my own new influences.
HT: Are there also international influences in the sound of Señales?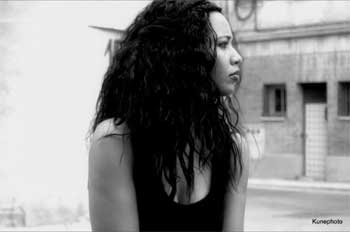 M: Certainly. I don't borrow only from the national styles I just mentioned. I also avail myself of the depth of musical genres such as soul and jazz – styles that I fuse with Cuban music.
HT: Did you go through any transition between the first CD and this latest one?

M: I made the first album three years ago, and for someone as young as I am, I think that's a pretty long time. Over that period I've been able to acquire some good experience to get to this point, especially in live performances, and particularly when you take into consideration that I'm fairly shy. Still, I've gradually developed a stage personality that has helped me when performing and recording songs on CDs.
On this second disc it worked out that I got a lot of advice and coaching from several admired musicians, ones like Pedro Luis Ferrer and Carlos Varela, as well as filmmaker Pavel Giraud, who came up with the lyrics. When it came time to do the arrangements, at hand was the young jazz musician Camilio Ernesto Vega, in addition to Gaston Joya and drummer Michael Olivera, who's also a crazy engineer that's been working with me from the beginning.
Really, working as a group was crucial for this record, as was taking the advice of my parents, Carlos Alfonso and Ele Valdes, who have sung with the group Sintesis for years. There was also my brother, X Alfonso, who you can never miss. I have grown a lot during this transition and was able to give everything I've learned over the years.
HT: In the case of Pedro Luis Ferrer, did he compose something especially for the album?
M: I personally went to his house after his name was mentioned in a conference concerning his notion of the double Hispanic character of those of us Cubans who are "doubly black." Pedro wound up explaining this interesting theory to me that has to do with how the black Moors went to Spain and how the Spanish also brought black Africans to Cuba. In other words, we're doubly African, and that's true, because our island is a beautiful mixture of skin colors, origins and cultures…
I was really fascinated by this, so I asked him to write me something that addressed all of it. This is how he created the song "Mestizaje" for the CD.
HT: What is also different about your album Señales is that the well-known filmmaker Pavel Giraud wrote a song for it.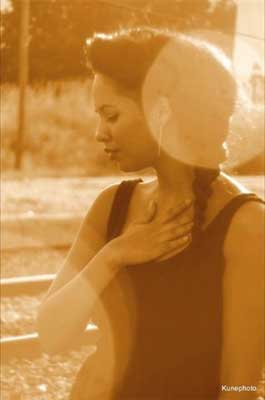 M: The first idea was the song, and coincidentally it has to do with his world of the cinema, where he talks about a girl who is dissatisfied with her life and how she longs for Hollywood. We had an idea of making a video, and since I wanted to give it a certain theme, he also offered to write the lyrics. I can attest to the fact that he has the same talent for doing that work as he does for creating films, since I ended up pleased with the result.
HT: As you come from a family of renowned artists, you must have valuable memories from childhood that have influenced your artistic orientation.

M: I was lucky to have been born into a family like mine; no one could have chosen it. Since I was very little I was very involved in all the work of the group Synthesis, and when I was seven years old I got an offer to sing with Silvio Rodriguez, on his song "Escaramujo" for a UNICEF project.
I even remember a note that Silvio wrote to me thanking me for having been on that record. He complimented the sweetness of my voice at that time. Certainly that's a memory that I'll always guard.
Around that same age I was also given the opportunity to sing in the film called "Amor Brujo" with the music by Vitier together with the Exaudi Choir. That was my second major experience in a musical.
After that, I started getting involved with my parents in their concerts and in rehearsals with greats like Santiago Feliu and Amaury Perez. I know all of them and I have a close family-like relationship with them. In fact they still look at me as that same little girl.