By Erasmo Calzadilla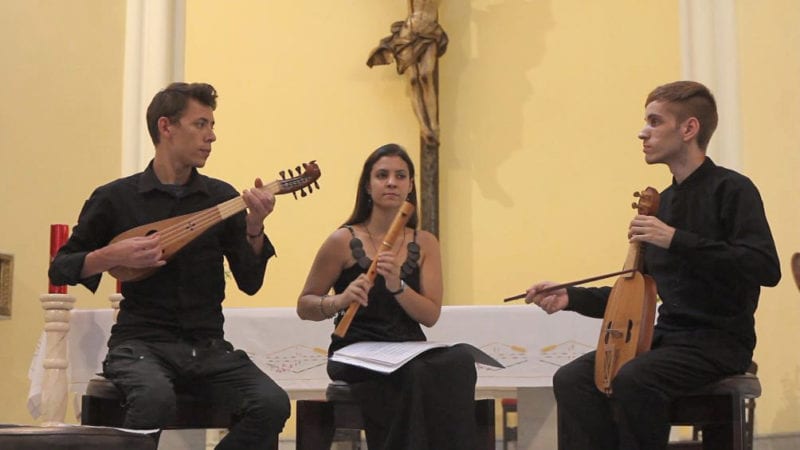 HAVANA TIMES —I've been alerting readers to the imminence of a major, worldwide crisis for years now. Those of us concerned with this issue have a special interest in the Middle Ages, as we believe that a global crisis could bring about another Dark Age.
After thinking about this for long, I came across a group of young Cubans who perform medieval music. Ensemble Medieval Lauda granted me the interview I share with you below.
HT: When did the project start?
EML: We started in August 2010 with the aim of playing Renaissance music as a chorus and with modern instruments. In 2014, the band resurfaced as Ensemble Lauda. We'd taken a turn towards medieval music, which is entirely different from Renaissance music in many ways.
HT: What led you to make this change?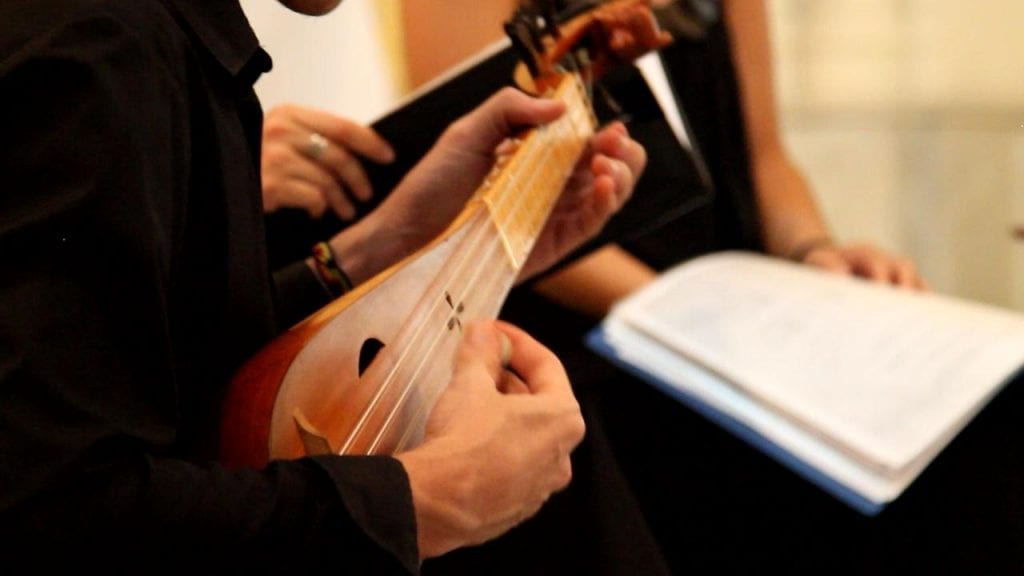 EML: We wanted to do something different. In the words of a friend of ours, "today we live at a pace that far exceeds the natural rhythms of the human being." We are after that essence. By getting closer to it, we receive and convey that spirituality and sense of peace. We think that recovering the great beauty and poetry of medieval music is of vital importance.
There was also the temptation to explore what is practically virgin territory in Cuba, and we set out on this adventure under the guidance of the band Ars Longa, directed by Teresa Paz. Ars Longa is an excellent orchestra that has performed ancient music for more than 20 years. They started playing medieval music, but then focused on Renaissance and baroque pieces.
HT: Though the expression "we're living in the Middle Ages" is used a lot in Cuba and part of our ancestors came over from Europe, our music culture and legacy appear quite distant from the medieval spirit. How did you come into contact with such a distant universe?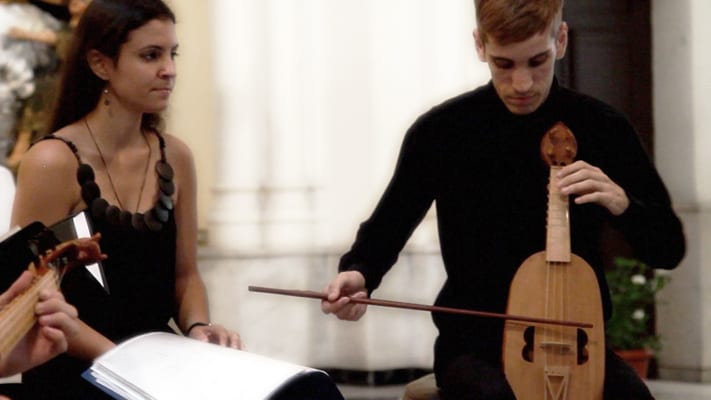 EML: Recreating medieval music demands serious research. It isn't as simple as placing a sheet of music in front of you and playing it.
The instruments we use are reproductions of those seen in portico sculptures, capitals and iconographies. They are not available in Cuba and are not easy to get. They were given to us as gifts by expert instrument makers. One of them is John Pringle, who generously supports us with his work and rigorous instrument research. Thanks to his donations, today we have a significant collection of plucked and rubbed string instruments from the 12th and 13th centuries (including a medieval guitar, bandurria, citole, rebec, rote and psaltery)
Not only are the instruments hard to acquire, the music itself is an enormous challenge because we have little information about it. It's not like baroque music, where the music is written down. So, to perform this music, first we have to do research.
HT: How do you conduct this research?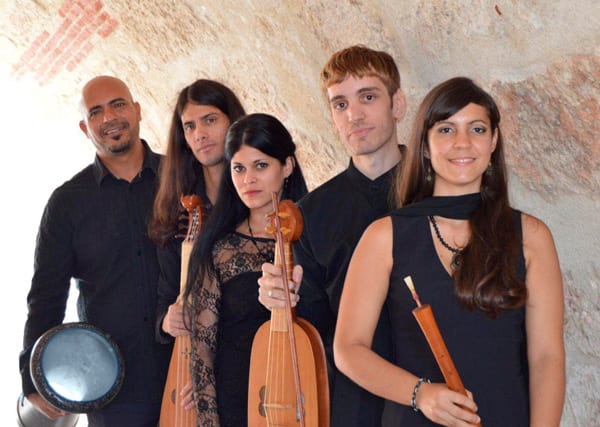 EML: We look at studies conducted by Spanish musicologists. We also work with copies of original sources that we access via the Internet or through information exchanges.
We have the references, support and friendship of medieval music performers in Spain and Italy. Two of the most important ones are Luis Delgado, director of the Quarteto Medieval de Urueña ("Urueña Medieval Quartet"), and Eduardo Paniagua, a renowned Spanish musician and a pioneer in the modern medieval music performances. Other important musicians are Jose Luis Pastor, who plays plucked string instruments and is the director of Ensemble Axabeba and Mauricio Molina, an instrumentalist, musicologist and director of Magister Petrus. There are many others.
After the research stage comes the reconstruction process where we experiment and decide how to perform the piece. We try to be as true to medieval music as possible, but any modern interpretation will always be hypothetical.
HT: How have Cuban audiences, who are not at all used to these rhythms and melodies, received your work?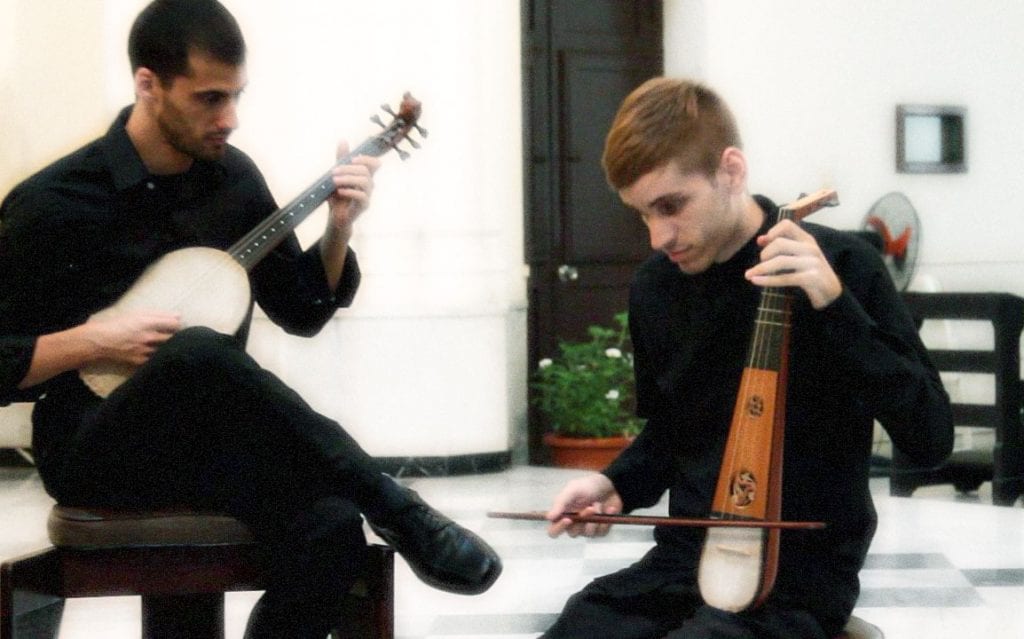 EML: The public is immensely interested in our music work and the instruments we play because they're both rare and awaken much curiosity. They're always asking us: "Where do they come from? What are they called?"
HT: Talk to us about the members of the orchestra a bit. How many are there?
EML: The orchestra is made up of four musicians and a singer. Depending on the program, we also invite and work with other musicians.
HT: Are you all trained musicians?

EML: Not all of us graduated from conservatories. Some graduated from the National School for the Arts (ENA) and Higher Institute for the Arts (ISA). Others are self-taught or took private lessons.
HT: How does the recruitment process work?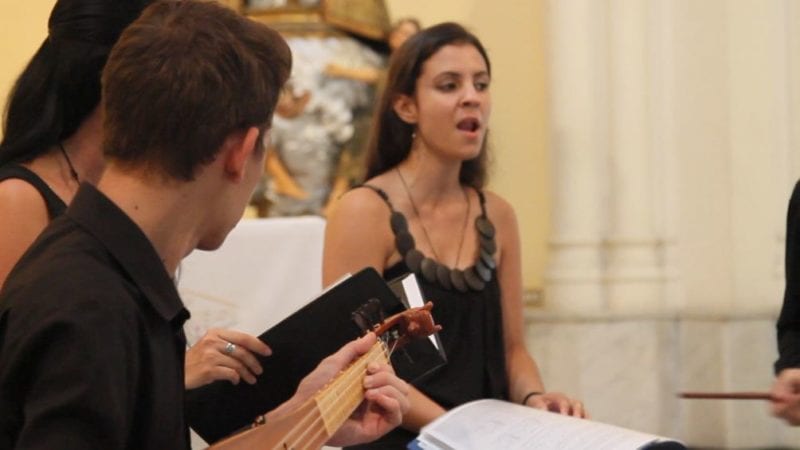 EML: Finding people interested in doing historical reconstructions is hard, particularly because we can't offer anyone a salary. This is highly spiritual music, it inspires sublime sensations. If you don't feel it inside you, you can't convey anything to the audience, even if your performance is technically sound.
HT: Can you tell us a bit more about the pieces you play?
EML: We play music from the Iberian Peninsula, France and Italy and, to a lesser extent, from England and Scotland. Even though it's not strictly medieval, we also play music from Sephardic and Andalusian oral traditions.
We play religious medieval pieces, both liturgical and secular. In fact, the name Lauda comes from a "secular" music genre that emerged in Italy at the end of the 13th century. We play a huge number of songs from Santa Maria and the Calixtinus Codex from Santiago de Compostela.
We also play non-religious medieval music. We are currently playing the works of Galician folk musicians who are little known, and we sing these in their original language.
HT: Tell us about your future plans and the difficulties you face in this connection.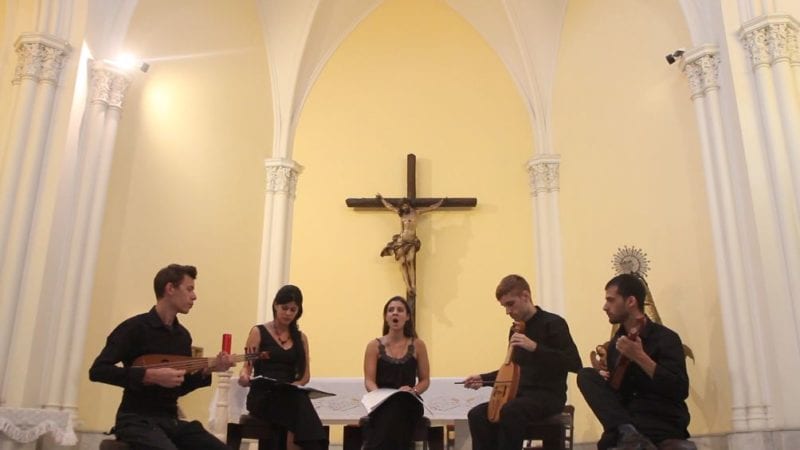 EML: From the bureaucratic point of view, our immediate goal is to join a concert music company. We have the support of Ars Longa, which has a lot of experience already. We have to be audited by a special jury and that's a huge problem, because there aren't many people in our country who are versed in medieval music.
Belonging to a company is the step required to enter the professional world, secure recognition and a subsidy that will allow us to devote ourselves to this full-time.
The lack of financial resources is our main obstacle. Without money, it's very hard to get your hands on sheet music, visual aids, books and Internet materials. We're also unable to pay the musicians, to give them an incentive. There's also the issue of what locale to use for rehearsals. We don't have a comfortable place, where the instruments can be stored somewhere without high temperatures and humidity.
From a strictly musical point of view, our aim is to continue working, offering concerts, enriching our collection of instruments and, in the future, record an album. We would also like to attend festivals and workshops offered in Cuba and abroad that have to do with medieval music.

HT: To conclude, when and where can we enjoy the music of Cuba's first medieval orchestra, the precursors of the new era?
EML: On October 1, we will perform at the Jose Marti Theater at 7:45 pm. On the 2nd, we'll be playing at the Vedado Parish at 4:15 pm. Both performances are part of the Voix Humaines festival organized by Isabel Hernandez, director and producer of festivals at the Leo Brouwer Office.
On November 20, we will perform at the San Francisco de Paula church at 7 pm. We will stage a concert devoted to Mudejar music. The space was offered us by Teresa Paz, from Ars Longa.