Mexican Restaurant Takes Off in Havana
Por Pilar Montes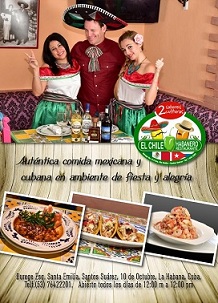 HAVANA TIMES — Andrés Buenfil, a businessman from the Mexican Yucatan who has visited Cuba regularly since 1988, has always been taken aback by the fact that our country lacks a good Mexican restaurant.
"We Mexicans are very attached to our cuisine and, wherever we travel to in the world, we always try and seek out places that serve our favorite dishes," Buenfil told Havana Times.
Therefore, he proposed to open up this kind of establishment here in Havana, not in the typical touristy neighborhoods of Old Havana, Vedado or Playa, but in Santos Suárez, a neighborhood on the outskirts of the city in the 10 de octubre municipality.
Many friends and acquaintances advised him against the venture, but Andrés had already made up his mind. Recently opened, Buenfil invited locals to the opening of El Chile Habanero and the restaurant's dishes and novelty have kept its tables constantly busy.
Located on Calle Durege, on the corner of Santa Emilia, a bright-colored two-story house, with colorful walls and furniture and numerous Mexican motifs, attract passers-by.
The restaurant opens up into a spacious hall with lots of tables and a smaller one on the right which receives diners with a mural painting, depicting a steam train carrying women such as those who joined Emiliano Zapata's or Pancho Villa's revolutionary troops.
On the walls, there are photos from films starring María Félix, Jorge Negrete and other famous actors, as well as stained glass windows with some more national motifs.
A red wooden staircase takes diners up to the second floor where there are other booths reserved for families and groups of friends.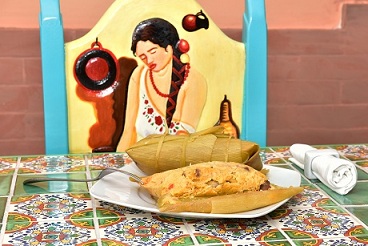 On Fridays, Saturdays and Sundays, a Mariachi band comes to entertain in the evenings and, if customers want to take pictures of themselves with the Mexican decorations the musicians loan them their typical sombreros.
Buenfil explained to Havana Times that his main businesses and sources of income are still in Mexico, which are linked to services targeted towards the tourism industry, such as car rentals.
So, you consider your restaurant to be a pioneer of Mexican food here in Cuba? asked HT. "El Chile Habanero, as well as being profitable, was set up mainly with the aim of promoting Mexican food among the Cuban people, which has already won over fans in many other countries," he replied.
Upon mention of the United States and one of the American fast food chains that supposedly offer Mexican cuisine such as Taco Bell, Buenfil did not hesitate in describing it as an "insult to my country's cooking."
The history and brotherhood that unite the Mexican and Cuban people "is also manifested in the kitchen, as the Cuban tamales wrapped in corn or banana leaves are also found in Mexico, the only difference being that some different spices are used back home," he said.
El Chile Habanero Delicacies
In order to introduce these new tastes of Mexican cuisine to novices, many of which are spicy, the restaurant offers, without charge, a starter of plantain chicharritas which are cut along their length so they can be used as spoons to try four different salsas, including avocado, tamarind and chili salsa.
Familiar with Cuban's passion for pizza, the menu features a wide variety of this popular Italian dish, including the 'House Special' which is made with different meats and chile.
Representing the north of Mexico are the fajitas, served in a frying pan while the oil is still bubbling away, the 'cochinita Pibil' and prawn ceviches from the Yucatán and Mexican Caribbean coasts.
Amongst the most sought after Cuban dishes are the 'ropa vieja' and pork dough balls with congrí.
The restaurant has an innovative cocktail bar serving up mango and pineapple daiquirís, tamarind and other fruit margaritas (made with tequila), well-selected wines as well as national and international beers.
However, the best and most attractive offers are those that have been adapted to the community's needs, as 'El Chile Habanero' has special options on the menu at a lower cost for the elderly, a gesture which is greatly appreciated by senior diners from the neighborhood.