Olesia Munoz: Released from Prison in Nicaragua but Nowhere to Call Home
Recently released prisoner rejects the Ortega amnesty plan.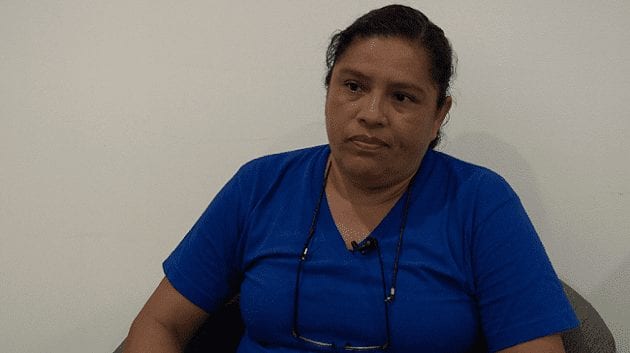 "The struggle continues and I don't necessarily have to be based in my town. I have to protect my life," she asserts.
By Juan Carlos Bow (Confidencial)

HAVANA TIMES – A group of Olesia Munoz Pavon's' neighbors waited in vain to receive her at her home in Niquinohomo, Masaya. The political prisoner was released last Tuesday, but couldn't go home because mobs of Ortega sympathizers were lying in wait to attack and insult her.
Munoz, formerly a well-known soprano singer in the Santa Ana church choir in her native town of Niquinohomo, was illegally detained in July of 2018 and sentenced to 30 years in prison for the fabricated crimes of terrorism, organized crime, obstruction of public services, threats, aggravated theft and illegal arms possession and use.
She was in prison together with her sister, Tania Munoz, accused of the same crimes. They shared a cell with market leader Irlanda Jerez, with whom Olesia formed a close friendship, as well as with Kenia Gutierrez, Jeysi Lagos, Solange Centeno and Brenda Munoz.
When she found out that she would be accosted by the Sandinista fanatics, the soprano opted to remain in Managua with Jerez. "So, if they thought they were going to do something against me, they were left in the lurch," she noted.
"The struggle continues, and I don't necessarily have to be based in my town. I have to take care of my life. God saved my life from the hands of this regime three or four times and I can't take any more chances. That doesn't mean that I'm going to be silent, because from wherever I am I'm going to raise my voice against this government until it's overturned," declared Munoz in an interview with Confidencial.
"Yes, Niquinohomo is waiting for me, but perhaps right now isn't the time," she added.
Homeless
"They sent me a video where the front of my house appears. The home has been taken apart and dismantled. They stole everything, they didn't leave me anything. All I have is my prison clothes and nothing else," she denounced.
"That doesn't worry me, though, because God has given me everything. The demon took it away, but God will give it back to me," she added.
In the context of the bloody "Operation Clean-up", which left dozens of dead and wounded across a number of cities, Ortega's paramilitary entered Niquinohomo and destroyed the home of the Munoz sisters. Olesia hid in a storage area, but days later she was captured in a Carazo safe house.
They destroyed all the soprano's musical instruments which she had bought with great personal effort: a piano, a guitar, a violin, a flute and the speakers she used for the Sunday masses.
Rejects the amnesty
Munoz was freed under the provisions of Ortega's blanket self-amnesty law that was urgently approved last Saturday, June 8, by the regime's rubber-stamp legislature. The singer rejects this amnesty: "We were kidnapped by the regime for political reasons, and we haven't committed any crimes."
"That amnesty benefits only them, so that they don't pay for their crimes, as well as all the ugly things that they did to us in jail," she stated.
Article #3 of the amnesty law establishes that the beneficiaries will be jailed anew if they again protest against the regime. With respect to this, Munoz commented: "That's them just grasping at straws. Our voices are going to keep being heard, and if they put us in prison again, let them do it, because I don't intend to keep silent. And if they're going to take my life, for me death is a victory."
She explained that a new government could suspend everything that the regime has done. "This government is unconstitutional. All the decrees or laws they've approved in favor of the worst elements might have value at this moment, but nothing lasts forever."
Months in prison
Munoz admitted that her months in prison were "devastating" since they beat her "a lot". On one occasion, they even tore off her toenails.
"From the moment they captured me, they beat me constantly. In Masaya, I received the most terrible beating of all, and that's where I lost my fear. When I got to El Chipote I was ready to face whatever they did to me," she underlined.
"Inside the prison, I came down with illnesses that I hadn't ever had. But even with all that, I've survived," she noted.
The singer emphasized that all the "politically abducted came out with more strength. It's not euphoria, it's a force that God alone has given us. Daniel Ortega and Rosario Murillo have to realize that they're demons and we're children of God."