The Cuban Rap Agency Controversy (Alcaild's Version)
Yusimi Rodriguez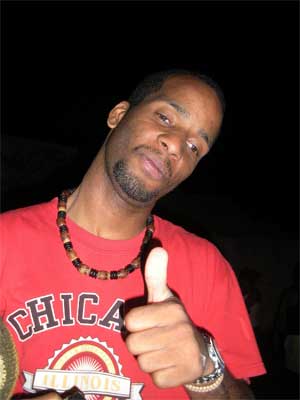 HAVANA TIMES, March 25 — So far, my interviewees have been rappers who signed the letter requesting the demotion of Magic Lopez as director of the Cuban Rap Agency. I also tried to interview people with different points of view, including those who disagreed with the action taken by the Cuban Institute of Music.
On Saturday, February 25, at the Alamar Amphitheater during the Festival of Hip Hop, I was able to speak with Alcaild Lopez, who is an artist and cultural promoter with the Cuban Rap Agency and an activist in the Cuban hip hop movement.
Alcaild: The most important thing in my career is my vocation as an activist, so I'll give my opinion based on that.
A lot of things have happened, and I think that many of the goals have been achieved by those who started actions around that demand: the demotion of the agency's director. The most important thing now is to rebuild, to see how we can move the Cuban Agency of Rap forward.
I want my position to be clear: The problem isn't who's in charge of the agency, but how things are done. As a cultural movement, we have many problems – there's disunity, many people are fighting around different interests and we can't agree on what to do. That's an important point that we have to keep in mind today.
HT: Some people decided to leave the Cuban Rap Agency due to those problems. Why did you stay?

Alcaild: It's because I have a commitment to the Cuban hip hop movement. Personally, I think my work in the Cuban Agency of Rap isn't over. The day I don't contribute anything will be the day I drop out. The agency is something that I liked from the start; it wasn't like other workplaces in Cuba, which have everything structured.
The agency was in the process of construction, every day, with what was being done by its members contributed to its development. It's great to be able to build every day. I've been a cultural promoter for a year. I started as a stagehand, and since then I was independently promoted to new things by the agency. Right now I have a project that aims to show the truth about the Cuban rap movement
I think the rap festival that's being put on here is important. For it we have to focus ourselves and come up with ways to improve our conditions. There are rappers who have no money to record in Cuban music studios, which costs between $5 and $10 USD. We should try to address that. These are things we need to think about instead of all the nonsense. What happened, happened – it's over. The question now is what we do next.
HT: But did you consider the claims of the rappers just?

Alcaild: I'm not going to give my point of view. That's already been discussed. I'll just say it's time to build, time to struggle and to stop the nonsense. There is something that Cuban rappers haven't understood: the achievement of one is the achievement of all, and the failure of one is the failure of us all.
What hurts me most is that regardless of the outcome of the dispute, this affects us as a cultural movement, because ultimately we're the ones who are weakened – no matter which artists were right or wrong. What people see is that rappers are unable to take care of business or stand up for our things.
The agency is important because it's the face of Cuban hip hop to the world. Many foreign students go there to ask about what's happening with Cuban rap and we tell them. The problem now is to ensure that the agency is what we dream about as a cultural movement. When it was created, there wasn't any thinking about graffitists, dancers or DJs. These latter now accompany the groups, which is an achievement. These are the things we have to fight for.
The rest is in the past. Maybe it shouldn't have happened, I don't know – I don't talk about that. What I tell the movement is that we need to focus on building. We're going to do an independent TV program that we're going to distribute on CDs in the street, like the reggaeton musicians do. We're going to support people like Rodolfo Renzoli and Valesi, who created the rap festivals in the '90s and later the festival of the "Moña" (the Cuban word for "rap music"), and again the festival that's here today. As a rapper I can't be oblivious to this. I have to support everything that is done in hip hop in Cuba. It's one thing what you say, and another thing what you do.
There are many problems in Cuba and we don't have all the answers. We speak for those who discuss things quietly among themselves, in the neighborhoods. There has to be a level of consciousness. Not everything can be criticism. There must be a spiritual contribution, a moral contribution. Being a rapper isn't easy. The hardest thing is being consistent with what you say in your songs.
HT: You're talking about something for which many rappers criticized Magic Lopez: Not being consistent in what she did.

Alcaild: That's something that frankly I'm not going to get into. What matters today is the future of Cuban hip hop. There's a new generation that's contributing to it. We need new spaces, more options. We have to unite to create alternatives. How do we make the magazine Movimiento and Sello Acere Producciones more inclusive, involving independent artists from the street? We need to talk about those kinds of things.
Rappers have a big problem: They think they have the absolute truth. They don't go to theoretical functions. Being a rapper isn't just climbing up in front of a microphone or writing two songs. We have to have a moral and an ideological basis. I know lots of rappers who will read books to write a single song. There must be a basis. We're influencing the future of a lot of kids. When you sing a song, such as one about racial identity, you have to be responsible. You can't put out a song just because everyone is going to like it and applaud. I'm not going to embrace any rapper who does that.
HT: How do you know when a rapper does that?

Alcaild: It's obvious. I won't name names. My goal is to build. The Cuban rap movement is going through a natural sorting-out process. Those who are all about entertainment and show-business are going to burn out, because they invest a lot but bring in only a little. This is a music made from the soul, from feelings.
HT: Thanks, Alcaild.