The Flamenco Voice of Cuba, Andres Correa
Helson Hernandez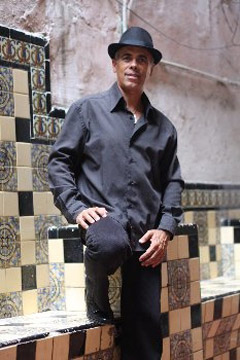 HAVANA TIMES — For some time now, flamenco has been a part of the Cuban music and dance stages. Today we interview Andres Correa, known as "the flamenco voice of Cuba."  He told us, "Unfortunately, many of our flamenco artists have chosen to immigrate in search of opportunity."
HT: Has flamenco always been a part of your career as a singer?
AC: I started in flamenco a long time ago, but over the years I realized that one should never let themself get categorized, since that causes you to fall behind and limit yourself from any possibility of development. Today I've realized that in addition to singing soleas or bulerias, I can do boleros, ballads, etc. I'm open to exploration and in fact I have a project through which I'm channeling all of that.
HT: How did you discover the "cante jondo" vocal style of flamenco?
AC: Let's say that I always had some sort of genetic predisposition or something. I learned about the cante jondo from my cousin, Elder Hernandez, who's now deceased. When I was very young he would take me to private parties of friends of his who — like him — were cultivators of that art form. Little by little I developed in that environment and one day I came across "Castillos de Arena" (Sand Castles), a cassette from Camaron de la Isla. My first impression wasn't the best, because prior to that I had been used to listening to other more conservative styles of singing. But the truth is, in the end I fell in love with that new form of singing and today El Cameron is my benchmark.
HT: Mention some of the companies of which you've been a member.
AC: I started my career with the Ballet Español de Cuba, but before that I worked with the Ballet List Alfonso in a show that was headlined "Entre palmas y cantares" (Between clapping and singing). I was in the Spanish Ballet for eight years and I can say that within this company I trained professionally. Later, out of artistic interests, I joined a group of musicians and dancers to form the Compañía Flamenca ECOS, to which I belong now. Throughout my career I've worked with many groups, with first-class Cuban performers and I've even recorded music for film and for a Japanese TV series.
HT: What in particular contributed to your status as an interpreter of the genre, singing flamenco for dance groups or singing as a part of dance performances?
AC: It was all very important and decisive. Singing for dancing is the basis and the beginning of everything. Dance gives you the understanding of the rhythm; you learn to sing in time, you learn the concepts and the different styles or structures that exist within flamenco. The "cante atras," as it's also called, gives you strength, because during a dance performance you can't get behind. You have to put a lot of energy into your voice, if not the dance flops. Moreover, with each group I've always learned something that helped me to continue reaffirming myself in this genre.
HT: But you are the sole flamenco singer who has succeeded in breaking off from a company to pursue a solo career.
AC: Over time you realize that in addition to dance you need more to complement you. Within my artistic interests is the "cante alante" or singing as a soloist. Currently I'm working on a personal project that is allowing me to do that. I don't always sing flamenco; I also sing other things, but always with my style, always with the premise that I'm a Cuban flamenco singer – and fortunately I'm also influenced by our music.
HT: Do you consider it a risk, particularly in Cuba, to try to develop as an independent singer in the flamenco style?
AC: No doubt – but life is full of risks, failures and triumphs. I like to run those risks and to experiment, explore new things, this makes it so that you stay alive and develop. Thank God there's an audience that also hears the singing, people who go to my concerts and enjoy them as much as I do. Unfortunately times are tough. In Cuba, good and experienced flamenco guitarists are dwindling, and that conspires against one's work. To put on a singing concert, you need a very good instrumentalist to back you up. Today there are very few guitarists who can accompany the singing, so I'm experimenting with other instruments, like the piano for example.
HT: Do you think the tendency is for recording companies on the island to have little interest in singers of this type of music?
AC: Absolutely. The case of the Cuban recording companies is a concern, one which I could talk about a great deal. A few months ago, I launched my first CD: Pedazos del Alma. I've visited quite a few companies, but so far no one has taken an interest in my work. It's frustrating when you hear such horrible things that are recorded and broadcast on the radio and/or national TV, while at the same time they reject your work based on the commercial misconception that you can either "sell it or not." This is why, unfortunately, many of our flamenco artists who are very good have preferred to immigrate in search of opportunity.
HT: What is Pedazos del Alma (Pieces of the Soul)?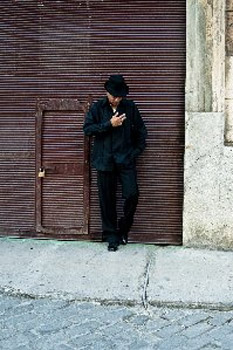 AC: It's my first album, which I recorded during a concert held last year in the auditorium of the Fine Arts Museum. It's the pleasing outcome of the project I referred to previously. It's a mixture of brilliant pieces. In it converge songs by Cuban authors like Maria Teresa Vera, Pablo Milanes, Piloto and Vera, with songs from other Latin American authors and ones I wrote. It's a CD I put together myself, along with the help of great friends. It shows that there are still people who love good art and are defenders of it, people who support you when those who officially are supposed to don't. It's a modest tribute to my friends, to people who have followed my career and who are betting on my success, because ultimately they're the ones I work for.
HT: Being Correa, one of the most experienced flamenco singers in Cuba, what concerns would you like to share with our readers about the development of this art form on the island.
AC: Despite many difficulties and misunderstandings, flamenco is very much alive and well in Cuba. There's a large audience eager to cram the theaters all across our country. There are many groups, and — though not all have the proper artistic level — one can note their seriousness, interest and taste for flamenco. This is a direct message to the officials to realize that flamenco in Cuba does have market. Not everything should be reggaeton, timba and salsa; there must be a place for flamenco.
HT: What about your professional projections for the immediate future?
AC: I have many concerns that I hope to materialize bit by bit, but I would hate to jump the gun and reveal too much. What's certain is that I'll continue working hard; I'll accept the challenge of overcoming all obstacles and I'll move forward here in my country.