The Journey of Maykel Reyes, Cuba's First Professional Soccer Player
By Ronal Quinones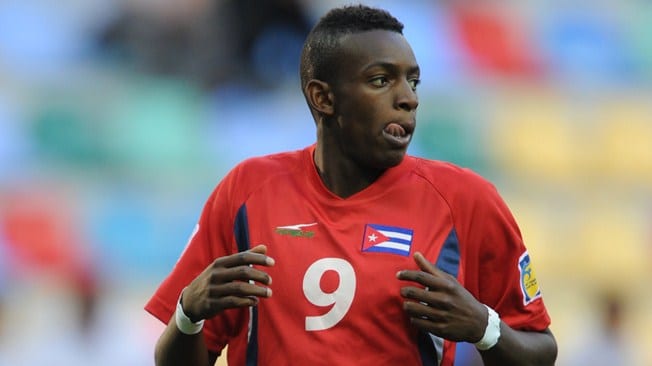 HAVANA TIMES — Destiny has laid the way for Maykel Reyes to become a ground-breaking Cuban soccer player: the first to sign a contract with a team abroad, the first to score a goal in a World Championship, and who knows if there is still more to come.
At the end of 2015, he traveled to Mexico with Abel Martinez accepting an invitation from the Mexican soccer club Cruz Azul, and before that, he'd played the pre-season games for another Mexican team, Santos Laguna, after a friendly match was played in Havana last summer.
He started late at his Cruz Azul Premier because of bureaucratic problems, however, he won the team manager's confidence when he scored both times he went out onto the field. This first season he ended up scoring four goals in a dozen matches.
Havana Times spoke with Reyes, his mother, Olga Azcuy, and his first football trainer, Pedro Luis Rodriguez, who told us about the native of Vinales, Pinar del Rio's career.
"He had a gift for athletics, he'd even taken part in national athletics events and he won two bronze medals at a tournament in Matanzas, but in Vinales, soccer was his passion, and after he finished his athletics training, he'd join the rest of the children playing the game for fun. One day, I began to watch him and I realized that he had very swift and fluid movements, with a good change of pace and direction, and that caught my eye. Compared to the other boys I normally trained, the skill Maykel had was much higher," his first football trainer points out.
"He went with me to a provincial championship for the first time and Vinales finished third, with Maykel as our top scorer, having trained a lot less than the rest of the boys. He was also our top scorer at the National School Games, where Pinar del Rio finished in third place with a bronze trophy, and they called him to play for the EIDE School, when he was 15 years old."
He wasn't called for the national under-17s team in 2009, but that didn't stop him from pursuing his dream of being a star in the most universal of sports.
"He's always been very disciplined with his training. He doesn't like to miss it even if he doesn't feel well. He was always like that since he was a child because he was always playing with a ball, playing even inside the house. He'd come home from school and he'd go to the stadium to play until night time. All of this sacrifice has paid off. Ever since he was a little boy, he was obsessed with soccer. He was a very restless little boy, but when it came to soccer he was very serious about training, he was the first one to get to the field with the trainer, and at home he would be playing around with the ball on our doorstep even at night," Olga says.
In his last year as a youth soccer player, he was the top scorer in western Cuba and they sent him to the national soccer academy to do some trials. He was called for the under-20s pre-selection team and his skill caught the attention of coach Raul Gonzalez Triana, who called him to play in the Olympic Qualifying Championship in the US in 2012.  On a tour where they passed through Jamaica and Bolivia he ended up convincing Gonzalez and he went on to play the Olympic qualifying games, where the only goal that Cuba scored was scored by Maykel in the last match. This tournament was tragic for Cuba but Maykel's performance didnt go unnoticed.
"I was very happy when they gave me my first opportunity and I believe I knew how to make the most out of it. I told myself that it was time for me to show them who I was and what I could give. Since then, I've been playing on national selection teams up until this day."
Months afterwards, the qualifying games for the under-20s 2013 World Championship in Turkey began, and he firmly secured his spot on the starting 11.
In the first qualifying round, in the Dominican Republic, he scored three goals. "Things didn't start out too well because we began losing to Aruba, who were supposedly an easy rival for us, however, we got back on our feet and beat them with a landslide. Then we beat San Cristobal and in our last match, we drew with the Dominican team, with some of our players suffering from physical injuries. Playing all together, we were able to pull through, but it wasn't our best performance."
In the Caribbean final, in Jamaica, Maykel didn't score, but Cuba still managed to pass the 2013 CONCACAF Under-20 Championship in Puebla, Mexico. "I lost a bit of confidence for not having scored, but my coach always told us that we were all playing as one and that my contribution was seen in another way, even though I wasn't able to help out like I wanted to."
In Puebla, he got his revenge, and he scored goals against Nicaragua and Canada, and a pass in the Costa Rica game was critical in Cuba qualifying for the first time in a global event of this standing. "It was one of our best tournaments. We went very confident that we could make history and achieve our dreams, to have been a part of this is one of the most important things I've done in my life."
Many trainers from professional clubs who came to watch the event were captivated by Cuba's talent, among them was Maykel. The Italian coach from Genova and the Mexican teams of Pachuca and Veracruz tried to sign this striker, however, negotiations were never successful. "Many of us players received offers, but at that moment of time, our country hasn't created the opportunity for us to become professional players. We've always respected this and waited for it to happen, until it did."
In the summer of 2013, Cuba played for the first time in the FIFA World Cup under-20 event, where Maykel scored a goal with a header in the first half, in their duel against South Korea. "That was the greatest goal I've ever scored up until now. It has left its mark on me and I can still remember it. I have a lot of years ahead of me in the sport, but up until now, that was my most important goal.
Due to his performance, he had the opportunity to try out for the Danish football club Brondby for a month, which was positively assessed. However, bureaucratic red tape still wouldn't let him sign.  At the Copa Centroamericana, Cuba unexpectedly won third place and Maykel scored two goals, however, he bitterly remembers a lost opportunity against Mexico, which led them to fight for bronze when they beat them in penalties. "That play I failed, it really hurt me because it could have got us into the final. I felt really bad about it, even while we were still playing, but this is a team sport and Yordan (Santacruz) came and scored. That's when my enthusiasm really picked up and it gave me the strength to finish the game. Ever since we started preparing for this tournament, we always had our eyes on a medal, which was well known for the Cuban people, who normally only go after gold medals."
In 2015, he scored the only Cuban goal at the Olympic Qualifying event in the US, in a 1-1 draw with Canada, and then he scored the goal that would classify Cuba in the second round of the CONCACAF Gold Cup, which also took place in the US. He was selected the best Cuban footballer in 2015 and he passed the Cruz Azul entry tests to become the first Cuban footballer to sign a professional contract with a team since 1959, along with Abel Martinez.
"He is already an idol in Vinales," Pedro Luis assures us. "He has become increasingly important, even though he hasn't changed the way he is, he's still a cheerful, respectful, very affectionate young man who never forgets those who helped him, which reveals his humility, his simplicity and his gratefulness. That's why people respect and love him so much. His career has developed greatly, in spite of all the problems that surround Cuban soccer, and reaching the professional word of football at 22, when many players are already millionaires. He has all of the talent and ambition to succeed, and that's the most important thing to continue making progress."
The 23-year-old striker is very happy with what he's achieved and he continues to set his goals high: "I'm making one of my dreams come true and I want to keep on doing this."
For Maykel, family is vital and he openly declares this: "I've always relied on my family my whole life; they're the ones who have always been with me to support me through the good times and bad. I owe them everything. I'd spend the whole day talking about them, but I'll keep it short and just say that they are my guide and I will forever be grateful for all that they have done for me, their support makes me grow everyday both as a soccer player and a person. Every time I'm on a soccer field, I think about them and try to make them proud of me."
As there are no important tournaments coming up in the next three years for the national selection team, the striker can concentrate on his career in Mexico. Who knows whether Maykel Reyes will make it to a really big team in the future…