Theater: A Young Cuban's Lifeboat
By Yusimi Rodriguez  (photos: Juan Suárez)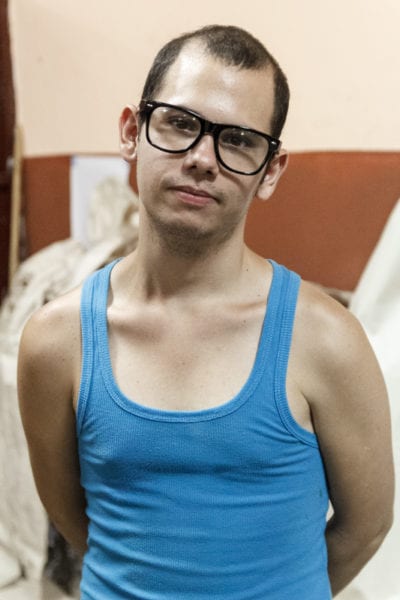 HAVANA TIMES — I first met Adonis Milan at the Cineclub Madagascar (movie club) which he organizes along with a young teacher from Cuba's film school at the Superior Art Institute. The club meets at the Alma Mater bookstore.
Recently, he invited me to an acting workshop he offers there. I envy this young man who, at the young age of 21, is the assistant director of the Estudio Teatral Vivarta theater company, a member of the Hermanos Saiz association (where he is a cultural promoter), the author of critiques published by one of the association's magazines and the kind of knowledgeable person I will never be.
His real name is Juan Adonis Valdes Maseda, but he never did like the surname "Valdes" and his relationship with his father isn't good. "My father was one of the people who hijacked Havana's Regla ferry in 1994. I was eight months old at the time. He's come to see me twice since, we are very distant."
Juan Adonis life has not been easy. He has gone through family and social problems and no shortage of tough experiences. He was diagnosed with a personality disorder at age 16.
Adonis: I tried to commit suicide. I was studying computer sciences at a technical institute and didn't want to be there, I felt I was drowning. My mother never allowed me to take the entrance exams for the National School for the Arts (ENA).
HT: Did your sexual orientation cause you any problems?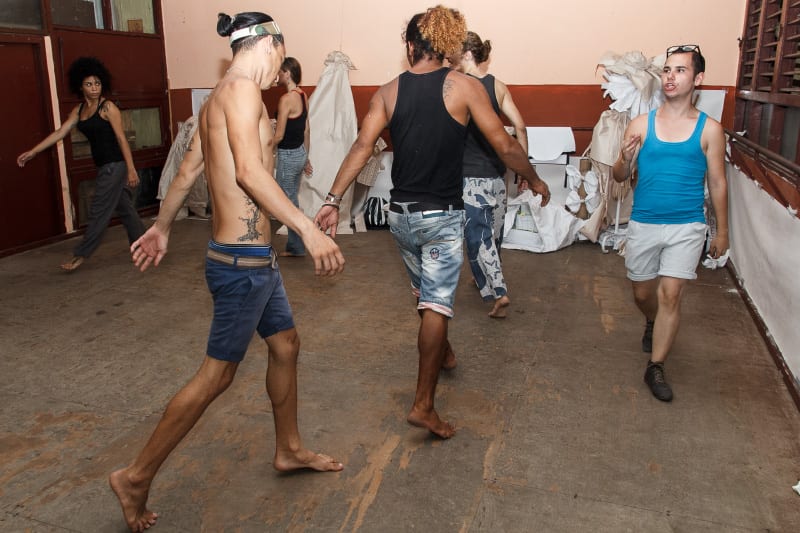 Adonis: At first. I was born in the neighborhood of Jesus Maria, in Old Havana, and had to go to La Galarraga, a high school where students have died. There, I confessed I was a homosexual and suffered plenty of bullying. The kids told my grandmother. You can imagine what it was like for her, a super-conservative Christian.
I also live with a schizophrenic uncle. My grandfather has senile dementia and my mother doesn't help with anything.
At home, I felt so much rejection that I set out to rebel. I ended up with a bad crowd, with transvestite prostitutes. I had very bad experiences. I was raped several times. I don't know what would have become of me without the theater.
When I fell in with bad crowds, I quit school and started doing theater at cultural centers. I took some workshops offered by Daisy Sanchez. I will always be grateful to her for showing me the wonderful world of theater and giving me a way forward. I don't know what would have become of me without the theater.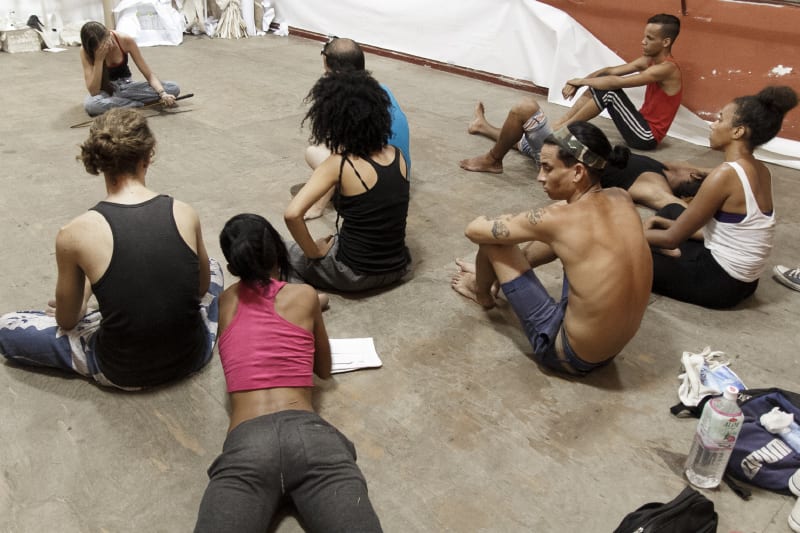 The first workshop I took dealt with bodily expression. I was very clumsy moving around the stage. The second was an acting workshop. I started to work on my fears. I channeled many personal needs for affection this way.
Later I realized acting wasn't my thing. I don't have any acting talent and I think things too much. An actor has to think less and do more. I don't think I can be directed. I am far too distrustful to be an actor. I'm better at research and criticism. I want to take the entrance exams to enroll in Theater Studies at the Art Institute, that's the program closest to directing. Also, I am a domineering and manipulative person, qualities every director should have.
An acting workshop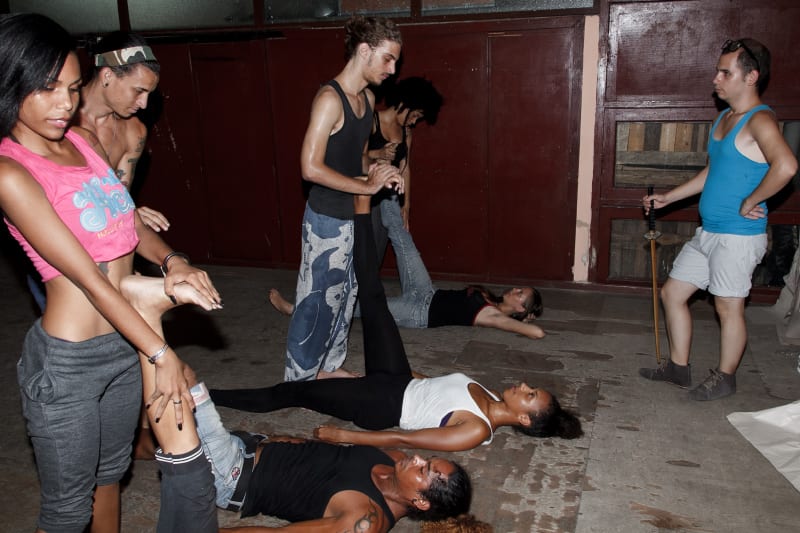 Adonis: We hold film screenings at the Alma Mater bookstore twice a month. I decided to take advantage of the space there to hold an acting workshop based on my own vision of the theater and actors. Through Daisy, I got to know the US acting method. I worked with Berta Martinez, who founded the Teatro Estudio with Vicente Revuelta. I learned a lot from Ariel Bouza about stage craft. At the Estudio Teatral Vivarta, directed by Antonia Fernanez, I've learned that theater is war. I've been at every theater course, workshop and symposium held in Cuba since 2010. I was something of a theater dilettante for a while, but I put that behind me. I know what I want and I believe in my particular vision of theater.
I met many of these young people at Parque G, during my bohemian days in Havana. Others came in response to the call for participation; I posted signs in many places. It's a mixed crowd, brought together by the feeling of loneliness and being misunderstood. They feel special. They have an inner world that's misunderstood and creative at the same time.
In the group, there's a dancer, a girl who studied music and others doing other kinds of work (such as a police officer who may be there to check up on Adonis). There are unemployed people and the occasional hustler. They all share a lack of affection.
On Saturday, August 22, Adonis showed them the film A Streetcar Named Desire. Then, he asked them to choose the character they identified with, Stanley or Blanche. For the next exercise, participants were asked to interact with an object that was special to them. As a spectator, I was impressed by the emotions that emerged during the exercise.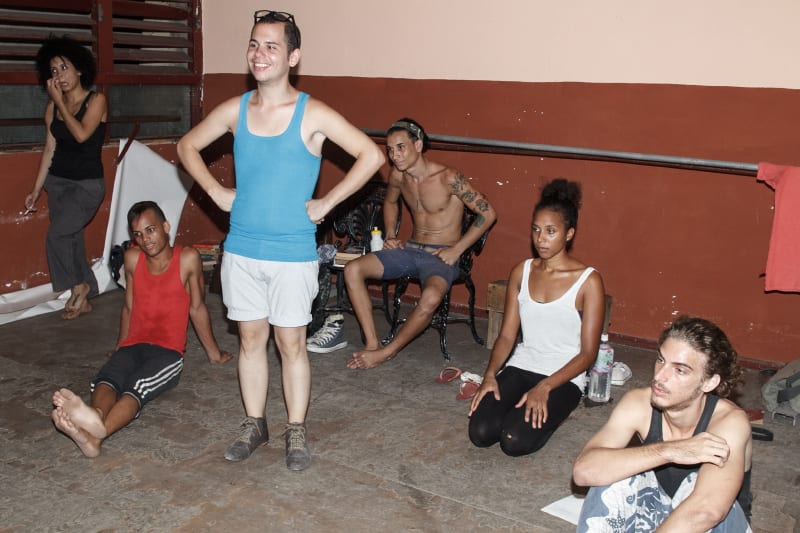 Adonis: It's the exercise that Stella Adler, the teacher of such actors as Marlon Brando, used at the Actor's Studio. Then comes William Leighton's improvisations and the Spoon River poems of Edgar Allan Master. Daysi used these in workshop and it was going to be the subject of the last workshop, but it was never held. I fell in love with those poems and have always wanted to take them to the stage.
HT: Will you use them to close your workshop?
Adonis: My workshop is the start of a theater group.
Spoon River is a town in the United States where everyone is dead, buried at a cemetery that's under water. That's how we feel: dead and submerged in water. I also want to take a piece titled Sangre ("Blood"), by a contemporary author named Junior Diaz, to the stage. I think it's important to do contemporary work that's related to the reality of those of us born at the end of the 80s and in the 90s, in the midst of the Special Period. Sangre starts with a group therapy session and shows us how people interact with one another.
HT: I ask you the same question you posed to your students after watching A Streetcar Named Desire. Do you identify with Stanley or Blanche?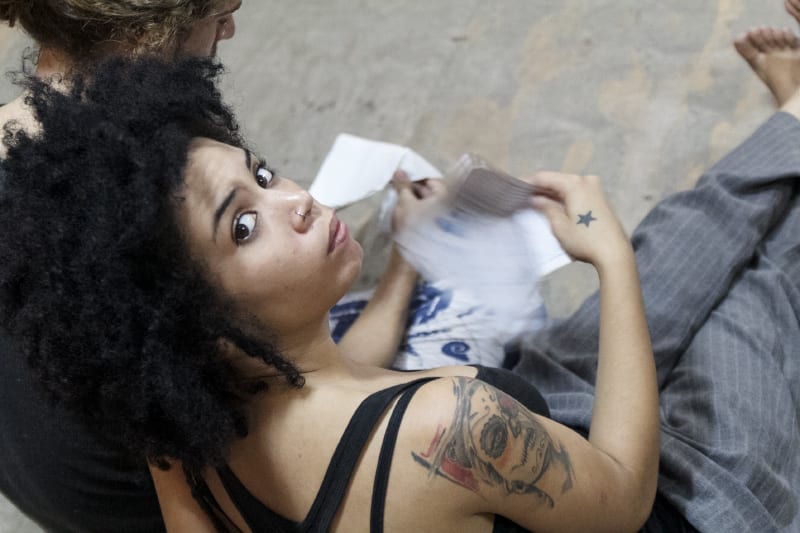 Adonis: I think it's obvious. Blanche is a reflection of my personality. I believe two classic characters define me: Hamlet and Blanche. For me, they are the same character, written in different time periods and contexts by different authors.
HT: Months ago, a Theater Studies graduate told me he'd never directed because he felt there was nothing new to say.
Adonis: Perhaps not in terms of formulas, but these change depending on the personality of those who create and recreate these formulas. With Daysi Sanchez, I learned a lot, but my vision of actors and the stage is different from hers and from Antonia Fernandez'. There's always plenty to be said in art.
Women have a lot to say
Adonis: My group will be called Persefone Teatro ("Persephone Theater"). She was the daughter of the goddess of agriculture. Hades kidnapped her and made her the goddess of hell. When she returns to earth and is next to her mother, we have spring and summer. When she's in hell, it's autumn and winter on earth. Theater was born in Greece, during that time of fertility and the rites in honor of Persephone during the spring and summer. Then came Dyonisian theater, theater at its peak.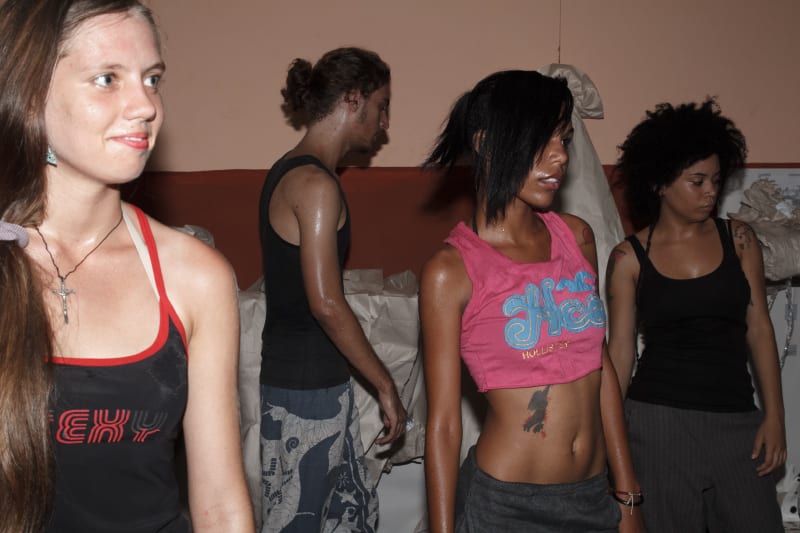 Also, Persephone is a woman and I am very much interested in talking about the sensitivity of women on the stage. I feel actresses are more interesting than actors. Women have made a mark on my life: my grandmothers, my aunts, my mother, a love-hate relationship. Women have a lot to say. That's why I wanted a female name that meant something for my group, a name that would also question what life and death, what sadness and happiness, ultimately are.
Carlos Diaz once said to me that actors and directors must be driven by great obsessions. Mine are actresses and art. Though I'm gay, I am not involved in gay activism. Art is my activism. I believe it is the only thing that will save humanity from so much consumerism and destruction. It's what allows me to see beauty in people while being exposed to so much filth in Centro Habana, so much of the Special Period, parents who don't love their children, rape, mistreatment. It has been my own, personal lifeboat.
HT: Do you blame the Special Period for being abandoned by your father?
Adonis: I believe political systems have a say in people's decisions, but, beyond that, it's who you are. My father abandoned me because he wasn't interested in me. He had a choice, which wasn't to stay in Cuba eating garbage, but to look after me from over there.
Adonis is looking for a locale that can become his group's venue and a home to two students who are homeless.
Click on the thumbnails below to view all the photos in this gallery. On your PC or laptop, you can use the directional arrows on the keyboard to move within the gallery. On cell phones use the keys on the screen.