They Want to Vanish the Memory of My Father
Some people will say that these are silly and unrealistic ideas, but these are my ideas and I would like them to be respected. -Roberto Arias Gomez, Combinado del Este prison, Havana, 18/11/1992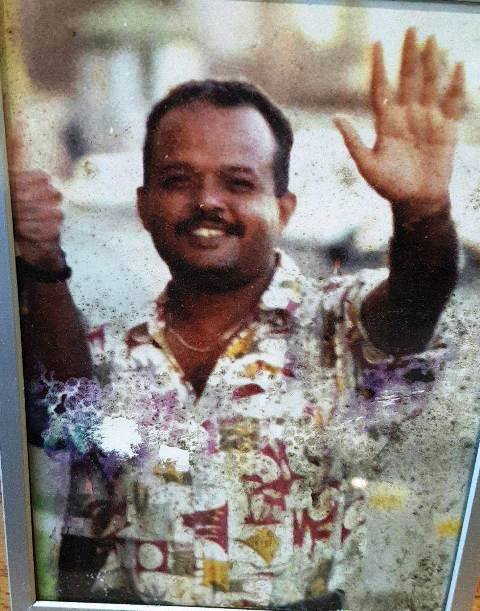 HAVANA TIMES — Marialys Arias Laffita filed a complaint in 2016 with the Cuban justice system requesting they revise case 7/1992 against her father Roberto Arias Gomez, who finally received his sentence of two years in prison for allegedly being the author of "Enemy Propaganda." The last documented response says that the file was destroyed in 2014 because it had been poorly stored.
Read the first part: The imprisonment of my father was a crime against humanity
Her father waited in a maximum security prison for 18 months to then finally have his trial and receive his sentence. When that happened, Marialys was only a 13-14 year old girl and she jealously kept the letters her father sent from jail. From that traumatic time, she remembers:
"They said that my father and his friend "Paito", whose real name was Lazaro Marquez, wrote and put up a poster in public with the words "Down with Fidel!". Different testimonies, including my father's own, repeated that there was never any evidence of this supposed text at the oral hearing. My father always told me that he was 100% innocent of everything they accused him of."
HT: Tell us a little bit about the complicated process of filing a complaint.
"I began at Nueva Gerona's District Attorney, on the Isle of Youth, because that's where we lived and he finally had his trial there, the case even reached the country's highest bodies, including the Supreme Court which left open the possibility to reopen the case if there was any new evidence, along with the presentation of the final judgement against my father and his partner in the crime."
After having studied the pile of documents relating to the new process, it seems that the Cuban legal system is playing hide-and-seek because on the one hand they are saying that there is the option of revising the case, but on the other hand, when Marialys requests a copy of the final judgement, the District Attorney at the Isle of Youth states that this file was destroyed in 2014. The person called Roberto Arias Gomez didn't exist for "Cuba's socialist justice system", just like that.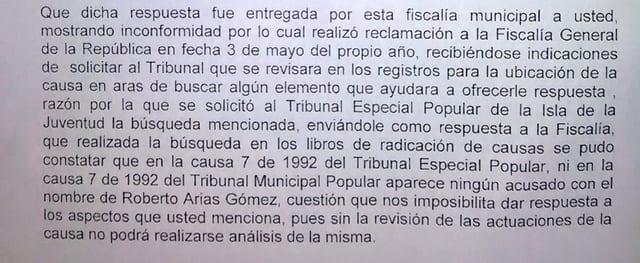 HT: What has your experience been with the Isle's District Attorney?
"Formally-speaking, their attention was good. A young attorney even transmitted discrete solidarity which confirmed the fact that I completely disagreed with everything that was going on. However, nothing changed, the sentence never came. After talking to a lawyer, I complained that the reply document didn't meet legal requirements as the signature and stamp appeared on another page, not even a numbered page."
How did it end?
"Incredible if you know any district attorney's typical procedures, especially in our country. They rewrote the document, they didn't change anything but the normal thing to do was to go to their offices and get it with the written records it needed, but it just so happened that the Chief Prosecutor of the Isle of Youth (MEIJ), Ivette Guerra Ramirez, was "kind" enough to bring me the new document to the door of the La Cubana hotel where I was staying."
It's still not known who ordered such an important legal document to be destroyed, Marialys now has the option of filing a complaint with the corresponding bodies because of this important issue that sums up irresponsibity and/or the premeditated decision to try and erase what was certainly a great injustice.
When Roberto Arias Gomez was arrested on November 18th 1991, there wasn't any direct evidence against him relating to the alleged "Down with Fidel!" poster, he didn't belong to any opposition organization either, nor had he ever visited embassies in Cuba or been linked to Cuban or foreign persons who could be considered spies working for another country. He waited 18 months to receive a sentence, of which his daughter says:
"I am filing the complaint, firstly because he was punished without any proof, just because of his ideas, which he spoke to me about in the letters he sent from prison, I especially remember the eve of my 15th birthday. Secondly, because proven to have serious heart disease, they didn't have any compassion for him. This period in jail deteriorated his heath to such an extent that he died at 42 years old. A crime against humanity."
We have copied a fragment from that letter which reads:
"I have the right as a man to complete freedom, of expression, of ideas. That's why I respect other people's ideas. Every man has the right to exchange ideas and that is nothing to be ashamed of; what is shameful is not having ideas to exchange. Tengo el derecho como hombre a la libertad plena, de expresión, de ideas. Así yo respeto las ideas de los demás. No aspiro a otra cosa. Todo hombre tiene derecho a cambiar de ideas y que esto no es vergonzoso, que lo que sí es vergonzoso es no tener ideas para cambiar".
HT: Lastly, do you trust the Cuban justice system?
"I will continue to appeal, every response, even if it's not the one I'm looking for, will sink the authorities further in disgrace and it will increase the values that my father died for. I lost my father in 1996 and I got him back 20 years later when I remembered and put his story back together."
Vicente Morin Aguado: [email protected]