Tony Avila: Philosopher, Romantic, Chronicler
Interviewed by Helson Hernandez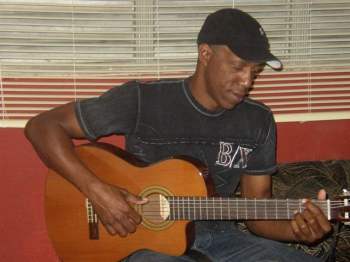 HAVANA TIMES, July 5 — We interviewed Cuban trova musician Tony Avila, who says, "I approach serious themes that can be rough, even issues that often make us Cubans bitter in day to day life.  Seen in a positive way these are understood, or are at least assimilated by people."
HT: A Havanan by birth but living in the city of Cardenas (Matanzas Province), where exactly did your musical talent gestate.
TONY AVILA: Yes, I was born in Havana in 1970, but because of job situations my parents left to live in Cardenas.  That's where my family is, and so is the nucleus of what I am.  That's also where my interest in music was born when I was eleven.  That was when I became a serious amateur performer, though the first song I ever wrote was when I was in Villa Clara Province studying refrigeration systems.  I was planning to be a technician in that field, and I continued my studies at the university until I decided that music was the route to take.
HT:  Several of your songs can be heard on the radio right now, but there's one in particular that has quite a different philosophy.  What can you say about "El mundo de los más."
TONY AVILA: Well, this is a song that tries to take a look at the world in which we live today, though there's always a personal touch in the look of someone who's also living in that world and is impacted by and interacts with it.  The song "Los mas" generally refers to the majority of us who, while perhaps having fewer materials things, we carry more things within ourselves.  Like the song says, we might have less material things and others might have more, but not in their soul and spirit, where there can be enormous holes in terms of giving or offering of themselves.  In the parable I tell in the song I use the terms more and less, which could seem ridiculously mathematical but no way, these two words weave together the ideas used in song.
HT: In the city of Cardenas a place has been set up where troubadours meet with their public.  This place is called "Los Cangrejos."  Tell us something about it.
TONY AVILA: To tell the truth, in the 1980s Cardenas had a good trova movement.  There were groups like Nuestra America that emerged from the amateur movement, and some of those who participated then are still active today as professional musicians.  In fact, one of those trova musicians was the one who initiated the "Los Cangrejos" project, which at first was called "Trova to the Rescue."  Its purpose was to reintroduce all those artists who had practically vanished and those who were being reborn, not only me but other Cardenenian troubadours who are actively creating just like me.
The project is presented at the Museum of the Battle of Ideas in Cardenas.  In the inner courtyard of this facility, concerts are held featuring guest trova musicians.  It's something very solemn, though without meaning for that word to sound so rigid, because said in that manner in might sound a little scary.  But no one there is ever scared stiff, by no means (laughter).
When that concert concludes, each person takes their chair and goes over to another open area  called "Los Cangrejos," situated in front of the museum.  There we have jam sessions that often run on into the dawn.  Functions have been held there for the past seven years with the participation of recognized artists from the island like Gerardo Alfonso, Polito Ibañez, William Vivanco, Raul Paz and Pedro Luis Ferrer, as well as writers.  I believe this to have become one of the best places to hear original songs.
HT: In 2006 you were able to participate in the renowned concert series "A guitarra limpia," which is organized by the Pablo Torriente Brau Center in Old Havana.  How important was that opportunity for trova musicians to express their work?
TONY AVILA: First I want to thank Victor Casaus and Maria Santucho for this wonderful project they've created.  To me it seems that they've opened the doors for Cuban trova of all generations with a real and living place.  They've also recorded the sounds of each one of "A guitarra limpia" concerts by recording them, just as they've visually and graphically documented those events.  I can say that my first really coherent disk came out of "A guitarra limpia" concert, and through it people have been able to acquire my music.  What the Pablo Center is doing should really be applauded; it's commendable, a solid project that has been around for 10 years already.
HT: If you had to self-define your work as a troubadour, what words do you think would be the most accurate?
TONY AVILA: I believe that I'm a little bit of a philosopher, a romantic and a chronicler.  I say philosopher not because I'm so "deep," but simply because I approach the issues of life from a philosophical perspective, trying to discover the whys of things, trying to find answers to the questions we're asked every day.
Then too, love is present in my work, and like I already told you I consider myself a romantic.  I really believe in love.
I also have the chronicler part of me because I like to recount a little of what I see and experience.  Here there comes into play a role with a certain dose of mischief, of a picaresque style that's almost something genetic in Cubans, because there's not a Cuban alive without a sense of humor.  I approach other serious themes that can be rough, even issues that often make us Cubans bitter in day to day life.  Seen in a positive way these are understood, or are at least assimilated by people.
HT: And in terms of opportunities for your recording with some record label?
TONY AVILA: I'm now coming to a happy conclusion around a CD with Biss Music.  It's called "Rodilla en Tierra."  I'm thankful for that company trusting in me and my work so that I can realize this project.  I'm doing it with my own musicians.  I'm also thankful for the good advice given to me by Pedro Luis Ferrer, and for Silvio Rodriguez's Ojala Studio, where I recorded one song recently with pianist Hernan Lopez Nussa; it's a tune that will be included on the disk.  Lino Lores is the musical producer, who has made a fine contribution to the work.  I expect the disk will come out soon and that people will like it.
HT:  That production will be called "Rodilla en Tierra" (Knee on the Ground) for the conceptual fact behind the disk or because of some song with that title that will be included on the CD?
TONY AVILA: I believe that it was more conceptual and even sentimental at some moment.  I continue hitching rides between Cardenas and Havana, understanding that transportation is such a great adventure in our country.  As soon as I finish with this interview I'll grab the Via Blanca highway that you're familiar with (laughter) and from there I'll just keep going, non-stop.
What I've been able to do has really been with the support of many friends, for whom I'll always be thankful.  Omara Portuondo, for example, is my representative who I thank and who has tried to do everything to make my work known.
Then too, there are my friends all across the island who have supported me, and of course there's my family – especially my family.  But I always do everything with a dose of effort, where I can't skimp on time or sacrifices if it's necessary to achieve my purpose.  It's like retrenching in defense of what I do.  That's the answer and the reason why the CD has that title.
HT:  In conclusion, we remember that earlier you spoke about the implicit philosophy in your work, and as it happens there's another of your songs called "Científicamente negro" (Scientifically Black).  Could this be another example of that?
TONY AVILA: Sure, and I want to clarify that it's not a racist song.  Let's say it's better than racial.  This work talks about how blacks are looked at in society, from a humorous or sarcastic perspective, with certain sarcasm.  Also, the chorus of the song is in Latin and it goes: "Esteriotipudus delincuentopudus, a 'scientificus' name for a black person like me," just in case anyone wants to hum along.
It's not at all a hurtful look at racists; it's a composition that pleads for people to understand that it's an evil that still exists in today's society, but that it can be solved.  Sure the song won't change the problem, but at least it helps people to catch themselves and to stop thinking like that.