Yoruba Andabo: The Past and Future of Cuban Rumba
Helson Hernandez
HAVANA TIMES — Today's interviewee, Geovani del Pino, is the director of Yoruba Andabo, one of Cuba's most internationally renowned rumba bands. It was none other than the highly popular Cuban musician Pablo Milanes who gave the band a kick-start after seeing one of their performances at a gathering organized by the Cuban Writers and Artists Association (UNEAC).
Havana Times: How many years has Yoruba Andabo been performing for?
Geovani del Pino: We started playing as "Yoruba Andabo" in 1985. Before then, we went by the name of "Guaganco Maritimo Portuario". All of the members of this first band went on to put together "Yoruba Andabo."
Our first performance as such was at a historical cultural gathering organized by UNEAC, which actually opened with us, "La Peña del Ambia", it was called. We didn't even have a name at the time. We were just a group of friends that got together to groove and enjoy rumba music.
HT: How did you enter the professional music world?
GP: That was a very important moment for all of us. One day during one of our performances at a UNEAC gathering, renowned singer-songwriter Pablo Milanes comes along y sees us play. Afterwards, he came up to me and praised our work as a band.
During this conversation, Milanes asked me if we thought we could play with him soon at a concert at Havana's Karl Marx theatre. We of coursed jumped on the opportunity. It was at that concert that we made our debut in the professional music world, before a full house, and introduced by Pablo Milanes.
It was an interesting experience, because singers Raul Torres and Xiomara Laugart were also introduced to the public on that occasion. Just picture it: that enormous theatre was full, and I remember us walking on stage with those three little drumming boxes of ours. To our surprise, people asked us for encores and we ended up playing four numbers. We started taking our work more seriously from then on.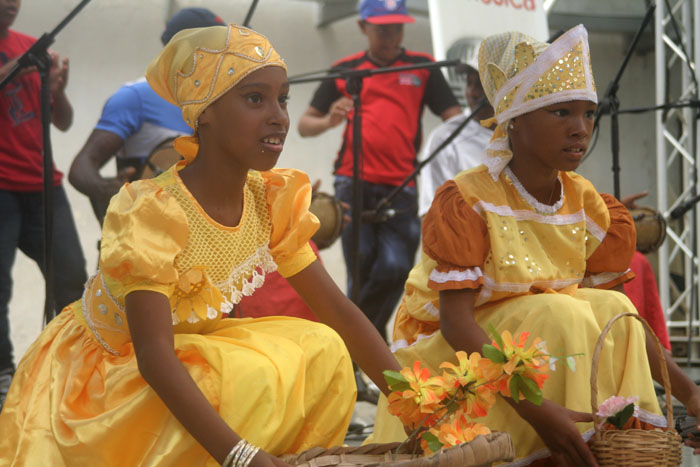 When the concert was over, Milanes told us that, that year, they were going to organize a series of activities in celebration of the anniversary of Cuba's national recording label EGREM. He invited us to take part in a number of pieces that music legends Celeste Mendoza, Omara Portuondo, Tata Guines and Merceditas Valdes were going to record that year. That's how we got started.
HT: It's our understanding that, at the beginning, you didn't use professional instruments.
GP: I have an unforgettable story for you here. We were going to record an album with the great Cuban music personalities I mentioned and, of course, we still didn't have any professional instruments. It was Monday. I was at home. All of a sudden, a boy comes running in and tells me Pablo Milanes was looking for me outside. You know how Cuban neighborhoods can be.
He'd come to get me to take me to a music instruments manufacturer. When we got there, he told me to pick out everything we needed, that he was paying. We picked out everything we didn't have: tumbadoras, bata, bongo, chequere drums, in short, everything we needed to play properly.
HT: Why rumba?
GP: For us, rumba music is nothing more than an expression of Cuban identity. It's not aimed at a specific sector of the population, as some say. Perhaps it was, at one point, but that's no longer the case. Today, you hear rumba music everywhere, and it's contributed a lot to Cuban music as a genre. We can't say it's the absolute foundation of everything that came after, but we can say that contemporary Cuban music, son, garacha, chachacha, everything that's become popular, has some implicit connection to rumba.
This conception of rumba music as a part of popular music has gained ground with the passing of time. The type of son played by the Matamoros back in the day is very different from the one played by Arsenio Rodriguez later. What people call "timba" today is nothing other than rumba with background music. It is no doubt an important tradition. All Cuban dance genres are played to the tempo of rumba music.
HT: In what directions have the band's interests evolved?
GP: We always try to experiment. I think your worth as a professional is determined by your humility, by being able to keep fame from going to your head, as people say. When you start believing you're the best and that you've done it all, that's when you stop being good.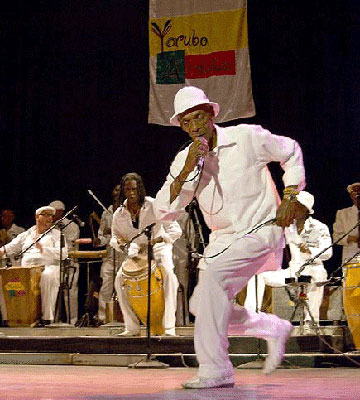 We put out a DVD and a CD titled "Rumba in Havana with Yoruba Andabo" which was nominated for a Latin Grammy and at the Spanish Arts Academy. There's still hype about that, and we thought we'd have a hard time doing any better than that. I won't say we did something much, much better, but we did just as well with our next album.
I think times are good for the band at the moment. The young musicians we have today give the band a new quality and spirit, it's incredible. And we old geezers are here to guide these young professionals.
The average age of our band members is around 30 today. This shows us just how valuable people consider the genre, that rumba isn't something from back in the 30s, or 50s, or 60s, not even of these times, because it's bound to continue evolving. We're constantly innovating, and all genres that haven't simply died out have to evolve.
HT: What can you tell us about the band's name?
GP: The Yoruba religion is deeply-rooted in Cuban culture. "Andabo", in the language of the Carabali tribe, means "friends" or "followers". We call ourselves friends or followers of Yoruba.
HT: Any plans for the future?
GP: To continue to work and make music, that's what keeps us going. I think we'll keep doing that until we die. There isn't a Cuban who doesn't start moving when they hear a conga, even if it's out of tune – that's how important music is to us.