Zoilamérica Ortega: "No girl close to Daniel Ortega is out of harm's reach"
Zoilamérica Ortega Murillo moved to Costa Rica because she feels "unprotected by the law, in view of the President's impunity."
By Judith Flores
Special for: Diario de las Américas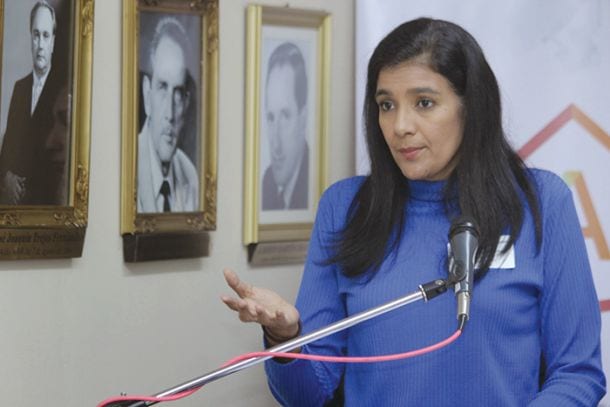 HAVANA TIMES — Following news of the sexual abuse and rape charges brought against the country's leader by Elvia Junieth Flores Castillo and Patricia Jeannette Ortega Prado, Zoilamérica Ortega Murillo, the adoptive daughter of Nicaraguan President Daniel Ortega, decided to offer statements describing the sexual abuse she claims she suffered at the hands of the man who raised her and continues to be married to her mother, Rosario Murillo.
In this connection, the young woman, who lives in exile in Costa Rica, offered her opinion about the reasons that make Nicaraguan authorities remain silent before the accusations levelled at the nation's president, after evidence implicating him in three acts of pederasty was presented.
In 1998, Zoilamérica accused her step-father of having sexually abused her since the age of 11, a crime Ortega was not tried for because the judge, Juana Mendez, a member of the Sandinista National Liberation Front (FSLN), claimed charges had been presented beyond the established time limit.
Young Elvia Junieth and Patricia Jeannette were allegedly abused by the Nicaraguan President when they were 15 and 12, respectively.
Why do you believe nothing is said in Nicaragua about the accusations against Daniel Ortega?
It's because of three factors. First, there's a mentality that excuses the aggressor's actions and blames the girls for provoking him, the idea that the victim "is drawn to power" or the "families stand to benefit from it." They are helpless girls in a male chauvinistic society where the leader is seen as the one who was harassed and his actions are justified. Other factors are complicity and impunity. I believe that, in my case and those of these other girls, authorities negotiated with the victims of the crime. Something of this sort could have happened under the government of Arnoldo Aleman and Enrique Bolaños. The case of Patricia (Ortega Prado) was shelved by Ortega thanks to the support he had from the Sandinista party. This silence weighs on us today and reveals the system's complicity in these matters.
Thirdly, I think fear plays a key role. People who try to help the victims at one point or another find themselves isolated and vulnerable. Different organizations and institutions have also yielded to government harassment and the "leader" feels untouchable.
Do you believe Ortega had accomplices?
It's been demonstrated he did. In the case I presented in 1998, I identified 9 people, to prove he didn't act alone. There's a man involved in all cases, Federico "Pitin" Lacayo (one of Ortega's aids). Ortega's personal security apparatus was also involved, as no one can see the aggressor before going through this group of agents.
Ortega's personal aids play a key role in these crimes. At the time, it was "Pitin" Lacayo and Jorge Guerrero. In the case file, which wasn't pursued because the judge claimed the time limit had expired, their complicity was shown.
What role did Lacayo play in your particular case?
They would phone me via "Pitin" Lacayo. He was the one who picked me up and was one of the select few who could go into the places Daniel Ortega uses to commit these crimes. He used the same mechanism with Junieth and probably did the same thing with Patricia.
The first thing you think about is this person's cruelty, what Ortega is capable of doing to children, as I was when he molested me. In these girls' accounts, I get a sense of how psychologically and emotionally damaging such abuse is for a girl. I am still shocked by it, despite the hard work I've done to recover, and I am aware of the impact that the aggressor's cruelty had on hearing the girls describe their experiences in the hands of a predator who chose them as prey for his perverse actions.
I feel impotent in light of these facts. I am one of the accusers, and I'm living in exile. The other has been kidnapped, and the third has disappeared or is in hiding. These girls are living under immense pressure.
Do you believe other girls have been molested?
Without a doubt. The cases Diario Las Americas investigated took place in 2005 and 2006, we're talking about a serial molester, there are other cases and, if we had confidential channels to accuse him and his accomplices, we'd know of many others.
What do think about your mother Rosario Murillo's silence?
It's complicity, it's a power alliance that has no scruples. There's a generalized inclination to tolerate these situations and help cover them up. As she is a woman and a mother, this suggests she is very cruel. If she was capable of covering up what happened to me, her blood, how could we expect her not to cover up what happened to the other girls? The worst off are these girls who, because of the power of that predator, Daniel Ortega, and the complicity and silence of Rosario Murillo, end up being blamed. This has a destructive effect on the victims. They use political power to trap and sexually abuse minors. No girl close to Daniel Ortega is out of harm's reach.
What is your opinion regarding the silence surrounding the issue in Nicaragua?
Impunity makes these actions permissible. First, it makes people believe that they, the Ortega- Murillos, have unassailable power, that these facts won't have any impact anywhere, that they won't be anything other than newspaper articles. If they do not believe their power is at risk, they have no interest in responding to the accusations. It's an act of arrogance.
Secondly, this is an open secret within the Sandinista party. It is known by many mayors and officials, they know this man preys on little girls. It's shameful that these public servants should be keeping quiet when they themselves have daughters and families. He (Ortega) has gone after the daughters of some officials and they've kept quiet, they've preferred to disregard the abuse in order not to lose their power and financial status.
Why did you withdraw your accusations against Nicaragua before the Inter-American Human Rights Commission?
Patricia Ortega Prado's case clearly illustrates the complicity here. There, you can see how political actors make decisions above the law. The Human Rights Commission and some governments that aren't part of the organization subjected my case to political considerations. I spent almost ten years in court, seeing very clear evidence that the case wasn't going to move forward, that it was being handled politically. Even the US Embassy in Nicaragua acted in the same way it did in Patricia's case (they did nothing in light of the charges). At some points, I felt as though the courts were acting against me. It was a decision made at a time of an utter power imbalance and it put my life at risk. The aggressor had gone unpunished and was the president of Nicaragua. There wasn't a single institution free from political pressure that would support me in my case.
There were rumors you reached an agreement with your mother, that money crossed hands, that you were even handling a number of family businesses.
I wouldn't be living in exile had I accepted any payoff. I've also always said that, if anyone can prove I received any money, let them do it. I have nothing to hide, I have no bank accounts anywhere. The only property I own is in Nicaragua. I have never received any money, not from organizations, the government or individuals.
Do you believe Ortega will face justice one day?
We should stop considering that aggressor as someone who will enjoy impunity his whole life. There are mechanisms that will keep him from continuing with his predatory actions, legal mechanisms. I would like to call on organizations and foundations that address these issues to come to the aid of these families.