Ex-FARC Commander Issues New Call to Arms, Colombia Blames Venezuela
By Laura Almanza (dpa)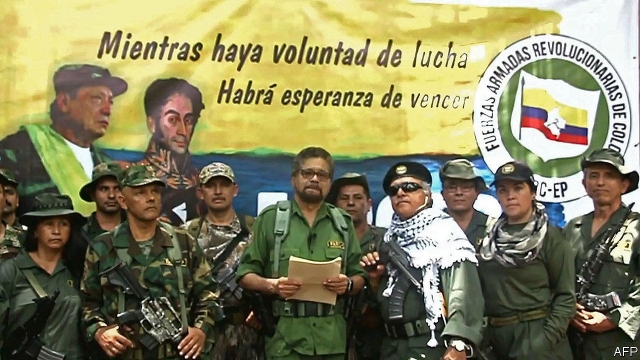 HAVANA TIMES – A former commander in the Colombian rebel group FARC has called on his followers to take up arms, marking a major setback nearly three years after the rebels signed a peace agreement with Bogota.
Ivan Marquez appears in a video circulated on Thursday in which he announces the beginning of a "new phase in the armed struggle."
The video shows Marquez – one of the main representatives of FARC to negotiate the peace deal in 2016 – surrounded by a group of people in fatigues. Some of them are other former leaders in the rebel group.
Marquez says in the video that his compatriots should take up arms because the Colombian government had "betrayed" the peace agreement.
"In two years, more than 500 social leaders have been killed and 150 guerrilla fighters are dead amid indifference and indolence on the part of the state," Marquez says in the video.
He is referring to the increase in the number of activists and former FARC members assassinated since President Ivan Duque took up office in August 2018.
The former commander says that the militant group will pursue different tactics from the ones it employed before the peace agreement and that it will not conduct kidnappings for ransom.
The 2016 peace deal signed by Duque's predecessor, Juan Manuel Santos, ended a 52-year conflict. FARC was turned into a political party and given 10 seats in Congress.
Armed conflict in Colombia has left more than 260,000 people dead since 1958, according to the governmental National Centre for Historical Memory. Over 7 million people have been displaced.
Colombian president accuses Venezuela of hosting new rebel group
Colombian President Ivan Duque has accused Venezuela of protecting a group of former FARC guerrilla commanders and fighters, who announced they were resuming armed struggle, and announced rewards for information leading to their capture, reported dpa news.
The group does not represent a new guerrilla movement, but "a gang of drug-trafficking terrorists who are hosted and supported by the dictatorship of Nicolas Maduro" in Venezuela, Duque said in an address to the nation.
He said the army would pursue the new group "in all of the national territory" and announced the creation of a "special unit" comprising intelligence officers for the purpose.
The government offers a reward of 3 billion pesos (860,000 dollars) for information leading to the capture of each of the group members, the president said.
He added he had asked Venezuelan opposition leader Juan Guaido to back Colombia in its attempts to capture the rebels.