Obama Puts Jerusalem in Party Platform
by Dawn Gable (from the Democractic National Convention)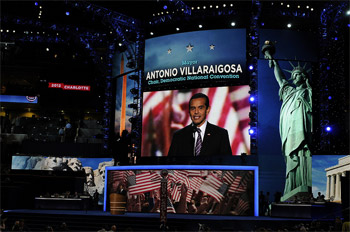 HAVANA TIMES — In a surprise maneuver, President Obama posed an amendemnt to the Party Platform through surrogate Ohio Gov. Ted Strickland who served on the platform committe. The platform had already been approved and ratified by the convention delegates the day before.
However, once again bending to Republican criticism, Obama moved to add language recognizing Jerusalem as the capital of Israel and adding "god" to the document.
The process for rectifying the platform to please the President required a 2/3 vote by delegates. So, the ammendment was posed to the delegates who happened to be present in the arena Wednesday afternoon for a voice vote. It took the Democratic National Convention Chairman Antonio Villaraigosa three tries to "hear" a clear 2/3 approval.
That is to say, the first two times he didn't like what he heard, large blocks of delegates yelling "no". So he recalled the vote twice and then finally declared the amendment approved.
Objective observers could not even affirm that there was an even split, much less a 2/3 vote in favor. But no matter. The President wanted the language in; the language is in.
Republican criticism is apparently more important to the President than the voice of the people.
But the huge amounts of money the pro-Israel lobby donates to the electoral process should not be underestimated.
Nearly $8 million went to the Democrats in 2010 and $6 million has gone to them so far this cycle. Donations to Republicans are only about half that amount. To put their disproportionate influence into perspective, the Jewish-American community only makes up 1.7% of the country's population.