One Billion Rising: Playwright Eve Ensler Organizes Global Day of Dance Against Sexual Abuse
Democracy Now*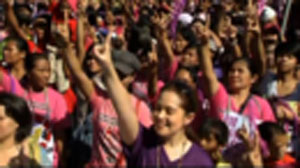 HAVANA TIMES – People around the world are rising up today and taking to the streets to dance. Their actions are part of a global movement in more than 200 countries to end rape and sexual violence against women called "One Billion Rising," launched by playwright Eve Ensler, creator of "The Vagina Monologues."
We speak to Ensler in the Democratic Republic of the Congo, where she is helping survivors of gender violence. We also air a video of the acclaimed musician Anoushka Shankar, the daughter of Ravi Shankar, who reveals she was sexually abused as a child.
AMY GOODMAN: "One Billion" by Berlin hip-hop artist Sookee on this Valentine's Day. This is Democracy Now!, democracynow.org, The War and Peace Report. I'm Amy Goodman, with Juan González.
JUAN GONZÁLEZ: Well, people around the world are rising up today and taking to the streets to dance. That's their—their actions are part of a global movement to end rape and sexual violence called One Billion Rising, launched by playwright Eve Ensler, creator of The Vagina Monologues. Actions have already been held in Afghanistan, Indonesia, Nepal, India, Taiwan, Australia, New Zealand, Sudan and many other countries.
The campaign highlights the startling statistic that one in every three women on the planet will be raped or beaten in her lifetime. That's over one billion women. Activists and celebrities have contributed to the campaign by sharing their own stories in a series of videos, like this message from musician Anoushka Shankar, the daughter of the world-renowned sitar player Ravi Shankar.
ANOUSHKA SHANKAR: Hello. I'm Anoushka Shankar, and I'm a sitar player and composer from India, now living in London.
When I was in high school in the United States, I helped run a feminism club along with several friends, and I remember the adults around us used to laugh and find it all quite cute. A few years later, in my early twenties, I used to sheepishly look back at my teenage self, thinking, of course, that I knew all about the world then and what it was to be a woman. I used to look back at my teenage self and think I had been quite naive. But I think it's the girl in my twenties who was quite naive, actually, because what's cute about what's going on in the world today? What's naive about wanting to change it?
As a child, I suffered sexual and emotional abuse for several years at the hands of a man my parents trusted implicitly. Growing up, like most women I know, I suffered various forms of groping, touching, verbal abuse and other things I didn't know how to deal with, I didn't know I could change. And as a woman, I find I'm frequently living in fear—afraid to walk alone at night, afraid to answer a man who asks for the time, afraid I'm going to be judged or treated in ways based on the way I might choose to dress or the makeup I might choose to wear.
And, you know, enough is enough. I'm rising. I'm rising for Jyoti and for women like her. I'm rising with the amazing women of my country, who are together calling and saying, "Enough is enough." I'm rising for the child in me, who I don't think will ever fully recover from what happened to her. So, join me. Let's rise. Let's dance. Dance has the power to heal, to transform. So let's transform ourselves. Let's transform this world. Let's rise together.
AMY GOODMAN: That was sitar player Anoushka Shankar, daughter of the late musician Ravi Shankar and sister of Norah Jones. Today, Anoushka will join people in more than 200 countries who are coming together to dance in an effort to end violence against women and girls.
In a moment, we'll go to the Congo to be joined by founder of V-Day and One Billion Rising, the Tony Award-winning playwright Eve Ensler, also award-winning playwright and creator of The Vagina Monologues. But first, let's go to the video she just made in Congo.
EVE ENSLER: Hi, everyone. I am here in Bukavu, Democratic Republic of Congo, on the verge of the rising, One Billion Rising. I think it will be the biggest global action in the history of humankind on the planet for women to end the violence and to bring about a time when women are cherished, safe, free and equal.
I just want you to imagine today that when you dance, when you put your body on the ground, when you put your feet on the mother, when you move your hips, when you move your body, when you move your soul, that we are literally dancing up the will of the world to end violence against women and girls.
I could never have dreamed up the diversity of this movement. We have queen of the Carnival in Rio de Janeiro and the queen mother of Bhutan. We have prime ministers of Croatia and Australia. We have lamas. We have nuns. We have Zumba dancers. We have Karachi dance—we have an extraordinary dancer in Pakistan who will be dancing in Karachi, where it is danger. We have women who have never danced before and women who will literally be risking their lives to dance. We have movie stars, and we have domestic workers. We have migrant workers. We have union leaders. We have nurses. We have doctors. We have every type of person on the planet and every person on the planet.
And I really believe this day will literally change the mindset, the paradigm and the energy of the planet. And when we wake up on the 15th, we will not be finished with our efforts. We will begin the next stage of our efforts, where violence against women and girls will never be marginalized again and where we will have called up the intention and the energy to make sure we live in a world where women are safe and free.
One of the greatest things about this movement is how connected we are across borders, across nations, across tribes. And we are in this together. We now know that violence against women is a global phenomenon and isn't particular to culture or to nations or to families, but it's something all of us are impacted by. So when you dance, imagine you are dancing with everybody on this planet, imagine you are connected to everyone on this planet, and dance your One Billion Rising dance so that we are safe and free and women are equal and we are cherished and come into our rightful power.
AMY GOODMAN: That's Eve Ensler, founder of V-Day and One Billion Rising campaigns. She was speaking in Congo, where she is right now in the City of Joy, a center in Bukavu for survivors of gender violence.
Eve, welcome back to Democracy Now!, our first time speaking to you in Bukavu. As you listen to yourself explain what's happening, what have you seen so far today?
EVE ENSLER: Thank you, Amy. It's so great to be talking to you. It's such an amazing day, beyond our wildest dreams, I have to say. I've been here all day in Bukavu, and it's been an absolutely gorgeous day. Thousands and thousands of people came to a place called [inaudible], which is this amazing kind of open, square, parky—I don't even know how to describe it. It's like an open field. And thousands of people came. Thousands of people came with both joy and, I would say, anger—anger, outrage—and a real desire to come together.
And I think, you know, one of the exciting things about One Billion Rising is the unity of it or the energy of it is really having an impact on all [inaudible] society. So, today, for example, Dr. Mukwege was there, who has returned to the Congo after the assassination attempt, and he spoke so beautiful—spoke so beautifully. And Christine Schuler Deschryver, who is the head of City of Joy and V-Day Congo, was there. And the governor was here. And one of the things that really struck me was the general of the South Kivu police force came today, and publicly, in front of thousands and thousands of people, he presented a signed contract, a memorandum of agreement with V-Day that the South Kivu police force were committed and contracted to ending impunity of sexual violence. And that's never happened here. So, I can see how the wave of One Billion Rising is now pushing people in positions of power to begin to really act on things they have not acted on in the past.
And I also have to say that the activists who spoke here today, the women and the men, were so passionate and were so radical and militant in their talk of both ending patriarchy and ending the way women are treated and not seen as equals, in the way they don't have child care, in the way they don't have education and their children aren't education, in the way they're raped, in the way they're forsaken, and their money is taken away from them from their husbands. It was amazing. And I'm hearing the same kind of things from everywhere in the world, you know, thousands rising in India, in Delhi, all over India, you know, thousands rising in the Philippines, in Bangladesh, in Afghanistan. I just got an amazing email from Egypt, where women are rising in spite of their fear of thugs attacking them. They did their first flash mob in Mogadishu. So it's just incredible what's happening, and we're only kind of halfway through the day and halfway through the world.
JUAN GONZÁLEZ: Eve, I'd like to ask you, you were—you spent some time in December in India following the horrific gang rape of a 23-year-old medical student there in India. Could you talk about the impact of that incident both in India and around the world in terms of building support for the movement that—of the One Billion Rising?
EVE ENSLER: Yes. I think that the gang raping and the murder of Jyoti was a really horrific incident, but a huge turning point in India and the world. And I actually was there for three weeks in the middle of all of it. And I have to say, in my lifetime, having worked every day of my life for the last 15 years on sexual violence, I have never seen anything like that, where sexual violence broke through the consciousness and was on the front page, nine articles in every paper every day, in the center of every discourse, in the center of the college students' discussions, in the center of any restaurant you went in. And I think what's happened in India, India is really leading the way for the world. It's really broken through. They are actually fast-tracking laws. They are looking at sexual education. They are looking at the bases of patriarchy and masculinity and how all that leads to sexual violence.
And I think one of the great things that's happening everywhere I've been is the involvement of men. I've seen so many men getting involved, who have not been perpetrators, but who have also not spoken up and not been vocal and visible allies in the cause to end violence against women. And I think that's an incredibly positive sign. That's not to say we have ended violence in India or anywhere. But I do think, after today, after this huge global outpouring and creativity and energetic just rising, it will be impossible, from this day forward, to marginalize violence against women again. I think it will be impossible.
AMY GOODMAN: Eve, I want to thank you very much for being with us in Bukavu. We're going to end the show with some of the voices of One Billion Rising. We begin with the domestic worker organizer Ai-jen Poo.
AI-JEN POO: Sometimes women face the most extreme forms of abuse you can imagine—sexual assault, sexual violence, non-payment of wages, modern-day slavery. We are rising because we don't want to be a part of a world where that is acceptable, and we know that women can lead the way to a different kind of world, where everyone can live free of violence, with respect and with dignity.
I represent a movement that has women from all over the world, all different cultures and histories and languages that we speak, and we all share a love for dancing and singing and music and culture. And dance brings us all together, just like our passion for justice and for respect for women.
ROSARIO DAWSON: I'm just going to be in the—I'm going to shake it off. I'm Rosario Dawson. I'm from New York. I'm an actress. I'm an activist. I like to call myself an "actrivist." I get to tell stories for a living. I get to collect stories and share them with people for my humanity and to connect to others.
I am rising because one in three women will be raped, killed or beaten in her lifetime. We compose the majority of the planet. I think it's scary and insane to imagine that women's issues and girls' issues are a side issue. And as long as we continue to not stand up and rise and make it the thing that is at the forefront, we're going to see every other issue before us continue to fail. Everything that we care about will not move forward as long as women and girls are not safe. So it's time for us to stand up for that. I am rising because acid attacks are becoming more prevalent in Colombia. I am rising because of child brides in India. I am rising because of girls who are getting raped on their way to class.
AMY GOODMAN: That was Rosario Dawson, and before that, Ai-jen Poo, and before that, Eve Ensler, and before that, Anoushka Shankar.
(*) See this program on Democracy Now!