Protesters Block Roads in Ecuadorian Capital over Fuel Prices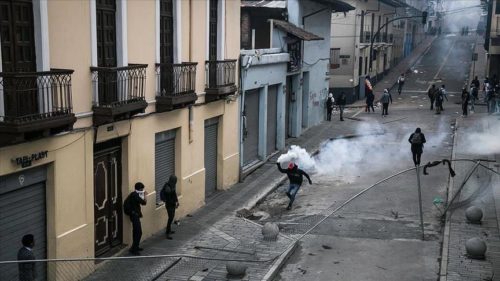 HAVANA TIMES – Anti-government demonstrators on Monday blocked roads in the Ecuadorian capital, Quito, as protests against the elimination of fuel subsidies went into their fifth day, local media reported.
Protesters burned tires and blocked roads with tree branches, according to daily El Comercio. Dozens of lorries blocked streets in the south and north of the capital. The metropolitan public transport company said some bus routes had been suspended.
Dozens of indigenous people marched in central Quito, while some shopkeepers closed their establishments, El Comercio reported.
Indigenous people took the lead in the protests over the weekend, blocking roads in several areas as transport and food prices were reported to be going up.
Some fuel prices more than doubled on Thursday, when the government lifted 40-year-old fuel subsidies it said distorted the economy.
Indigenous people took about 50 soldiers and police hostage in several locations over the weekend.
In the southern province of Azuay, road blocks prevented an ambulance from reaching a protester who had been hit by a car and then died.
Indigenous people were meanwhile staging a march towards Quito, said one of their leaders, Jaime Vargas. He announced "an indefinite mobilization on the entire Ecuadorian territory."
Interior Minister Maria Paula Romo said that nearly 500 people have been arrested so far.
Tens of thousands of security force members have been deployed to protect fuel and basic goods transport, and to prevent looting.
Several schools were closed on Monday, while radio and television broadcasts reportedly went off the air in the central city of Ambato.