This Week in Palestine April 19-25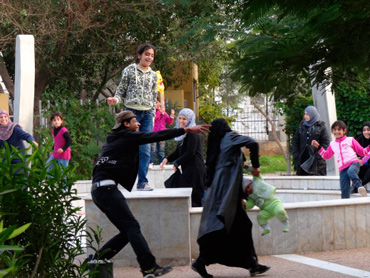 HAVANA TIMES — Welcome to this Week in Palestine, a service of the International Middle East Media Center, www.imemc.org, for April 19th to the 25th, 2014.
This week Palestinian Leaders reached a unity deal ending seven years division between Gaza and the West Bank. Meanwhile Israeli attacks targeting the Palestinian Territories this week left at least a dozen injured civilians.
The Nonviolence Report
Let's begin our weekly report as usual with the nonviolent activities organized in the West Bank. On Friday one journalist was injured and many other civilians were treated for the effects of tear gas inhalation when Israeli troops attack anti wall and settlement protests organized at a number of west Bank villages.
On Friday protests were organized at the villages of Bil'in, Ni'lin and Al Nabi saleh in central West Bank. Anti-wall and settlements protests were also organized in southern West Bank village of Al Ma'ssara near Bethlehem.
Israeli soldiers attacked anti wall and settlements protesters in Al Nabi saleh before even leaving the village. A journalists was slightly wounded and many other protesters were treated for the effects of tear gas inhalation when soldiers invaded the village and fired tear gas at residents' homes.
Elsewhere residents and their supporters in the nearby Bil'in, and Ni'lin villages reached the Israeli wall built on lands taken from local famers before soldiers stationed their showered them with tear gas and chemical water that generate bad smell. Many were treated for the effects of tear gas inhalation.
Elsewhere, at al Ma'ssara village on Friday, Israeli troops stopped the villagers and their supporters at village entrance then forced them back using rifle-buts and batons. No injuries were reported.
The Political Report
Rival Palestinian parties, Fatah and Hamas, agreed this week on forming a national consensus government that would end 7 years of rift. The agreement was welcomed by all Palestinian factions and some Arab countries, yet Israel and United States dubbed it as a counterproductive to peace-making.
Palestinian Authority's president and Fatah leader, Mahmoud Abbas, says that his Fatah party's agreement with the Islamist Hamas, has nothing to do with the peace process, underway with Israel. Abbas was responding to Israeli warnings of the move as counterproductive to peace.
Israeli Prime Minister, Benjamin Netanyahu, commented by saying that Abbas chose the terrorist Hamas rather than peace with Israel. Mustafa Barghouthi, leader of the Palestinian Initiative party, who attended the signing ceremony in Gaza, downplayed Israeli threats, saying the Palestinian parties are determined to keep on the reconciliation track.
Barghouthi wondered as to how does Israel consider the move as unilateral, while in Fact Israel has been taking a number of unilateral measures on the ground, including acceleration of illegal settlement activities on occupied Palestinian lands and transforming the occupied city of east Jerusalem.
The Palestinian leader emphasized on the fact that the reconciliation is an internal Palestinian matter that has nothing to do with current US-mediated peace negotiations.
Israel has threatened it would embark on a series of unilateral moves, in response, including suspension of peace negotiations with Palestinians and launching a media campaign worldwide , against the PA and it's moderate Palestinian leader, Mahmoud Abbas, nicknamed , ' Abu Mazen'.
Following almost 7 years of political split between the Islamist Hamas and the Fatah party, Ismail Haniya, prime minister of Hamas's government in Gaza and Azzam Alahmad of Fatah, announced this week end of the division and confirmed that a national consensus government, headed by Abu Mazen, will have to be formed in a period of five weeks.
Member of Parliament for Fatah party in Gaza, Ahmad Abu Houly, was quoted as saying that the new national consensus cabinet, will be in charge of paving the way for elections, slated for January, 2015, finding ways to reconstruct the wars-torn Gaza and starting up community-based reconciliation.
United States President, Barak Obama, voiced out dissatisfaction with the unity deal, calling on both Israelis and Palestinians to take tough decisions in order to move ahead with their peace process. US and other international players have retreated previous stance that if the unity government complies with three demands; renouncing violence, recognizing Israel and accepting past-signed agreements with Israel, then it will win international recognition.
The Fatah-Hamas split broke out back in June 2007, when Hamas-loyal forces engaged in bloody fighting against Fatah-loyal PA forces in Gaza, forcing those forces out of the territory. The fighting caused the death of several hundreds of men, belonging to either side and left many hundreds others injured. Since then, all reconciliation Arab-led efforts have failed to bring the parties together. Hamas won parliamentary elections in 2006's parliamentary elections.
The West Bank and Gaza Report
This week Israeli troops conducted at least 66 military invasions into Palestinian communities in the West Bank and Gaza. Israeli attacks targeting Gaza left eight civilians injured and four in the West Bank.
This week the Israeli army kidnaped 19 civilians including four children during invasions targeting West Bank communities.
On Tuesday of this week a Palestinian man was shot and killed at Qalandiya refugee camp between the central West Bank city of Ramallah and Jerusalem. Local sources reported that unknown gunmen driving an Israeli car drove near Eyad Saedallh Awad, 35, and opened fire at him killing him. Awad was hit with four bullets in his back and died instantly, local sources reported. Palestinian police arrived at scene and opened an investigation into the incident.
Earlier on Tuesday at dawn, Several Israeli military jeeps invaded Teqoua' village, in the West Bank district of Bethlehem, and fired gas bombs at a number of houses, wounding two children after their house caught fire.
Later in the week, Israeli settlers attacked a Palestinian family near the southern West Bank city of Hebron and injured one child. Around midday on Thursday, two Israeli settlers coming with a quad-bike from the illegal outpost of Havat Ma'on attacked, with stones, four Palestinian children and the mother of three of them, as they were returning from school to their homes in the villages of Tuba and Maghayir Al Abeed. A seven-year-old girl was hit by a stone and fell while attempting to run away, badly injuring her head.
In the Gaza strip this week, eight Palestinian civilian were wounded on Wednesday when an Israeli unmanned warplane fired missiles at a residential area in Beit Lahyia town in the northern part of the Gaza Strip. The Palestinian Ministry of Health in Gaza announced that among those injured were a 50-year-old man and two children who sustained moderate wounds.
Eyewitnesses said the strike hit a motorcycle. The attack came while Palestinian leaders from different political groups including Fatah and Hamas announced a unity deal during a press conference in Gaza City.
Later on Thursday a number of armored Israeli military vehicles invaded Palestinian farmland near Khan Younis, in the southern part of the Gaza Strip, uprooted and bulldozed the invaded lands, and opened fire at nearby homes.
Also on Thursday, Israel's navy opened fire at fishermen off the coast of northern Gaza strip. The Israeli army claimed that the fishermen were out of the designated area for them. As part of the Oslo Accords, Palestinians are allowed to fish in 20 nautical miles of coast. However Israeli navy forces impose 3 nautical miles limit on Palestinian fishing boats.
Conclusion
And that's all for today from This Week in Palestine. This was the Weekly report for April 19th to the 25th 2014 from the Occupied Palestinian Territories. For more news and updates please visit our website at www.imemc.org. This week's report has been brought to you by George Rishmawi and Ghassan Bannoura.