This Week in Palestine Aug. 18-24
By Husam Qassis and George Rishmawi for IMEMC News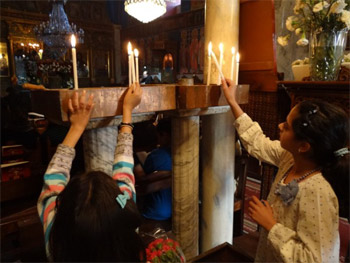 HAVANA TIMES — Welcome to this Week in Palestine, a service of the International Middle East Media Center, www.imemc.org, for August 18th, to 24th 2012.
Israeli settler violence against Palestinian communities is escalating, meanwhile Israeli foreign Minister says the Palestinian President is an obstacle for peace, these stories and more, coming up, stay tuned.
The Nonviolence Report:
Let's begin our weekly report with the nonviolent activities in the West Bank. One journalist and protesters were injured this week as Israeli soldiers attacked anti wall protesters across the West Bank on Friday. IMEMC's Ghassan Bannoura has more:
On Friday Israeli soldiers used tear gas and rubber-coated steel bullets to suppress anti wall protests that was organized at the villages of Bil'in, Nil'in and Nabi Saleh in central West Bank, and in Kufer Kadom in northern West Bank. As well as the southern West Bank village of Al Ma'ssara.
In central West Bank, troops used tear gas and rubber-coated steel bullets against Bil'in, Nil'in and Nabi Saleh residents and their international and Israeli supporters. Many were treated for the effects of tear gas inhalation at all three locations.
In Bil'in village a Canadian journalist was lightly wounded in his leg by Israeli gunfire. Local sources said that soldiers also used chemical water against protesters.
In Kufer Kadum a French solidarity activist was injured when a tear gas bomb fired by Israeli forces hit her. Local medics said that the French women suffered light wounds and was treated in the village.
Elsewhere on Friday, in southern West Bank, Al Ma'sara villagers organized their weekly anti wall protest. Israeli forces stationed there forced people back into the village using rifle-buts and batons. No injuries were reported.
The Political Report
Palestinians outraged by Israeli foreign Minister's remarks about Abbas, meanwhile Egypt reaches understanding with Israel over Sinai military presence,the details with IMEMC's Anne Shirley
Israeli Foreign Minister, Avigdor Lieberman stated this week that the Quartet Committee for peace in the Middle East must act to set a date for general and presidential elections in the Palestinian territories, in order to replace the Palestinian President Mahmoud Abbas, who is described by Lieberman as an obstacle to peace in the region.
Lieberman, who heads the fundamentalist Israel Beitanu Party, which translates to "Israel Our Home", sent letters in this regard to U.S. Secretary of State, Hillary Clinton, E.U High Representative of the Union for Foreign Affairs and Security Policy, Catherine Ashton, Russian Foreign Minister Sergei Lavrov, and U.N Secretary-General, Ban Ki-moon.
Lieberman said the Palestinian elections were supposed to have been held in 2010, but were repeatedly postponed, hinting to Abbas being an illegal president.
According to Lieberman, Israel has conducted several confidence-building measures towards the Palestinian Authority in the West Bank "but instead of resuming peace talks, the P.A escalated its international activities that aim at isolating Israel".
Lieberman has said repeatedly that Abbas does not want peace, and is not interested in the political process with Israel, adding that Abbas is currently a weak president who cannot remain in power, especially due to the recent revolutions and political changes in the Arab world.
On his part, chief Palestinian negotiator Dr. Saeb Ereikat said that Lieberman's remarks are rude and alluded to a direct call for the assassination Abbas, similar to that of the late President Yasser Arafat.
Ereikat added that Lieberman's statements are not arbitrary, but rather are a part of an organized campaign against Abbas, because of ongoing international efforts, especially at the United Nations and among its affiliates, to win international recognition of an independent Palestinian state within the 1967 borders.
In other news, conflict between Egypt and Israel over the Egyptian military deployment in the Sinai peninsula seems to have to come to an end.
An Egyptian security source said this week that negotiations between Israel and Egypt led to an understanding regarding the deployment of Egyptian soldiers in the Sinai Peninsula.
The talks were held at the Karem Abu Salem border crossing east of the Gaza Strip. Several Israeli officials recently objected to the deployment of more Egyptian soldiers in the Sinai as such deployment violates the Camp David Peace Agreement between the two countries.
But a number of Israeli officials said that all movement and deployment of Egyptian forces in the Sinai, in order to counter armed groups, were coordinated with Tel Aviv.
Sources told media that Egyptian and Israeli security officials held more than six meetings over the course of three consecutive days.
Sources further indicated that Israel has concerns regarding the increase of terrorist activities in the Sinai, and that Israeli officials have reservations regarding the deployment of more Egyptian soldiers and heavy artillery in the Sinai.
The West Bank & Gaza Report
This week the Israeli military conducted at least 7 military incursions into Palestinian communities in the West Bank. During these incursions, Israeli soldiers arrested 7 Palestinians, including a child. Meanwhile settlers' attacks on Palestinians continued this week. IMEMC's Salam Qumsiyeh with the details:
On Monday of this week, Israel arrested five Israeli teenage settlers who participated in a lynch mob attack against a 17-year-old Palestinian youth, in Jerusalem last week, causing serious injuries that landed him at the Intensive Care Unit. The Israeli Police said more youth will be arrested if needed as the investigation continues. Last Friday screaming 'Death to Arabs', the settlers attacked three young Palestinians, nearly killing one and severely wounding the other two.
A number of extremist Israeli settlers invaded, on Wednesday at dawn, the village of Awarta, near the northern West Bank city of Nablus, and tried to torch two Palestinian cars after writing racist graffiti against the Palestinians. Local sources reported that the settlers came from Itamar illegal settlement, built on Palestinian lands, near Awarta village, east of Nablus.
In other news this week, the Palestinians Minister of Detainee, Issa Qaraqe', stated that eight Palestinian imprisoned at the Ramon Israeli prison, were injured on Wednesday after Israeli soldiers broke into their rooms and searched them. Qaraqe' said that under-cover forces of the Israeli army broke into one of the sections in Ramon under the pretext of searching it. The soldiers tried to force the detainees to undergo a strip-search but they refused. Soldiers then attacked them leading to clashes that resulted in eight injuries among the detainees.
Moreover Israeli sources reported on Friday that a Palestinian man from Jerusalem was shocked by an Israeli Policeman with an electric gun five times; the incident took place at a park in Tel Aviv last Tuesday. The man was vacationing with his family and was attacked in front of his five children.
And that's all for today from This Week in Palestine this was the Weekly report for August 18th to 24th 2012 from the Occupied Palestinian Territories. For more news and updates please visit our website at www.imemc.org.