United by Loss, Israeli & Palestinian Dads Call for a Joint Nonviolent Intifada Against Occupation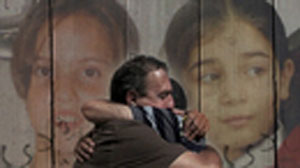 HAVANA TIMES – As protests grow in the West Bank over the death of a Palestinian inside an Israeli prison, we speak to a pair of Israeli and Palestinian fathers who've responded to personal tragedies with activism for peace.
Bassam Aramin and Rami Elhanan united after the killings of their daughters — Aramin's at the hands of an Israeli officer and Elhanan's in a Palestinian suicide bombing. Once dedicated fighters for their respective causes, they have since renounced violence and become leading voices for peace.
Their stories are told in the new documentary film, "Within the Eye of the Storm," produced by Nisan Katz and Shelley Hermon. With talk of a third intifada potentially breaking out in the occupied Palestinian territories, Aramin and Elhanan join us to discuss their shared journey and why they believe both Israelis and Palestinians should join a nonviolent uprising against the Israeli occupation.
AARON MATÉ: The death of a Palestinian prisoner in Israeli custody has sparked new protests in the occupied West Bank and even talk of a third intifada. The Israeli government claims the prisoner, Arafat Jaradat, died of a heart attack, but Palestinians say he succumbed to wounds sustained during a brutal torture. At a news conference in Ramallah, the Palestinian Authority minister for prisoner affairs said Israel is responsible for Jaradat's death.
ISSA QARAQEA: [translated] There were visible marks in the autopsy that made it clear that the detainee Arafat Jaradat was badly tortured, which caused his immediate death. Israel bears responsibility for killing him during the interrogation.
AARON MATÉ: Arafat Jaradat had been arrested for throwing rocks at Israeli settlers.
Well, on Monday, thousands turned out as he was laid to rest in his home village of Sair. More than a dozen Palestinians were reportedly wounded in the ensuing clashes with Israeli soldiers across the West Bank.
Jaradat's death comes amidst a sustained campaign over the plight of more than 4,500 Palestinian prisoners in Israeli jails. Around 3,000 Palestinian prisoners recently refused to eat meals in solidarity with five hunger-striking detainees. Protests in support of the prisoners have led to several clashes with Israeli troops over the past week. In the face of the growing outrage and with President Obama set to visit the region next month, Israel has asked the Palestinian Authority to contain the protests.
The conditions on the ground recall those that sparked the First Intifada in 1987, reviving speculation that we are potentially witnessing the dawn of a third uprising against Israeli occupation.
AMY GOODMAN: Well, we're going to turn now to a new documentary about a Palestinian and an Israeli who were once dedicated fighters for their respective causes but have since renounced violence and become leading voices for peace. Both of the men, Bassam Aramin and Rami Elhanan, came face-to-face with the price of war when their young daughters were killed, one by Israeli border police and the other by a Palestinian suicide bomber. The film is called Within the Eye of the Storm. It chronicles these two men's personal stories and their unlikely friendship. This is a clip from the film.
RAMI ELHANAN: [translated] On the 4th of September, 1997, two Palestinian terrorists blew themselves up. They killed five people that day. One of them was my daughter, Smadar.
BASSAM ARAMIN: [translated] I got a call from my eldest daughter, Arin. She was yelling, "Abir, Abir, Daddy! She was shot in the head by soldiers, and she is wounded." I was in an Israeli prison for seven years when I was 17. I believed in eliminating the other side, which I didn't even know.
RAMI ELHANAN: [translated] I never gave a thought to the other side. I didn't consider that another side existed. I went through a process.
AMY GOODMAN: A clip from the trailer of the new documentary, Within the Eye of the Storm.
For more, we go to Washington, D.C., where we're joined by Bassam Aramin and Rami Elhanan. Bassam, a former Fatah fighter, now a peace activist with Combatants for Peace, spent seven years in an Israeli prison. His 10-year-old daughter Abir was killed January 16, 2007, when an Israeli border police chief fired rubber bullets in a school zone. And Rami is a former Israeli reserve soldier turned peace activist, leading member of Parents Circle-Families Forum, an organization for those who lost children in conflict but nevertheless want peace. His 14-year-old daughter Smadar was killed in a suicide bombing in Jerusalem in September of '97.
Bassam Aramin and Rami Elhanan, welcome to Democracy Now! You come at a very difficult time, if there is any time that isn't difficult in the Occupied Territories. Bassam, what message do you have for President Obama as he is about to leave for Israel?
BASSAM ARAMIN: Yes, we have actually a hope that Mr. Obama will make a difference this time, not to wait for another four years. I ask him to stop the unconditional support for one side against the other, because it doesn't help us. We will continue fight each other because of this policy, so please be objective, and be pro-Palestine-and-Israel, and be pro-peace.
AARON MATÉ: Bassam, we said at the top that there's talk of this starting a third intifada. Do you think that's accurate?
BASSAM ARAMIN: You know, actually, since like many months, the situation in Palestine is very bad. The behavior of the Israeli occupation became more aggressive. The killing of Arafat Jaradat, who is from my village, it's too much. It's too much, actually. The Palestinian people have no hope. They cannot continue living under this brutal occupation, by this way, without any hope. And we always actually call for the third intifada, which must be a different one. We call for a Palestinian-Israeli intifada against our common enemy: the Israeli occupation. We must join forces, Israelis and Palestinians, to end this occupation by nonviolent intifada, which must be started.
AMY GOODMAN: Rami Elhanan, you lost your daughter, as did Bassam. Do you share Bassam's view on this? What would an Israeli-Palestinian intifada look like?
RAMI ELHANAN: Well, certainly I do, with all my heart. I think we both paid the highest price as an outcome of this outrageous occupation, the last occupation that exists on earth. And I think we need to do everything in our power to prevent more losses from more innocent people. And the only way to do it is by joint forces, Israeli and Palestinians, peace seekers, who will fight this horrible occupation with nonviolent resistance.
AARON MATÉ: Rami, if you could tell us your story, what you've done in Israel since your daughter was killed?
RAMI ELHANAN: Well, for the last 15 years, I devoted my life to go everywhere possible, to talk to anyone possible, to convey the message that we are not doomed. This is not our destiny to keep on killing each other forever, and we can change this endless cycle of violence and revenge and retaliation. The only way to do it is simply by talking to each other.
AMY GOODMAN: How did your daughter die? You, yourself, are a former Israeli soldier. Talk about what happened. It was 1997?
RAMI ELHANAN: It was the 4th of September, 1997, Thursday afternoon. Two Palestinian suicide bombers blew themselves up in Ben Yehuda Street in Jerusalem, killing five people, including three little girls. One of them was my 14-years-old Smadar. It was the first day of school. And it changed my life and blew up the bubble that I was living in.
AARON MATÉ: And talk about what you've done. You've gone and you've spoken to many people. And actually, in this film there's clips of people confronting you with hostility about your activism.
RAMI ELHANAN: Well, that's part of the game. I mean, this is the price you have to pay if you are willing to talk to your society, which turns you a cold soldier and try to ignore their reality. And your role in this equation is to put cracks in the wall of hatred and fear that divide our two nations, and sometimes it can be very difficult. I'm doing it for the last 14 years, and it gives me a reason to get out of bed in the morning.
AMY GOODMAN: Bassam Aramin, tell us about your daughter. When was she killed, and how did she die?
BASSAM ARAMIN: She was killed in the 16th of January, 2007, in front of her school 9:30 in the morning by an Israeli border police in Israel who shot and killed her in her head from the back from a distance of 15 to 20 meters, without anything. Just it was one bullet, and Abir fell down and died. She was only 10 years old. She wasn't Fatah member or Hamas member. There were no demonstrations or violence or intifada. And she passed away after two days in Hadassah Hospital.
Again, this was like easy to go to the easy way, but we decide not to revenge, because we need to break this circle of violence and blood. And I have another five kids, and I have Israeli friends who have kids. We need to protect them. And I always said that they are all our kids, and they are all our children. I didn't find the answer to kill an Israeli daughter or even to kill the Israeli killer, because he's a teenager, and I consider him a victim to the past or to the memory or to the education or to the situation. We are normal people living in unnormal situations, so unfortunately sometimes our behavior became very brutal.
AARON MATÉ: Bassam, you won a judgment from an Israeli court over the killing of your daughter, which is quite rare. Can you talk about the case? And are you satisfied with how it was resolved?
BASSAM ARAMIN: Yeah, actually, after four years after they denied that the Israeli soldiers was there at all in the town, then after four-and-a-half years I need to prove that my daughter had been killed with a rubber bullet. And it was the first time that I win the case, the civil case. But my goal was to bring this hero, victim or whatever, this soldier, to the trial, and the Supreme Court decided that after four-and-a-half years, which is a long time, there's no evidence, so they closed the file for the fourth time. Unfortunately, they have not—I have nothing to do in Israel, but I always said I have the world, and I believe in justice. And all the justice lovers around the world must support me, including many, many hundreds of my Israeli brothers and Jewish brothers around the world. And all the human beings around the world must support me because I ask to bring this man to justice, because he killing a daughter, a 10-years-old daughter, not because he's an Israeli and I'm a Palestinian, because my child wasn't a fighter, and she had nothing to do with this conflict.
AMY GOODMAN: We will leave it there, and I want to thank you both for being with us, Bassam Aramin and Rami Elhanan—Bassam, a former Fatah fighter; Rami, a former Israeli soldier. Both lost their daughters. This is Democracy Now! We will link to your website. Within the Eye of the Storm is their new film.
(*) See this program on Democracy Now!