Venezuela: US and EU Roll Out New Sanctions on Maduro and Associates
Trump suspends US entry for Venezuelan officials and associates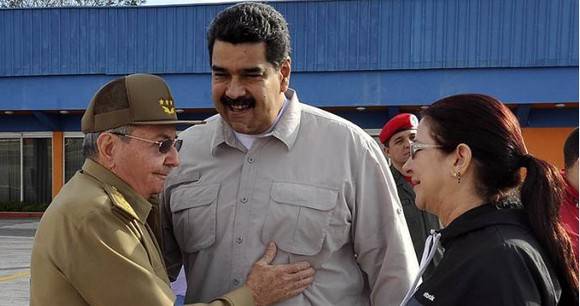 HAVANA TIMES – US President Donald Trump on Wednesday suspended senior Venezuelan government officials, security forces and their family members and associates from entering the United States, reported dpa news.
Trump ordered the suspension of entry to all members of the government of President Nicolas Maduro at the level of vice minister or higher.
The suspension of entry applies to all officers in the Venezuelan military, police, or National Guard at the rank of colonel, or equivalent, and above, and all members of National Constituent Assembly of Venezuela.
Trump also ordered the suspension of entry to immediate family members of the above groups and any foreigners who "derive significant financial benefit" or act on behalf or in support of the Venezuelan political and security officials.
More US sanctions on Oil Shipping Companies
The US Treasury announced Tuesday new sanctions against four shipping companies that transport oil from Venezuela to Cuba in violation of a ban already ordered by Washington, reports Diario de Cuba.
According to the web publication, the four companies are Caroil Transport Marine Ltd. Based in Cyprus, Trocana World Inc. and Tovase Development, with its headquarters in Panama, headed by Guillermo Faustino Rodriguez Lopez-Callejas, the brother of brigadier general Luis Alberto Rodriguez Lopez-Callejas, the powerful ex-son-in-law of Raul Castro who heads the Cuban military business conglomerate Gaesa. The other sanction company is Bluelane Overseas. S.A.
Treasury Secretary Steven Mnuchin, said the measures were being taken against the Venezuelan president Nicolas Maduro who the White House considers an illegitimate ruler, noted Reuters.
"The Venezuelan oil belongs to the Venezuelan people and shouldn't be used as a tool of negotiation to sustain dictators [referring as well to Cuba] and prolong the usurpation of Venezuelan democracy," said Mnuchin.
EU to slap sanctions on more associates of Venezuela's Maduro
HAVANA TIMES – The European Union is expanding the scope of its sanctions against supporters of Venezuelan President Nicolas Maduro to include seven members of the secret service or security forces, according to dpa's sources.
The individuals, who are allegedly responsible for torture and human rights violations, are to face an entry ban into the bloc and have their assets frozen.
Representatives from EU member states decided on the move at a meeting on Wednesday, diplomatic sources told dpa. The measure must still be formally approved.
Venezuela is caught in the throes of a violent power struggle between Maduro's government and the opposition, led by Juan Guaido.
The former has the backing of China, Russia, Cuba, Bolivia and Nicaragua, while the latter is supported by a number of Latin American and European nations as well as the United States.
So far, 18 people connected to Maduro have been the target of EU sanctions. The export of weapons and equipment to Venezuela is also banned to stop them being used on civil society.