Why Teen Girls Rose Up at a Guatemalan Children's Home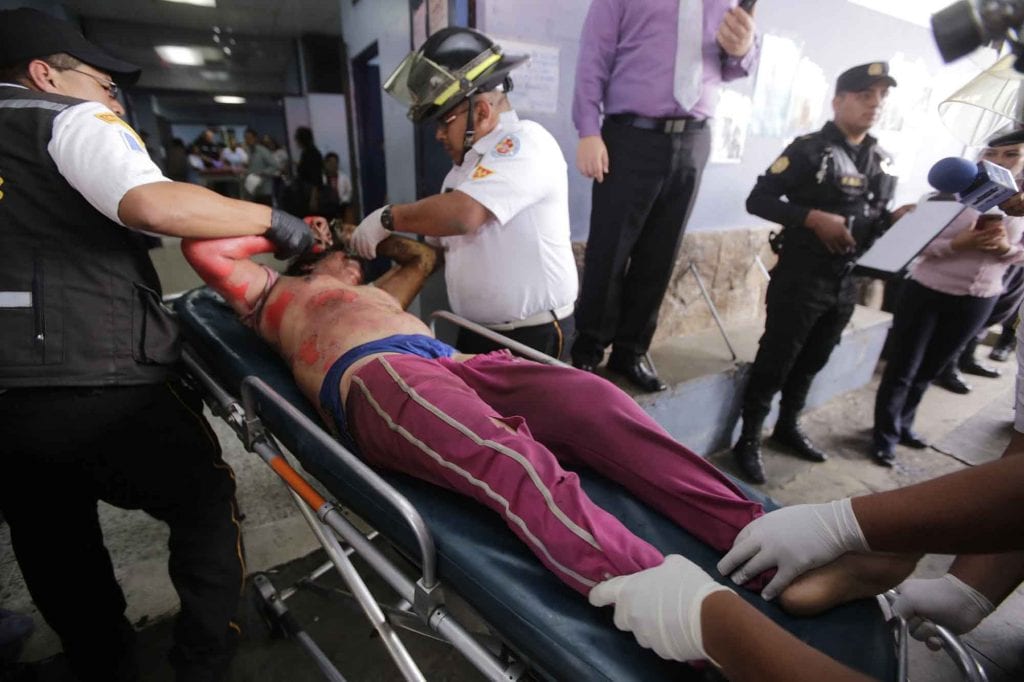 It wasn't because they didn't like how the food tasted. A story of abuse by Guatemalan authorities
By Gabriel Woltke and Martin Rodriguez Pellecer   (Confidencial)
HAVANA TIMES — "The teen girls were being punished for extortion. The girls had sharp objects hidden in their hair. We exhausted our dialogue with the girls. We couldn't accept a report that said that this place was a henhouse where girls were being tortured. I believe that the reason for the uprising, that they didn't like the food, is invalid. There wasn't any negligence. I am not going to put in my resignation as the Secretary of Social Welfare.
"Last night, the President ordered the police to find and return the 60 teenage escapees to the shelter. The problem here is that judges mix children who have committed crimes with children who have been abandoned by their families. We ask the Public Ministry to investigate but we are not holding anybody directly responsible for the events. The President has not come to take part in this conference because he is attending to urgent national issues. This press conference is over."
This is how the Guatemalan Government explained to its citizens what had happened on the morning of March 8, 2017 when some small and teenage girls rose up at the government-run center where they lived. The girls set fire to mattresses in some rooms so that they would be let out. They weren't let out and they burned to death. At that time, 19 girls died. Up until now, 37 deaths have been confirmed.
The Virgen de la Asuncion Home for children is situated on top of a hill 6 kilometers away from the El Salvador Highway, one of the most exclusive residential areas in Guatemala City. It is located in the San Jose Pinula municipality, surrounded by woods and ravines which have served as a hiding place for over 100 children and teenagers who have escaped from what should be their home but which they believe to be their prison, over the past year.
The girls didn't rise up because they didn't like how the food tasted.
***
It was 11 AM on Wednesday morning. The Home for Children was surrounded by people's wailing with grief. Mothers, fathers and grandmothers who had come to ask if their children were still alive.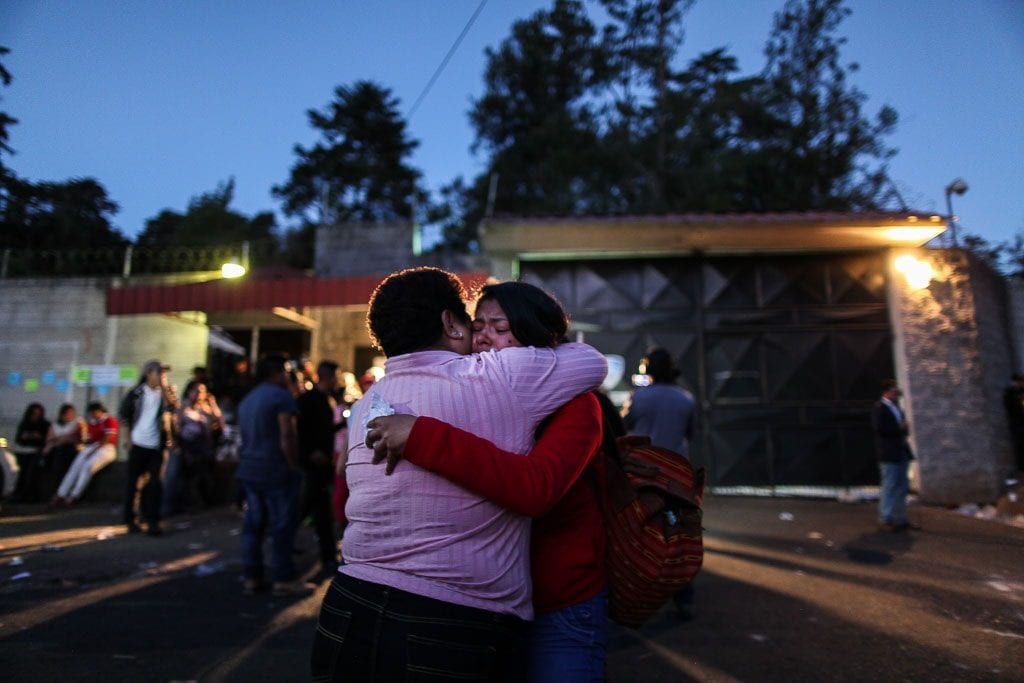 What crime had these children and teenagers committed to be put there? Some had been recruited by gangs to rob, for extortion or murder. Others had the audacity to belong to a family who left them out on the street, a father who used to beat them until a neighbor called the police. To a network which prostituted young girls. To parents who didn't know what to do when they discovered their child had special needs. Others were born there, the children of teenagers who had been raped by their colleagues, teachers or Secretary of Social Welfare employees. All of them together figured at over 800 babies, children and teenagers living in a place which only has the capacity for 500.
A woman went up the hill with tears in her eyes. We asked her if she was looking for her child and she told us no, that she was a neighbor. That she had climbed up yesterday when she had heard that there had been problems, that she saw how the girls were throwing stones at their teachers and policemen while they shouted:
– Rape us now, in front of everyone. Come and rape us then, if that's what you want to do again.
The woman continued with tears in her eyes.
– This was a rebellion of the girls. Anybody who lives nearby knows that this is hell.
Hell isn't a metaphor.
"None of you are leaving until you give me a blow job," teacher Edgar Rolando Dieguez Ispache ordered his 12 and 13 year old students, when they wanted to leave the room where they received 5th and 6th grade primary school classes. None of them managed to get out or avoid sexual abuse. According to the Santa Catarina Pinula Prosecutors at the Public Ministry (MP), rape took place at the Virgen de la Asuncion home for children, which journalist Jose David Lopez told us about in an article he published in Plaza Publica in October 2016, four months ago.
The article tells us of this horror. The same teacher used to order students to walk around naked in front of their classmates in the classroom. One of the builders, Jose Roberto Arias Perez, raped a girl with a mental disability. An alleged employee, described in one of the 28 reports at the Secretary of Social Welfare as Joseph, used to force girls to have sex with him and used to take them outside of the center.
Dieguez Ispache is currently on trial. Arias Perez was sentenced to 8 years in prison. Joseph probably continues to work at the Home for Children.
At the same Home for Children where 37 girls had to die in order for Guatemala to wake up and pay attention.
***
Outside this government-run center, you can still hear the wailing of relatives and neighbors.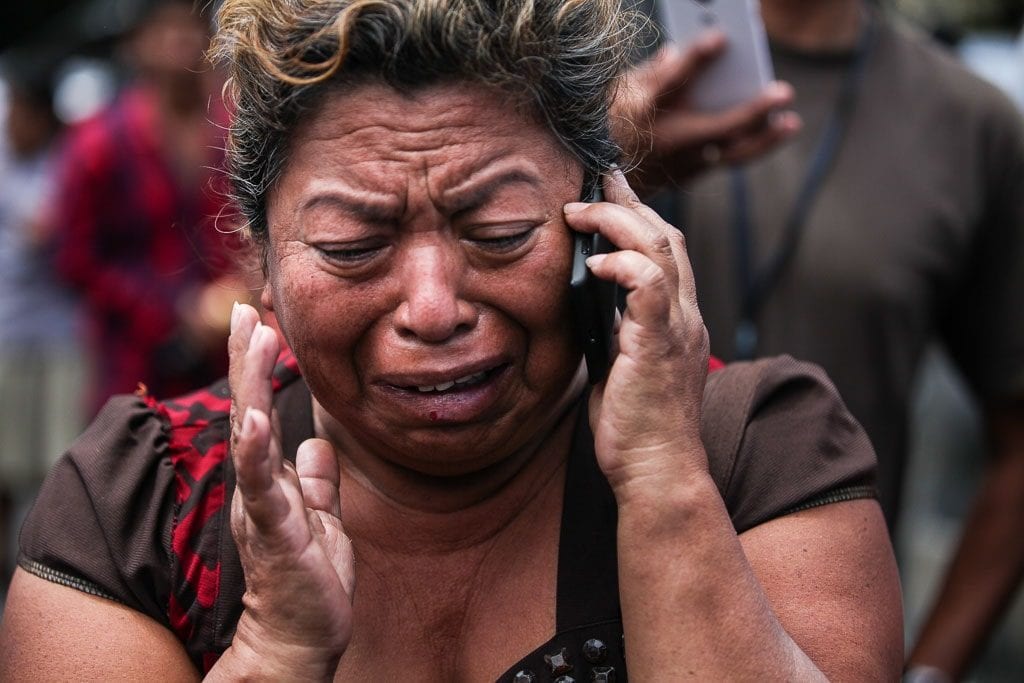 Socorro has red eyes from crying and is white from grief. She didn't stop crying on the telephone. She had a daughter.
– They told me yesterday that visiting hours would be normal today and when I was on my way on the bus, I heard that they had been burned.
She leans back on a police car while she continues to cry.
When Socorro arrived, the firemen were taking out the bodies, but it was three hours later and nobody could tell her anything about her daughter.
From time to time, a social worker would come out with a piece of paper to take down information from people who were looking for their children. She read out names and people responded with heavy sighs. In the best of cases, she carried a photo with her to keep people more calm. A drunk father, about to tumble over said:
– Why is this place called "safe"? Bitch, can't you look after my child?
That was a portrait of dysfunctional families. A meter or so away from the ravine, two year and a half year old children were playing while their parents, who wouldn't be older than 18, were talking about a Barcelona game. One of the babies fell and hit their head against a car and began to cry. Their parents saw this and carried on their conversation. The other child, taking unsteady steps, hugged him and helped him stop crying.
– Why the hell are you coming now? a woman shouted hoarse already while judge Maria Eugenia Morales entered the Home.
– Why now, if they have already burned to death? another woman seconded.
At least the judge turned up. In the surroundings of the Children's Home, rumor was going around that President Jimmy Morales would come. He didn't.
Instead, a press conference was called in the flags room at the National Palace.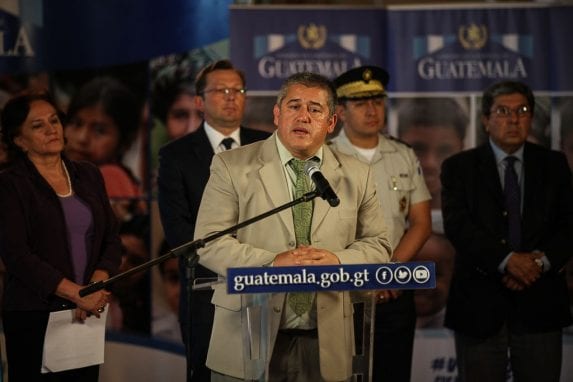 The change in atmosphere was huge. Anabella Morfin, the Attorney-General of Guatemala; Carlos Rodas, secretary of Social Wellbeing; Julio Aguilar, the PNC spokesman; Victor Godoy, the Human Rights commissioner; and the presidential spokesman, Heinz Heinmann appeared in front of the cameras.
The next 40 minutes were surreal.
***
The press have never been allowed to enter the Children's Home, even after the tragedy.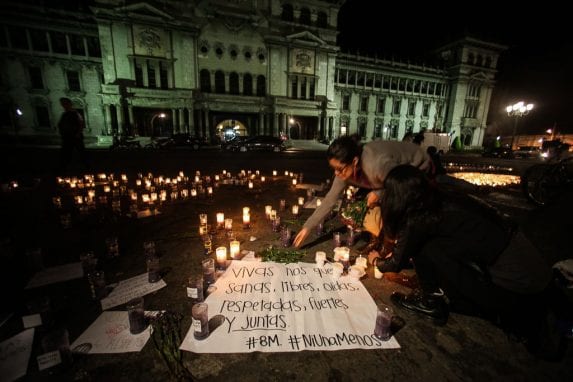 The only photographs of what took place yesterday were taken by a photographer who traveled inside an ambulance. These could be photos of crimes against humanity. In black and white, it could be confused with Auschwitz. The bodies of young girls and teenagers covered in ash, piled one on top of the other, where you can still see little details from their pajamas.
Twelve hours after the event, in Constitution Square, women lit 770 candles, one for every woman who dies per year. While they were lighting these candles, 3 more girls died in the hospital because of the severe burns they received at the children's home. 775 children and teenagers woke up today with the smell of burnt flesh at the Center. Guatemala, all of Guatemala, is up in flames.