A Cuban Graffiti Artist and Closed Spaces
Yulier Rodriguez Perez (Yulier P), famous for his huge murals with ghostly figures scattered across Havana's ruins, refuses to erase his work.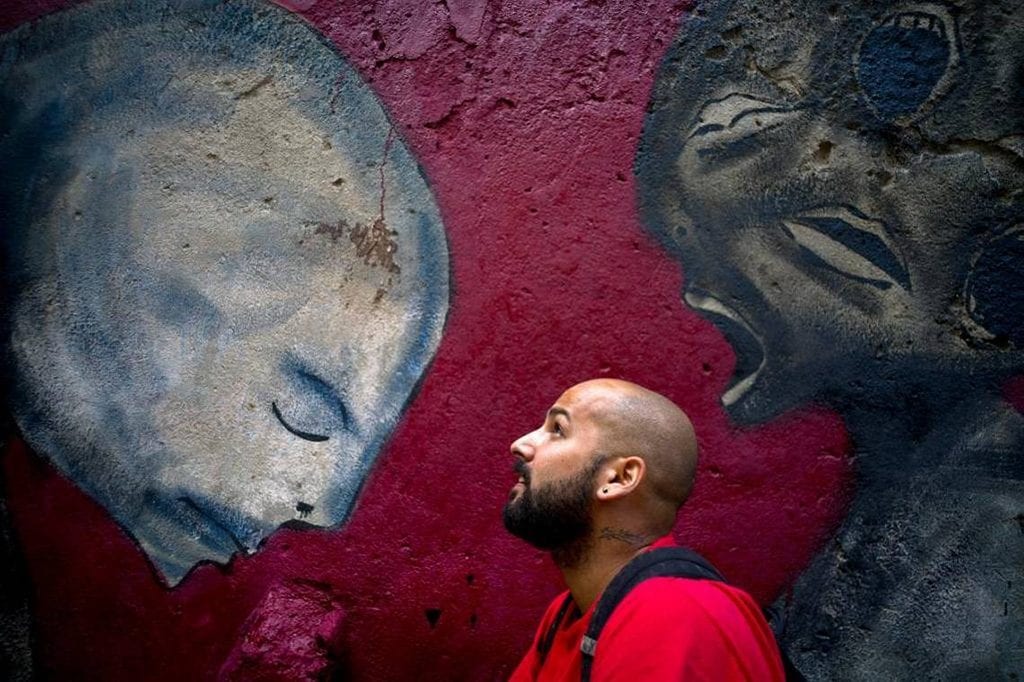 HAVANA TIMES — The Cuban government has decided to censor another graffiti artist's work as an additional sign that it is unwilling to allow the slightest display of independent expression at this point in time – whether that's in the field of arts or any other -, especially in public spaces.
The face-off currently in progress seems destined to become an exercise of repressive force, whose objectives go beyond the elements being disputed (graffiti), as well as stepping up a climate of tension which residents on the island were already familiar with beforehand. The best thing to do today is to sit still, quietly, at home if possible.
In the face of the government's attitude, the graffiti artist's response has been firm, but this firm stance that needed to have been taken into account ever since the measure was announced, has to be ruled out. What the government in Havana are ultimately interested in is in creating another pretext to display their power, and to set things straight, once again, that it won't take into account any opinions except for its hegemony. Thereby it repeats an old precept which was established decades ago: don't question anything coming out of Revolution Square.
Cuban graffiti artist Yulier Rodriguez Perez (Yulier P), famous for his huge murals with ghostly figures scattered across Havana's ruins, is refusing to erase his work, like the authorities are ordering him to.
He had already been held in custody for 48 hours and they demanded that he erase hundreds of his enormous graffitis.
In statements to Associated Press, Yulier P said that he was arrested last week when he was working on one of his pieces on a collapsed building in the crowded neighborhood of Central Havana and was taken to the police station. Before being released, he was made to sign a warning letter telling him that, if he didn't erase all of his work, he would be charged for "property damage" before a court.
"I think that graffiti as an artistic work in a destroyed place adds esthetically to the visual image of the city," the 27-year.old street artist pointed out.
We have to ask – again – why this show of power has been exercised against him.
In Havana, where the majority of street art is dedicated to political slogans or portraits of the Revolution's leaders, Yulier P has set himself apart and characterized himself by flooding important areas within the city over three years with his dream-like and ghostly figures, with otherworldly gazes, which might combine a simple flower with the faces of women.
Even though he doesn't have the exact figure, Yulier P estimates that he has created almost 200 murals in Havana, and a few more in other Cuban cities, AP reports.
But, why is the Government taking an interest in his graffitis now, after three years? It's worth repeating the question.
It isn't just a legal issue, like they want people to think it is.
With regard to current legislation in force, there is no specific law that deals with this creative form of expression. While it's true that writing on walls in public spaces or in front of private homes is banned, Yulier P assures us that he always searches for abandoned, collapsed buildings or dumps. He hasn't tried to graffiti on a hotel in Havana or in any other state-run tourist installation.
The interesting thing about Yulier P's case is that his graffitis are not explicitly political in their content. He doesn't write phrases or intentions against the Government; he doesn't make explicit political statements in his work nor does he write protest texts. What's more, his art is defined by faces and not words: pictorial expression rather than graphic expression; a feeling, an atmosphere instead of a slogan.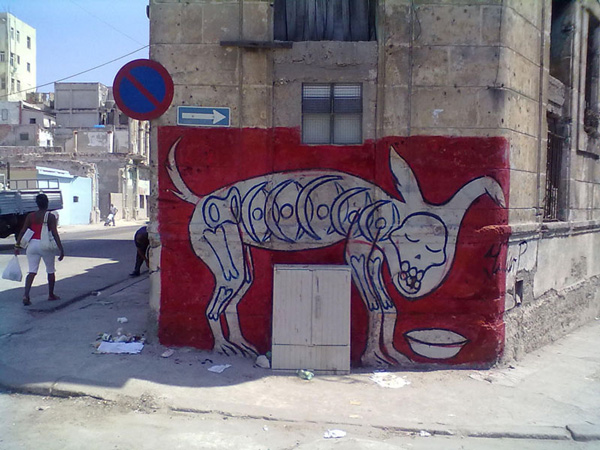 Yulier P presents us with ghostly figures who are in great distress, but they aren't shouting out counter-revolutionary slogans.
This is where his work differs from that of another famous Cuban graffiti artist, El Sexto, who is currently residing outside of Cuba,
Censorship of Yulier P's work is placed within the new tendency – although it is also an old and well-known method for people who live in Cuba – which comes from the top of the chain of command and becomes more and more valid: moving backwards and going beyond everyday repression at the same time, which had given signs of escape in recent years. Repeating in street art what is being developed in the fields of thought, analysis and dissemination of information: attacking appearances, nuances and any more or less subtle form of contempt and difference.
We are witnessing an offensive with repression, via censorship in the most varied fields: from opinion and analysis articles to symbolic representation.
It's not that Yulier P has stood out for being a "neutral" artist. His terrifying faces are the best proof of this. However, his work moves within a realm which keeps clear of political discourse and goes in search of fantasy. Stopping him from doing this work, which has become widespread over the past few years, is another sign of today's Cuban reality which persists and advances everyday: the closing of spaces.
Also read our 2015 interview with: Yulier Rodriguez Perez