Amnesty Int. Denounces Repeated Violation of Press Freedom in Nicaragua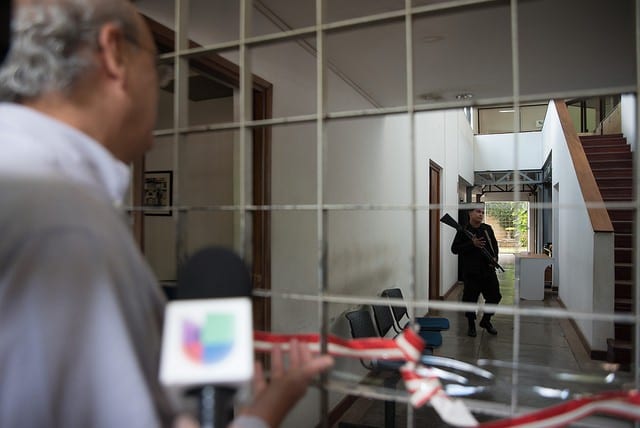 Reiterates request for the immediate release of Miguel Mora and Lucia Pineda
Erika Guevara Rosas: "It is deplorable that Nicaraguan authorities continue to repress the press and violate the right to inform."
HAVANA TIMES – Amnesty International (AI) pointed out on Thursday that the Government of Daniel Ortega continues to violate the right to freedom of the press in Nicaragua, immersed in a serious sociopolitical crisis since April of 2018.
"It is deplorable that Nicaraguan authorities continue to repress the press and violate the right to inform," said Amnesty's Director for the Americas, Erika Guevara Rosas, in a written statement sent to EFE, on occasion of the World Press Freedom Day which is held today Friday.
During the last year, the activist continued, "the brave people who dedicate themselves to journalism and those who work in the media have faced attacks while covering protests and have been harassed and persecuted for exercising their freedom of expression and doing their job."
Journalism is considered one of the most dangerous professions in Nicaragua since the beginning of the crisis, when the communicator Angel Gahona was shot dead while covering maneuvers of the National Police. The alleged perpetrators of the crime were condemned by the court although witnesses, neighbors, and relatives of the victim claim that they are innocent. [No real investigation was ever carried out, as is the case in the over 325 persons killed in the last year's repression.]
Meanwhile, journalists Miguel Mora and Lucia Pineda, Director and Press Manager of the "100% Noticias" television channel, critical of the Executive, have been in prison since last December accused of promoting terrorism in the context of the crisis.
"More than 70 journalists and media personnel have been forced to leave the country," warned Guevara Rojas.
She affirmed that Amnesty International continues receiving reports of attacks against the press and harassment of journalists in Nicaragua.
"The authorities must immediately release the journalists who have been detained exclusively for exercising their right to press freedom and they should also stop their attempts to silence the independent media," Guevara insisted.
Likewise, she invited the authorities to investigate all attacks against the press "in a prompt, impartial and independent manner, to ensure that responsibilities are defined and damages to the victims are repaired."
Data from the Violeta Barrios de Chamorro Foundation indicate that between last April and December of 2018, at least 712 cases of violations of press freedom were reported, including assaults, censorship, threats and assassinations, among other transgressions.
The Ortega forces also keep under occupation the building where the television programs "Esta Semana" (This Week), "Esta Noche" (Tonight), and the digital magazines Confidencial and Niu operated, which belong to the companies Promedia and Invermedia of journalist Carlos Fernando Chamorro, who had to go into exile in Costa Rica.