Andrew Cuomo & Business Delegation in Havana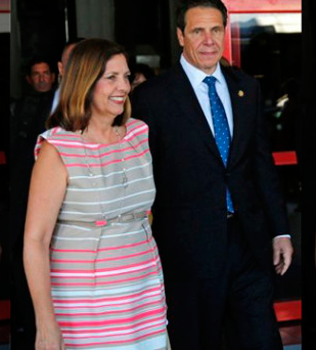 HAVANA TIMES — The Governor of New York Andrew Cuomo arrived in the Cuban capital on Monday heading a large delegation of business people interested in learning firsthand the Cuban reality and making contacts for future business endeavors.
Cuomo was welcomed at the José Martí International Airport by Josefina Vidal, head of the USA desk at the Cuban Foreign Ministry.
Along with Cuomo are executives of major companies including Walt MacNee, vice president of MasterCard, Freda Lewis-Hall, vice president of the world famous Pfizer, and Robin Hayes, vice president of JetBlue, precisely the airline that brought the charter flight to Cuba.
On the agenda for the delegation are meetings with Cuban Vice President Miguel Diaz-Canel, Foreign Trade Minister Rodrigo Malmierca, and, according to informed sources, with Cardinal Jaime Ortega.
On Tuesday April 21 at 10 am, Cuomo and his companions will give a press conference at the Hotel Nacional, to which the accredited international media is invited.
Governor Cuomo intends with his visit to open spaces and make contacts for the business community of his state, in accordance with the steps taken by President Obama and his counterpart Raul Castro.
And they are not alone in testing the Cuban waters.
Today Cuban Foreign Minister Bruno Rodriguez Parrilla began a European tour culminating in Belgium the day after tomorrow to attend the Sixth Session of the Political Dialogue with the European Union. From these meetings depends a possible change of EU policy with Cuba.
Virtually all analysts believe that taking into account the latest developments regarding the Cuba-US dialogue, Europe wants to move quickly toward a rapprochement with Cuba. As an example: Federica Mogherini – the EU High Representative for Foreign Policy who visited Cuba a few weeks ago-, said today that "this block shouldn't miss opportunities in its relations with Latin America and the Caribbean," a topic the EU foreign ministers were debating Monday.
Such negotiations are one more reason the New York governor and his delegation are present in Cuba.