Another Look at Haiti's People '
Iriana Echarry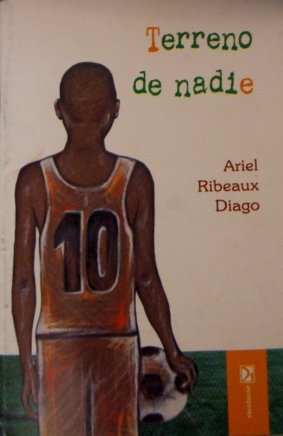 HAVANA TIMES, Feb. 18 – Haiti is an important country these days; important for the misfortune that has befallen it.
Thousands upon thousands of children have died, been injured or orphaned (another form of injury).  The mass media unceasingly repeat the numbers of victims and how difficult the situation is for the survivors (though it was also very difficult before the earthquake).
In the face of such horror, such calamity, anyone might represent Haitians as a people who have been weakened or made fragile, without the force to continue living.
What would be the opinion of a child who only hears about how poor they are, how they've been mistreated by nature or of their need for help?
To counteract this image of destitution comes "Terreno de nadie" (No Man's Land), a book written by Ariel Ribaux Diago (1969-2005), a Cuban who dedicated himself to recounting spellbinding stories to youngsters.
The book narrates a fragment in the life of a Haitian adolescent in exile, a victim of discrimination, loneliness and sadness.
From the eyes of Marcel, a journey is made through the history, customs and culture of Haiti.  The book relates the suffering and burdens of that people, who can count among their finest victories having been the first French colony to obtain its independence.
All of this is told by this youth —with pride— through the crucible of history.  At the same time, he criticizes his French teacher for wanting him to change his last name.
The country in which he now lives is alien to him; the society rejects him for being different but doesn't allow him integrate into it.
Our hero wonders how he can be hated by people who have themselves suffered the hatred of others with their own flesh.
He questions falsehood, hypocrisy and lies as forms of life established among many adults.  He tries to resolve family conflicts: he judges the father for the infidelity he commits; he feels pity for the mother, alone in a country where she can't get work as a teacher (her profession) and must labor on a cleaning crew.
The author introduces us to a boy who is capable of reflecting on existential problems, ones concerning acceptance and related to his right to express himself and behave in the way he's been educated.
But the boy is also able to love, and of course to forgive.  Marcel defends himself against everything that is adverse to him and everyone who attacks him.  He perseveres to arrive at the moment he's able to begin adapting to that new country, an instant in which he finally begins to feel less alone.
Ariel Ribaux left us a book of love.  Love for traditions, the family, for old people and new friends, and for Dominique (the freckled redhead who kisses the leading character for the first time).
Marcel feels pride for his roots, love for himself, confidence and sensitivity, something we should all have as human beings, no matter where we happen to live.
After reading "Terreno de nadie," published by Editorial Gente Nueva (2009) and presented at the 19th edition of the Havana Book Fair, our youth will identify with Marcel and, above all, with the melancholy that causes his suffering.  They will see optimism, courage, the desire to be better, and —especially— happiness.