Arias: Day One of Honduras Talks
by Circles Robinson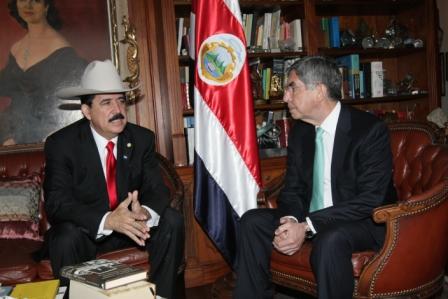 HAVANA TIMES, July 10 — Costa Rican President Oscar Arias admitted Thursday – after the first round of talks with deposed Honduran President Manuel Zelaya and military-civilian coup leader Roberto Micheletti – that coming to an agreement to end the crisis has as its most difficult point the restitution of Zelaya to finish out his term.
Arias recalled that he "was the first head of state to recognize that what took place in Honduras was a coup." He said the first day of talks in San Jose, where he met separately with the two parties, "was a frank dialogue, sincere, transparent and respectful," reported www.cubadebate.cu.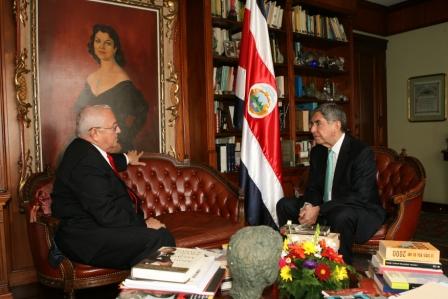 Noting that a solution to the crisis is in the hands of Zelaya and Micheletti he noted: "They are the ones that will have to end this dialogue with a negotiation."
The talks continue on Friday with a negotiating team left by Micheletti, who returned to Tegucigalpa, and Zelaya and his foreign minister Patricia Rodas.
On Sunday June 28, President Zelaya was awoken at gunpoint and forced onto a plane and sent out of the country. The military coup has been unanimously repudiated by the United Nations. Likewise, the Organization of American States unanimously suspended Honduras from the continental body on July 5, demanding that Zelaya be immediately reinstated.
Later that same day Zelaya attempted to return to Honduras, accompanied by UN General Assembly President Miguel D'Escoto, but the runway was blocked by the Honduran military, which also fired tear gas and live ammo at the over 200,000 Hondurans who converged on the airport to receive their president.
For more on the issues involved in the Honduran crisis see these Havana Times reports and commentaries:
Cuba Civic Support for Hondurans: http://havanatimes.org/?p=11386
Live from Honduras: http://havanatimes.org/?p=11305
Cristina Fernandez on Honduras Coup: http://havanatimes.org/?p=11319
Cuba Cuts Assistance to Honduras: http://havanatimes.org/?p=11375
Honduras Coup Back to Washington: http://havanatimes.org/?p=11152
The Coup is Irreversible: http://havanatimes.org/?p=11155
Week Two: Honduras Unrest Grows: http://havanatimes.org/?p=11141