Baltimore Orioles to Play Cuba in Havana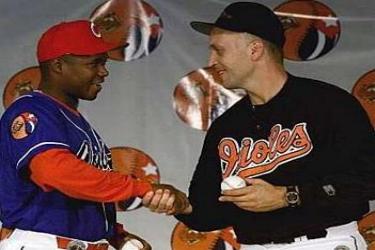 HAVANA TIMES — The Baltimore Orioles will return this year to Cuba to play the first game of a major league team on the island in more than 15 years, announced a senior Cuban sports official, reported dpa news.
The Orioles will play an exhibition game against the Cuban national team on the island sometime in 2015, at a date yet to be determined, said Antonio Bacali the chairman of the National Sports Institute (INDER).
Bacali also said there are other teams in the majors that would like to play the Cuban team this year. "Cuba is open to such clashes with major league teams," added the manager.
Back in 1999, the Orioles became the first MLB team to play in Cuba after the revolution of 1959.
There are doubts whether this time around they would send their top players, which includes a Cuban defector, outfielder Henry Urrutia.
In Cuba, some tape delayed Major League games are broadcast on television but the censors are careful to exclude teams with former Cuban players.
Cuba banished professional sport in 1961 and until recently did not allow its athletes to sign with foreign clubs. A small number of players have played during the local off season under contract with teams in Mexico and Japan after the government of Raul Castro opened up this possibility.
US law only allows Cubans to sign with Major League teams if they have established residence off the island. In recent years an increasing number of top players and prospects have been smuggled off the island illegally on speed boats to begin the process of being accepted by MLB. The Dominican Republic, Haiti and Mexico have been the favorite destinations.
Urrutia abandoned his team on an official trip to Haiti in 2011. The Cuban Oriole was greatly pleased by the diplomatic thaw announced by Cuba and the United States in December 2014.
"I am very happy to know that something is happening at last," Urrutia told the Baltimore Sun.
Since the announcement of rapprochement between the two old ideological enemies, several representatives of US sports have traveled to Cuba or have announced their intention to do so.
The New York Cosmos will play a match against the Cuban national team on this coming June 2 in Havana.