Berta Soler: 'Cuba's Ready for When the Time Comes'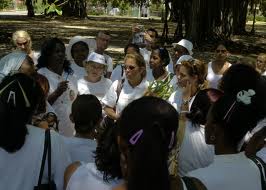 HAVANA TIMES — Berta Soler, the leader of the Cuban dissident group "The Ladies in White," said Tuesday in Madrid that the internal opposition in Cuba "is prepared and organized" for when "the time comes" and she called on the international community to increase pressure on Raul Castro's government.
Soler participated in a conference at the Casa de America as part of her first trip abroad following recent immigration reforms implemented on the island, reported dpa news agency.
Several supporters of the Raul Castro government interrupted the event at one point during an homage to Soler. They stood up and began demanding the right to ask questions. "Not all of us are exiled dissidents," said one of them, while another added, "The Ladies in White don't represent us."
The police evicted several of the people interrupting the event.
The leader of the Ladies in White, 49, told the audience that she was able to travel to Spain "due to international pressure" not because the Cuban government has "good will".
"It's trying to fool the world," she said, asserting that "nothing has changed" in Cuba. She therefore called for greater pressure — "the iron hand," as she called it — by the international community.
She believes "this push from the outside" is essential. "If we work together, we will achieve Cuba's freedom in the near future," she said in a ceremony in which at times she was very emotional.
After the conference, Soler symbolically received six awards that were granted in the past to the Ladies in White, a group of wives of former political prisoners that was founded in 2003, following a wave of arrests during the "Black Spring." Previously the awards had to be collected by representatives since the women were unable to leave Cuba.
The new immigration law, that took effect in January, eliminated the previously required Cuban exit permit ("carte blanche") and letters of invitation needed for decades for Cubans to travel abroad.
Under the new law, citizens of the island who want to travel now only need a valid passport and a visa from their destination country. The reform however points to possible restrictions on the grounds of "public interest" and "national security."
In addition, well-known blogger Yoani Sanchez received her passport on January 30 and is now on a junket touring several countries.