Bogota, Colombia Tightens Quarantine Amid Increasing Infections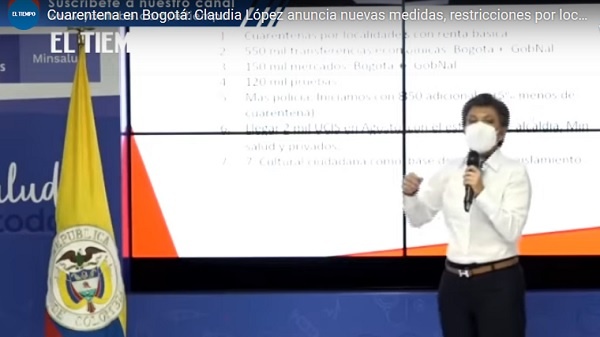 HAVANA TIMES – Colombia's capital, Bogota, is tightening coronavirus restrictions as a rapid increase in infections is threatening to overwhelm the city's health system, Mayor Claudia Lopez announced on Friday, reports dpa news.
All of Colombia is already under a lockdown until August 1.
Bogota will tighten the quarantine in districts that have the most
Covid-19 cases, where all but essential economic activities will stop, Lopez said.
The city of 8 million people has recorded more than 42,000 novel coronavirus infections and over 900 deaths, while 85 per cent of beds in intensive care units for Covid-19 patients are already occupied.
Lopez said she expected the pandemic to peak between the middle and the end of August.
The Bogota districts with the most Covid-19 cases will be placed under rolling two-week quarantines between July 13 and August 23.
Only one person at a time may go shopping for essentials. Alcoholic drinks may not be sold and residents must stay inside overnight.
Lopez pledged more economic aid to needy families.
Infections have also increased rapidly on the northern coast and in the western Antioquia and Valle del Cauca regions.
The Health Ministry on Thursday confirmed a total of 133,973 infections and 4,714 deaths. That makes Colombia the Latin American country with the sixth-largest number of Covid-19 cases, according to local media.
President Ivan Duque's government has nevertheless continued to reactivate the economy. In the latest move, pilot plans are being launched for restaurants, gyms, theatres and churches in municipalities with no or few infections.
The government stresses the need to create jobs in the country where the economy shrank by 20 per cent in April year-on-year.