Brazilian Justice Calls for Investigating Lula over Cuba Projects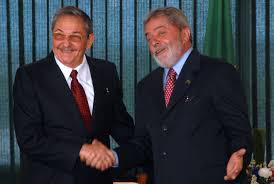 HAVANA TIMES – Brazilian prosecutors seek to investigate former President Luiz Inacio Lula da Silva, accused of corruption in connection with the Odebrecht corporation's construction operations in Cuba, reported the Estado de Sao Paulo newspaper quoting secret court documents.
The request is part of 25 demands made by the Brazilian prosecutor's office to the Supreme Court, whose details were not released last week, along with a hundred other cases, and to which Estado de Sao Paulo claims to have had access, notes dpa news.
The newspaper was the first to reveal eight days ago details of the list of some 100 politicians who had been accused of corruption by former company president Marcelo Odebrecht in his cooperation with the prosecution. The Supreme Court judge in charge of investigations, Edson Fachin, then authorized the publication of almost all the information aimed at the public interest, but kept 25 cases under judicial secrecy.
According to "Estado", one of those cases includes the request to investigate Lula and the former governor of the state of Minas Gerais Fernando Pimentel for their alleged intervention to help Odebrecht obtain the works of the Port of Mariel in Cuba.
The Brazilian company, accused of corruption in ten Latin American countries, is the main construction company of the megaport located 40 kilometers west of Havana.
The Port of Mariel is the largest infrastructure project promoted by socialist Cuba in decades. The government of Raul Castro has created a free zone that aims to become a regional commercial hub, as part of his market reforms to try to overcome the chronic economic crisis on the island.
As usual in Cuba, Mariel's construction contracts were awarded without public bidding. Lula's left-wing governments (2003-2010) had good relations with Havana.
Lula is one of the most well-known defendants in the enormous corruption scandal known as "Lava Jato" (Car Wash) in Brazil, which investigates a huge corruption plot around the state oil company Petrobras.
As part of these investigations, Odebrecht, the leading construction company in Latin America, admitted in December that it paid bribes for more than US $785 million in 12 countries, ten of them in the region, to obtain public works projects.
In Brazil, more than 70 executives of the company signed agreements to cooperate with the prosecutor's office to obtain benefits in their own trials.  Since last week, the denunciations are shaking practically all the Brazilian political class.