Brazil's Lula Leaves Prison after 19 Months
By Sinikka Tarvainen, dpa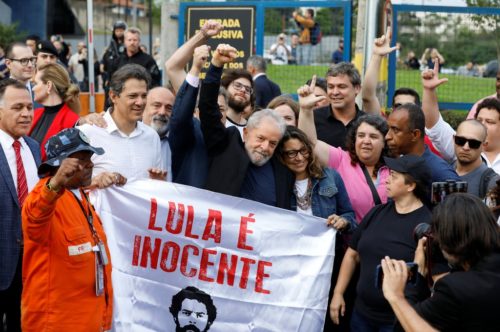 HAVANA TIMES – Brazil's former president Luiz Inacio Lula da Silva was welcomed by an ecstatic crowd of supporters on leaving prison on Friday.
Judge Danilo Pereira had ordered Lula's release after the Federal Supreme Court decided on Thursday that an individual's imprisonment based solely on a criminal conviction can take place only after all possibilities of appealing the decision have been exhausted.
Firecrackers exploded and the crowd broke into a huge cheer when Lula addressed them, saying: "I did not think I would be here today."
"I never forgot you," Lula said. "You are democracy."
He called President Jair Bolsonaro an "elitist" and accused the authorities of "criminalizing the left."
"Lula free, Lula free," the crowd chanted.
The 74-year-old was jailed in the southern city of Curitiba in April 2018 after being found guilty of corruption and money-laundering in connection with the renovation of a beachside penthouse he was planning to buy.
His initial jail sentence of 12 years was later reduced to 8 years and 10 months.
Lula's conviction and imprisonment prevented him from contesting the October 2018 presidential election and paved the way for the victory of right-winger Bolsonaro, who appointed Lula case judge Sergio Moro his justice minister.
Lula's case was linked to Brazil's so-called Car Wash scandal that implicated the state oil company Petrobras and dozens of entrepreneurs and politicians.
Lula and his supporters have accused Moro and prosecutors of backchannel coordination to jail him. Those allegations gained momentum following reports from The Intercept Brasil news website that revealed text messages between Moro and prosecutors. Moro has denied wrongdoing.
Lula was released only temporarily while appeals against his prison sentence are pending.
He was nevertheless due to appear at a trade union event already on Saturday, while his party considers what kind of political activities he could undertake.
A working-class president, Lula oversaw strong economic growth and falling inequality during his 2003-2011 rule. His social policies earned him soaring popularity ratings, even as concern grew about corruption in his government.