Censorship Lifted on Buena Fe Video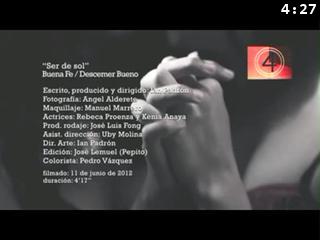 HAVANA TIMES — The video by award winning director Ian Padron of a song by the Buena Fe duo and singer/songwriter Descemer Bueno was broadcast on primetime Cuban TV on Wednesday evening after having been previously censored.
The national television audience could finally enjoy the video for the song "Ser del Sol" on the popular music program Fuera de Rosca, on the Cubavision channel.
The video by Ian Padrón (Habanastation) clearly shows a kiss on the lips between two women, and was censored for several weeks on state television.
LGBT activists on the island, as well as fans of the musicians, actively responded to the call on Facebook from Israel Rojas, a member of Buena Fe, "to saturate the Cuban Institute of Radio and Television with emails, messages and phone calls."
"We cannot succumb to indifference; we cannot remain silent when faced with the outdated thoughts that weigh down our children's future; we can't give up," said Orlando Cruzata, creator of the Lucas Awards, when announcing the premiere on the social networks.