Chavez Arrives in Cuba for Treatment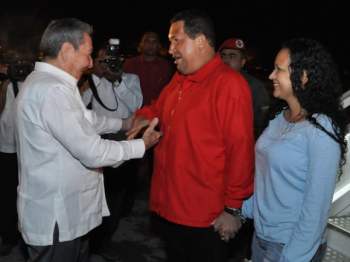 HAVANA TIMES, July 17 — Venezuelan President Hugo Chavez arrived in Cuba on Saturday night for medical treatment to fight cancer and was received by Cuban President Raul Castro at the Jose Marti International Airport.
Before leaving Caracas, Chavez delegated limited powers to his vice president Elias Jaua and finance minister Jorge Giordani but still remains authorized by the National Assembly (parliament) to act as the head of state from Havana.
Chavez underwent surgery in Cuba on June 20th for the removal of a cancerous tumor.
After the first phase of recovery and tests he returned to Venezuela on July 4.  Now he begins the second phase of his treatment.
Chavez said on Saturday that no new cancerous cells had been detected in the post-operation tests. He begins chemotherapy treatment on Sunday.
"I should say that after the extraction of the tumor and all the studies that we have been doing rigorously until today … no other malignant cell has been detected in my body," Chavez said at a rally where supporters and government ministers broke into tears, reported Reuters.
Before leaving Caracas for Havana, the charismatic leader thanked "the great majority of Venezuelans for their understanding."