Chavez Exits Cuba after 2nd Chemo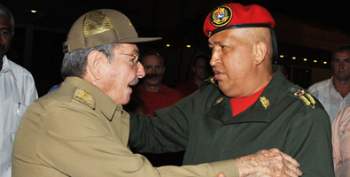 HAVANA TIMES, August 14 — Venezuelan President Hugo Chavez is back in Venezuela after completing his second session of preventive chemotherapy in Cuba.
Chavez, 57, spent Saturday celebrating Fidel Castro's 85th birthday with the Cuban statesman and then left for Caracas.
He told the press that his treatment is going well and that "God willing, everything will end well."
The Venezuelan president had a cancerous tumor removed on June 20th "in his pelvic area" and has since returned twice to Havana for tests and chemotherapy.
Cuban President Raul Castro accompanied Chavez to Havana's Jose Marti International Airport.
Venezuela is Cuba's chief economic and political ally.