China Replaces Venezuela as Cuba's Main Trade Partner
The trade of goods between Cuba and Venezuela has fallen by 70% in the past two years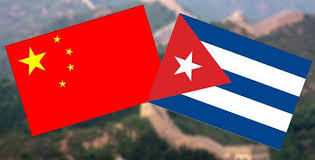 HAVANA TIMES — China replaced Venezuela as Cuba's main trading partner in 2016, with an exchange of over 2.585 billion USD, due to the South American country's deep economic crisis, which has reduced bilateral trade with the island by 70% since 2014, according to official statistics from the Cuban government, reports Efe agency.
In 2016, the commercial trade of goods between Cuba and Venezuela stood at 2.224 billion, compared to the 4.230 billion the year before – a 47% decrease – or the over 7.250 billion USD in 2014, which represents a 70% decline in the past two years.
Spain came in as Cuba's third trading partner in 2016 – the leader of the European countries – with 1.3 billion, according to figures from the National Office of Statistics' (ONEI) Annual Statistical Report, which was published this week on their website.
Since 2003, Cuba and Venezuela have signed a strategic alliance – driven by the late Fidel Castro and Hugo Chavez – whereby the Island had all of its energy needs covered with crude oil imported from Venezuela which it paid for with exporting doctors and other professionals to the South American country.
At the best times of this romance, Cuba received over 100,000 barrels of oil per day; in 2016, this figure fell to 87,000 barrels, and now, some experts are noting that these deliveries have been cut down to around 55,000 barrels per day.
Cuts last year of 40% of subsidized oil imports from the Venezuelan state-owned oil company PDVSA to the island and other financial problems, resulted in the Cuban economy having a negative growth of -0.9% in 2016, the first negative growth figures in 23 years.
The government newspaper Juventud Rebelde explains that "the fall in oil prices and cuts in oil supplies" are the main reasons for trade between Cuba and Venezuela falling, "nations that in spite of current economic problems, are interconnected by solid and mutually beneficial economic relations."
"And because of internal problems in our sister country, which is being subjected to terrorist subversion and a bloody and cruel economic war both nationally and at the hands of Imperial powers, oil imports to our country have fallen in 2016 and in 2017 so far," the newspaper points out, even though it doesn't specify by how much these imports have fallen.
During the first semester of this year, Cuba has managed to put a halt to its economic recession and has grown by 1.1%, even though it is still suffering from the fall in raw material prices like sugar and nickel, which the island exports, and a shortage of foreign investment.
The situation in Venezuela – which has led to a serious political and institutional crisis and has included over a hundred deaths since April – has resulted in China becoming "for the first time in history", Cuba's main trading partner, Juventud Rebelde emphasized.
During 2016, the Island imported goods worth about 2.328 billion USD, while it exported to China the equivalent of 257 million USD, a shortfall which can also be seen in its trade with Venezuela, where it bought goods worth for over 1.582 billion USD and it sent goods for about 642 million USD.
While needed, the trade with China is based more on credits, while with Venezuela the exchange has been highly favorable to the Cuban government.