Cienfuegos Pulls Away in Cuba Baseball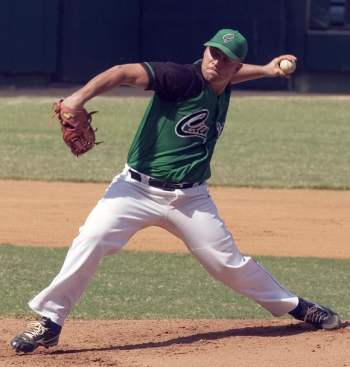 HAVANA TIMES, March 6 — Western Division leader Cienfuegos swept its three game weekend series from Eastern contender Guantanamo to pull seven games ahead of the second place La Habana with only 15 games left in the regular 90 game season.
Playing in Guantanamo, which had been on a hot streak, Cienfuegos won 5-4, 10-8 y 10-4.
The team is led by lefty Norberto Gonzalez who has a near perfect 12-1 record.
Ciego de Avila managed to win one of three vs. Pinar del Rio and now leads the Eastern Division by one game over Guantanamo and two over Granma, which swept its series over lowly Matanzas.
Four teams from each division will qualify for the first round of the playoffs.  Last year's league champs, Industriales, and perennial contender Santiago de Cuba, are both in serious danger of elimination.
Play resumes with a full schedule on Tuesday.  See Schedule
STANDINGS including games of Sunday March 6.
| Western Divsion | W | L | AVE | GB |
| --- | --- | --- | --- | --- |
| Cienfuegos | 50 | 25 | .667 | – |
| Habana | 43 | 32 | .574 | 7 |
| Pinar del Rio | 42 | 33 | .560 | 8 |
| Santi Spiritus | 41 | 34 | .547 | 9 |
| Industriales | 37 | 39 | .487 | 13.5 |
| Matanzas | 31 | 44 | .414 | 19 |
| Isla de la Juventud | 29 | 46 | .387 | 21 |
| Metropolitanos | 25 | 50 | .334 | 25 |
| Eastern Division | W | L | AVE | GB |
| Ciego de Avila | 46 | 29 | .614 | – |
| Guantanamo | 45 | 30 | .600 | 1 |
| Granma | 44 | 31 | .587 | 2 |
| Villa Clara | 41 | 35 | .540 | 5.5 |
| Las Tunas | 35 | 40 | .467 | 11 |
| Santiago de Cuba | 35 | 40 | .467 | 11 |
| Camaguey | 34 | 41 | .454 | 12 |
| Holguin | 23 | 52 | .307 | 23 |