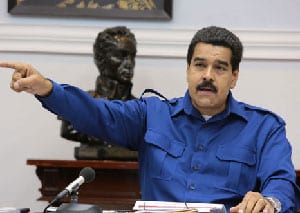 HAVANA TIMES – The Venezuelan National Telecommunications Commission (Conatel) today confirmed the enforcement of a punishment against the US television network CNN, and ordered the suspension of news channel broadcasts throughout the country, reported dpa news.
The decision was made public by Foreign Minister Delcy Rodriguez, who reported that CNN undertook a "war operation" by transmitting a report a week ago on the alleged sale of Venezuelan passports to people linked to terrorism and drug trafficking.
The sanction against the television network came after president Nicolas Maduro asked to remove to CNN from Venezuela, which he said insists on conspiring against his government.
Conatel said in a statement that it initiated an administrative sanctions procedure and the consequent precautionary measures cutting the transmission of CNN in Spanish.
"This procedure is due to the content that has been disseminated by the aforementioned international news chain in a systematic and repeated way in the development of its daily programming, which clearly and perceptibly reveals contents that are alleged to constitute direct aggression to undermine peace and the democratic stability of our Venezuelan people, since they generate a climate of intolerance, "he said.
The Commission further noted that CNN's programs "defame and distort the truth… to incite external aggression against the sovereignty of the Bolivarian Republic of Venezuela and the its institutions; which goes against the legal order that governs the nation ".
Conatel said that these facts constitute "alleged gross violations of the constitution" that guarantees free expression. In this regard, it confirmed that it ordered as a preventive measure the "suspension and immediate departure of the CNN news channel transmissions in Spanish in Venezuelan territory."
Hours earlier, the foreign minister accused CNN of making "war propaganda" against Venezuela, in rejecting its recent reporting on the alleged sale of passports to people linked to terrorism and drug trafficking.
The report mentioned Vice President Tareck El Aissami as an alleged tie in the sale of passports at the Venezuelan embassy in Iraq. El Aissami was added Monday to the US Treasury's blacklist of alleged drug traffickers, with a sanction that includes the freezing of assets.
Rodríguez said that with his work CNN began a "psychological warfare operation against our country, mounted on falsehoods."
"All they wanted to sell in that program is an absolute lie, it's pitiful. They tried to link the government of Venezuela and its high authorities with the alleged passport trafficking to benefit international terrorism."
The foreign minister referred to the program that presented as a source the former Venezuelan embassy official in Baghdad, Misael López, who was incorporated into the Venezuelan Foreign Service in May 2013 and was a counselor at the Iraqi embassy until September 2015.
Rodríguez said that Lopez was monitored and accused him of being an "agent infiltrated by the Venezuelan opposition."
Four days after the CNN report, US Senator Marco Rubio presented the case to the US Congress "basing his accusations on the content transmitted by CNN," she added.