CODEPINK Activists in Guantanamo, Cuba for Thanksgiving
HAVANA TIMES — The US peace group CODEPINK has sent a strong delegation to Guantanamo, Cuba, the eastern most Cuban province, to carry out a protest on  Thanksgiving Day demanding the Obama administration shut down the infamous US offshore prison as well as the GITMO Naval Base itself.  The following is their press release.
50 CODEPINK Activists Fasting on Thanksgiving Day in Guantanamo, Cuba in solidarity with prisoners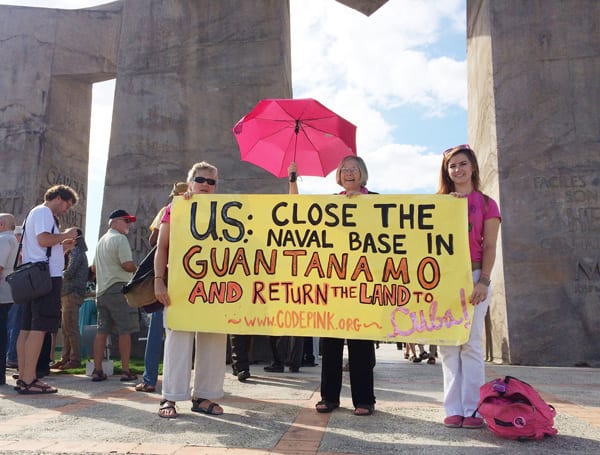 Guantanamo, Cuba — On Thanksgiving Day, November 26, 2015, 50 people from a delegation organized by the peace group CODEPINK will stage a 24-hour hunger strike in Guantanamo Bay outside of the US Naval Base. The CODEPINK group of fasters will be joining 14 activists from Witness Against Torture, an organization with a delegation also in Guantanamo. 
Activists have spent the week at the 4th International Summit for Peace and the Abolition of Foreign Military Bases in Guantanamo. Colonel Ann Wright, a CODEPINK trip leader and a key speaker at the summit, talked about the impact of military bases from Japan to South Korea to Diego Garcia. Delegates from all over the world were united by a common desire to reduce global militarism. The US delegation in particular is calling for closure of the US naval base, including the prison, the land to be returned to the Cuban people, a lifting of the economic blockade of Cuba, and an end to the travel ban.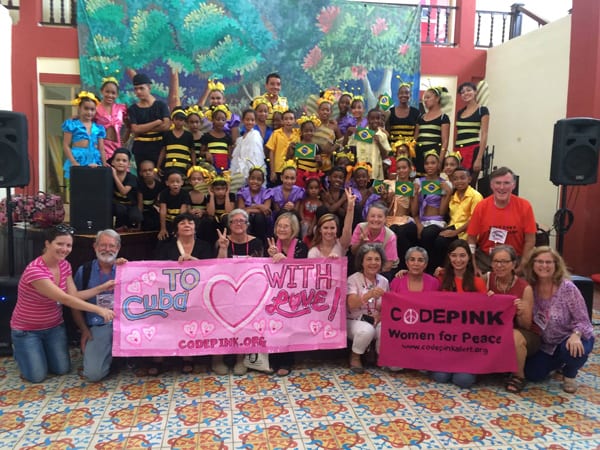 "We came all the way to Guantanamo, Cuba, to call for the closure of the American prison in which so many horrific human rights abuses have occurred," said CODEPINK organizer and trip delegate Nancy Mancias. "I will be fasting with 49 other delegates on a day that is historically known for sitting around a meal table, Thanksgiving. But this year, I am giving up that meal in solidarity with the men in the Guantanamo Bay prison who have been on a hunger strike to protest their unjust incarceration." 
"The continued presence of the US military base in Guantanamo against the Cuban people's will is unjust and has created many economic hardships for the local community," said CODEPINK National Coordinator Alli McCracken. "If President Obama is truly interested in establishing meaningful diplomatic relations with Cuba, he should issue an executive order to close the prison and return the base to the Cuban people."