Colombia's FARC Guerrillas Begin Weapons Hand Over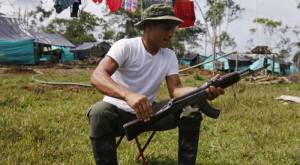 HAVANA TIMES — The FARC guerrilla soldiers began to hand over their weapons to the United Nations on Wednesday, in compliance with the peace agreement they signed with the Colombian government on November 24, 2016, reportó dpa.
The process began with the registration of around 14,000 weapons in the hands of 6934 guerrilla fighters, who have gathered together at 26 designated spots in the country.
The first weapons to be successfully handed over were the ones belonging to 322 FARC (The Revolutionary Armed Forces of Colombia) members, who form part of the Follow-up and Verification Mechanism along with the Government and the United Nations.
Sixty guerrilla fighters who will soon leave camps where they are doing "teaching for peace" work in different regions throughout the country, must also hand over their weapons.
Furthermore, the FARC must supply the United Nations with the coordinates of places where they have explosives and unstable ammunition in this first phase of disarmament, so that the UN can go ahead and destroy them.
One of FARC's negotiators, Seusis Pausivas Hernandez, better known for his nickname "Jesus Santrich", said that the process began with the filling out of some forms where they will have to register every weapon and make note of their main specifications. Every weapon will be given a number.
The United Nations will install several containers in FARC concentration points where their weapons can be deposited.
The FARC had asked for the hand over date to be changed because of delays that occurred when trying to get all of its members to come to these concentration points, but in the end, both parties decided to stick to the original plan.
The schedule stated that all FARC members should be at one of the 26 concentration points by December 31, 30 days after the peace agreement came into effect.
However, the last guerrilla fighters entered these areas on February 18th, due to delays in setting up these camps.
Even though there was a delay, both parties agreed that the disarmament date wouldn't be changed.
The agreement outlines that 90 days after the peace agreement was signed, which took place in late November, the FARC would begin to hand over 30% of their arsenal.
Another 30% would be handed over 120 days after the signing and the remaining 40%, 150 days after.
According to the schedule, 180 days after the signing (by June 1st at the latest) the United Nations will remove weapons from storehouses to begin making three monuments for peace, which will be located at their headquarters in New York, in Colombia and in Cuba, which was the venue for negotiations for four years.