Colombia's Largely Peaceful Protests with Some Violence in Bogota
By Sinikka Tarvainen, dpa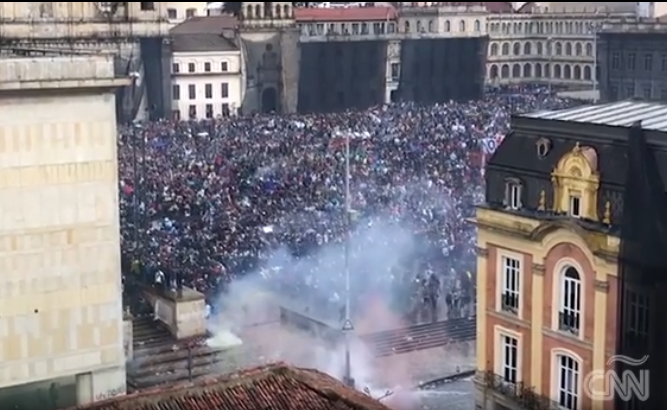 HAVANA TIMES – Massive protests took place in Colombia on Thursday as people across the country took part in mostly peaceful rallies against liberal economic policies and armed conflict.
President Ivan Duque's conservative government had ramped up security measures ahead of the marches, in the fear that Colombia could join the violent protest wave sweeping other Latin American countries.
In Bogota, thousands of protesters streamed into the central Bolivar Square, carrying placards reading slogans such as: "The people are greater than their leaders" and singing the national anthem.
The rally later turned violent when a small group of masked people threw eggs at police, who responded by firing tear gas, local media reported. Protesters smashed windows of the city hall, stoned Congress and tried to enter the Palace of Justice.
Demonstrators clashed with police, attacked shops and bus stations and burned garbage containers in the metropolitan area.
Twenty-eight police officers were injured in clashes around the country, including 23 in Cali, police chief Oscar Atehortua said. The mayor of Cali imposed an overnight curfew in the city.
Atehortua put the number of demonstrators nationwide at more than 200,000.
Overall, the protests were deemed relatively peaceful in comparison with Bolivia, Chile and Ecuador, where dozens of people were killed during demonstrations in recent weeks.
Duque had earlier expressed concern over a possible contagion effect from those protests, saying the government was taking into account "the precedents that … have occurred in other places in Latin America."
After Thursday's demonstrations, the president attributed the violence to "vandals who do not represent those who marched" and said dozens of "criminals" had been arrested.
"We are a government that listens," he said in a televised address, pledging to "accelerate the social agenda and the fight against corruption."
The marches and a general strike had been called by trade unions and groups representing students, farmers, women, indigenous people and people of African descent.
The government imposed heavy security measures, including the closure of Colombia's borders and granting permission to regional and local authorities to declare curfews. Large numbers of soldiers were deployed in Bogota.
The demonstrations opposed alleged government plans to raise the pension age and to lower young people's minimum wage, though Duque has denied having such intentions.
Protesters were also demanding more funding for education, the full implementation of the 2016 peace deal with the guerrilla group FARC and stronger action to protect its former fighters as well as local community leaders, hundreds of whom have been killed by armed groups in recent years.
"The government has turned its back on the peace process," musician Miguel Guerra, 31, told dpa before joining the protests in Bogota. "I also don't agree with the economic system, with only the big companies getting support from the government."
"This country is breaking into pieces," said Clara Ines Guerrero, 68, who was also about to join.
The historian saw the demonstrations in Colombia as being related to those in other Latin American countries in that "the neoliberal system is beginning to show cracks."
Duque's critics say his apparent reluctance to implement key aspects of the 2016 peace deal, such as reintegrating former FARC fighters into society and developing rural areas, has led to some of the ex-rebels taking up arms again.
Dissidents of the group had already been active in the countryside, where they vie for influence with the other rebel organization National Liberation Army (ELN) as well as paramilitary and criminal groups.
Opinion polls show that Duque's approval ratings have plunged to less than 30 per cent since he took office in August 2018.