Colombia's Supreme Court orders House Arrest for ex-president Uribe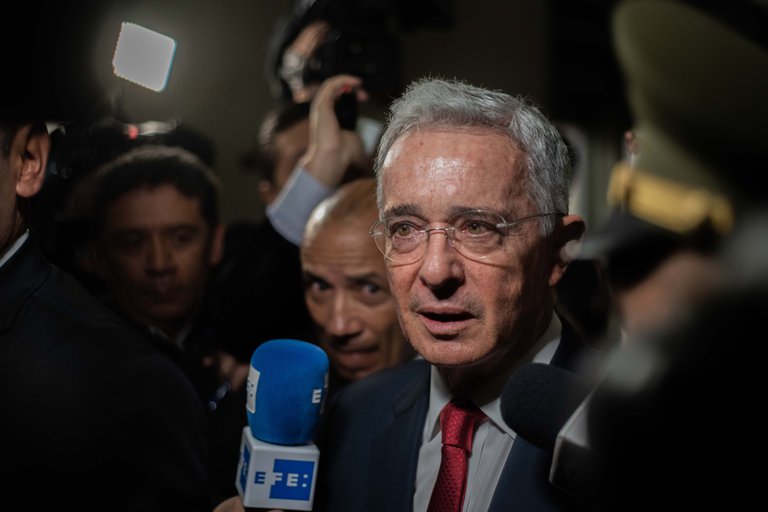 HAVANA TIMES –
Colombia's Supreme Court has ordered the arrest – reportedly house arrest – of former president Alvaro Uribe, one of the country's most influential politicians, in a landmark investigation that has divided the nation.
"Being deprived of my freedom causes me deep sadness for the sake of my wife, my family and Colombians who still believe I have done something good for the fatherland," the 68-year-old wrote on Twitter on Tuesday.
The court has been investigating whether Uribe, currently a senator, bribed and pressured witnesses to silence allegations that he and his family had links to paramilitary groups that spread terror and played a prominent role in the country's 52-year armed conflict.
The conflict ended when Uribe's successor, Juan Manuel Santos, signed a peace deal with the guerrilla group FARC in 2016.
The case resulted from testimony by former paramilitary members who were interviewed by Congressman Ivan Cepeda in prison and who accused Uribe of helping to establish a paramilitary group in the mid-1990s.
Uribe sued Cepeda because of the allegations, but the case turned against him when the Supreme Court decided to investigate him instead. He is suspected of bribing or pressuring ex-paramilitary members to make it look like Cepeda had deliberately tried to tarnish his reputation.
The Supreme Court judges were meeting on Tuesday while another judge was due to decide whether to jail Uribe's former lawyer, Diego Cadena, and his associate, Juan Jose Salazar. They are suspected of paying bribes to two paramilitary members to persuade them to testify in Uribe's favour.
The ex-president denies having been aware of the alleged bribes.
A controversial president, Uribe oversaw a military offensive that weakened FARC, but during which soldiers killed thousands of civilians whom they presented as guerrillas to obtain bonuses.
President Ivan Duque, who is regarded as Uribe's protege, said on Monday he firmly believed in his mentor's innocence, while their conservative Democratic Centre party criticized an eventual "decision against the honour of Alvaro Uribe."
The Supreme Court and other high courts subsequently issued a statement stressing the importance of their independence.
Armed conflict in Colombia has left more than 260,000 people dead since 1958, according to the governmental National Centre for Historical Memory. More than 7 million people have been displaced.
FARC is now a political party, but FARC dissidents and the guerrilla group National Liberation Army (ELN) are still fighting against the government.