Concern over the Prolonged Jailing of Artist "El Sexto"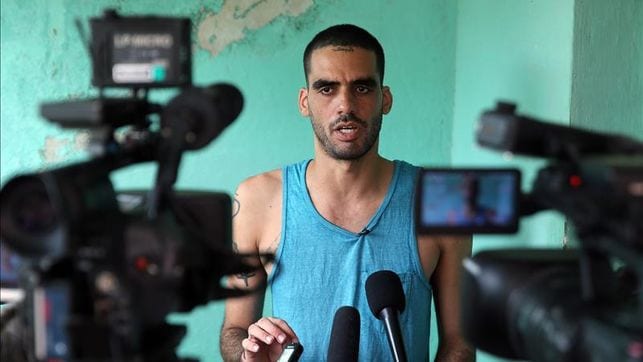 HAVANA TIMES – The Special Rapporteur for Freedom of Expression of the Inter-American Commission on Human Rights (IACHR) expressed today its concern over the arrest of the artist Danilo Maldonado, "El Sexto" for almost a month in Cuba, for making a graffiti after the death of former president Fidel Castro, dpa reported.
Cuban police arrested the artist at his home in Havana on Nov. 26 on charges of "damage to state property." "El Sexto" made graffiti on an outside wall of the Habana Libre hotel and on the facade of two other state buildings, where he wrote "Se fue," (He's gone) in reference to Fidel Castro.
The artist is still detained and is currently in the maximum security prison "Combinado del Este" in Havana, despite the fact that "the offense that he is accused of would be punished with a fine, and not with deprivation of liberty," said the Rapporteur through a statement.
The Office of the Special Rapporteur denounced "the selective and deliberate persecution that exists in Cuba against journalists, activists, artists, human rights defenders and opponents of the government for their expressions and positions critical of the country's politics and institutions."
In the case of "El Sixto", the Office of the Special Rapporteur is concerned about the imposition of a custodial measure based on graffiti, which "is nothing other than expressing its opinion on an event of evident public relevance as it was the death and funeral of the former Cuban leader who remained in power for nearly 50 years."
"This is a critical position that is part of the freedom of thought and that people have the right to express in accordance with the right to freedom of opinion guaranteed in Article IV of the American Declaration on the Rights and Duties of Man," The Rapporteur's office said in a statement.
In this case, damages to property that could have been caused are, according to the IACHR, "of a minor entity and may eventually be repaired by other means less harmful to the right to freedom of expression."
The Office of the Special Rapporteur recalled that "the capture, imprisonment and criminal prosecution of a person for the mere fact of having expressed opinions that bother the authorities is expressly prohibited by inter-American standards of freedom of expression."
This is not the first time Maldonado has been arrested. In December 2014, the artist was arrested for contempt for having spray painted the names of "Fidel" and "Raul" on the backs of two pigs, alluding to George Orwell's "Animal Farm".
Finally, in October 2015, Maldonado was released after ten months in prison and "without a trial or formal charges ever being brought against him," said the Rapporteur.