Cristina Fernandez Visits the Castros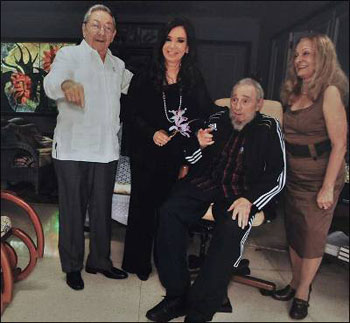 HAVANA TIMES — Argentine President Cristina Fernandez ended a private visit to Cuba on Saturday to show her support for her Venezuelan counterpart Hugo Chavez, who is recovering from cancer surgery in his "pelvic region".
Fernandez did not tell reporters whether she was actually able to see Chavez in his hospital but did have an "intimate" lunch with Fidel and Raul Castro at the former president's residence in the capital.
The Argentine leader also met briefly with Venezuelan VP, and acting president, Nicolás Maduro, before leaving to continue on her international tour that includes the United Arab Emirates, Indonesia and Vietnam.
"I came with the intention to show support and respect for a great friend of Argentina, Hugo Chavez," said Fernandez, reported DPA news.
Chavez, 58, is recovering from his operation of December 11.  According to the Venezuelan government he remains in a "stable" condition. He has not been seen or heard from in just over a month.
Peruvian president Ollanta Humala was also in Havana during Friday and Saturday to show his support for Chavez and to meet with top Cuban officials with whom he signed to two new cooperation agreements.