'Cry of Despair', Nationwide Protests in Colombia
By Sinikka Tarvainen (dpa)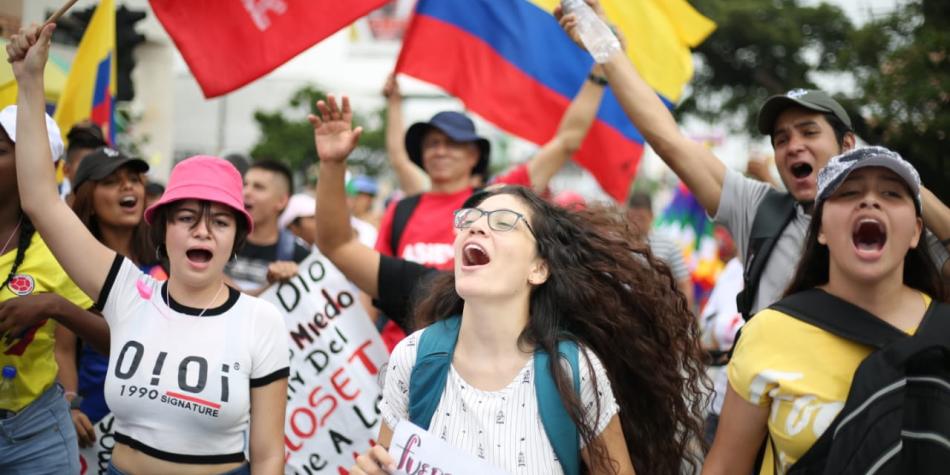 HAVANA TIMES – Demonstrators took to the streets of Colombia on Wednesday in the second phase of nationwide protests that were piling pressure on President Ivan Duque's conservative government.
Marches or road blocks were reported in cities including Bogota, Cali, Medellin, Barranquilla, Monteria and Santa Marta.
They were the second nationwide protests called by the National Strike Committee, which includes trade unions and civil society organizations, in the space of one week.
About 250,000 people had marched on Thursday against economic reforms, a funding shortage for education, corruption and the killings of hundreds of community leaders by armed groups.
Protesters are now also demanding the dismantling of the riot police Esmad, which fatally wounded a young demonstrator in Bogota.
Smaller protests have been held since Thursday. Demonstrations have sometimes turned violent, escalating into clashes, looting and destruction of buses and bus stations. At least four people have been killed and more than 400 injured.
Violence erupted again on the eve of Wednesday's marches, with masked protesters clashing with security forces in Bogota and in the south-western city of Neiva, where a police officer was reported to have been seriously injured.
"I totally disagree with the policies of this government," said journalist Yolanda Guerrero, 67, who spoke to dpa before attending a march in Bogota.
She mentioned "neoliberal" economic policies, which she said favoured the rich, and the government's apparent reluctance to fully implement the 2016 peace deal with the former guerrilla movement FARC, some of whose members have taken up arms again.
"We claim our dignity, we are tired of being played around with," Guerrero said, calling the rallies "a cry of despair."
"The government has responded to the protests with repression and militarization," said movie director David Munoz, who attended last week's demonstrations and was planning to participate again on Wednesday.
"The government has created an atmosphere of fear which is typical of a dictatorship," he told dpa, adding that only wealthy people could access quality health care and education in Colombia.
Duque on Wednesday promised to accelerate his "national dialogue"
with political and economic players and social sectors. He said mayors would contribute ideas on the fight against corruption, improvement of education and youth employment.
The president had on Tuesday failed to make progress in talks with the National Strike Committee, which is demanding exclusive negotiations with the government instead of joining the "national dialogue."
Duque has announced changes to an upcoming tax reform, including value added tax relief for low earners and reduced health insurance payments for retired people on small pensions.
But the National Strike Committee wants the government to scrap the entire reform and has also presented a string of other demands, including the cancellation of labour and pension reforms it says the government is planning.
The demonstrators also accuse Duque of not implementing key aspects of the peace deal that ended a 52-year conflict with FARC, such as the reintegration of former fighters into society and the development of rural areas to dissuade their residents from joining armed groups.
Congress was due to meet the National Strike Committee on Wednesday.
Large-scale protests were rare in Colombia until peace was achieved with FARC, because potential demonstrators feared that conservative governments could brand them as leftist guerrilla supporters, Guerrero said.
Colombians have meanwhile taken lessons from recent demonstrations in Chile and Argentina, adopting their "cacerolazos" or pot-banging protests which had not existed in Colombia, Munoz said.