Cuba: 4.9 Quake Felt in Havana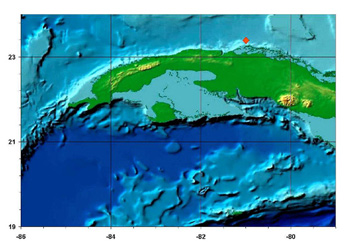 HAVANA TIMES — The Cuban media reports that a 4.9 earthquake off the north central coast of the island was felt as far away as the capital.  No injuries or damage has thus far been reported, notes Cubadebate.cu.
The quake was felt as far away as Key West, Florida and was initially reported there as being a 5.1 tremor.
The tremor occurred at 3:57 p.m. local time on Thursday with the center located 73.7 kilometers (46 miles) northeast of Varadero. The quake took place at a depth of 20 kilometers (12 miles).
The earthquake took place in a zone that normally has little seismic activity, noted Grisel Morjón of the National Center for Seismological Research based in Santiago de Cuba.
On December 21st a 4.3 Richter scale quake was registered 20.7 kilometers southeast of Pilon, Granma in southeastern Cuba at a depth of 10 kilometers (6.25 miles).
The eastern region of the island is accustomed to reporting the majority of the 20-50 medium or moderate intensity tremors felt in Cuba each year, noted Cubadebate.