Cuba Awaits a Weaker Hurricane Paula
By Circles Robinson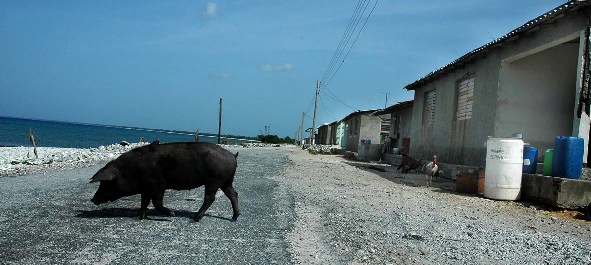 HAVANA TIMES, Oct. 13 — Hurricane Paula has slowed and lost some of its intensity as it zeros in on Cuba's far western province of Pinar del Rio, notes the Cuban Meteorological Institute (INSMET) in its 6:00 p.m. EST advisory.
Moving at only 7 kph (4.5 mph) Paula is now a Category 1 hurricane with 140 kph (85 mph) maximum sustained winds.  It was located by the Cuban forecasters at 65 kilometers (40 miles) west-southwest of Cape San Antonio, Pinar del Rio.
A hurricane warning is in effect for far western Cuba and a tropical storm warning for Havana province.  Paula is projected to ride Cuba's northern coastline past Havana into the central provinces, gradually losing strength.
INSMET reports that locally intense rains will fall and tropical storm force winds blow especially in the center of Pinar del Rio on Wednesday night.  Sea swells will also increase on the north coast of Pinar.  Coastal flooding is also a possibility on the south coast of Pinar del Rio during the night.
See the INSMET and National Hurricane Center projections for the course of Hurricane Paula.