Cuba Baseball Hopes Narrow at 2/3 Mark
By Circles Robinson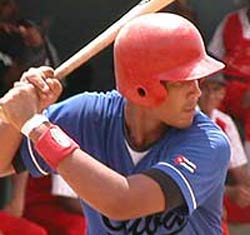 HAVANA TIMES, Jan. 20 — Cuban baseball has once again been in the world news this last week with the signing of lefthander Aroldis Chapman to a US $30 million 6-year contract with the Cincinnati Reds of MLB.   Back home on the island the current 90-game season reached the two/thirds mark on Tuesday with Sancti Spiritus (Western Division) and Guantanamo (Eastern) continuing to lead the pack by comfortable leads.
In the West, Sancti Spiritus (38-21) are a full six games up on Pinar del Rio (33-28).  The top two are followed by three teams vying for two playoff positions: La Habana (30-30), the defending league champs, 8.5 back, and a much improved Cienfuegos and Industriales  (both 30-31) at 9.0 out.  Matanzas (24-37) and Isla de la Juventud (20-40) are considered out of the race.
In the Eastern half of the country, Guantanamo, the Cuban province that has a portion of its territory occupied by a US Naval Base and prison camp, is having its best year in recent memory.  With a 42-18 record the team is 4.5 games ahead of perennial contender Villa Clara (37-22), last year's league runner-ups.  Santiago de Cuba (35-23, 6 games out) and a surprisingly strong outsider Las Tunas (35-24, 6.5 back) could face a late challenge from last season's top regular season team Ciego de Avila, now 32-28, 10 games out.  Holguin (29-31), Granma (26-34) and Camaguey (24-35) are unlikely to contend for a playoff spot.
Henry Urrutia Leads Batters
Las Tunas outfielder Henry Urrutia, 22, appears headed in his cousin Osmani's footsteps, and leads all batters with a whopping .406 average.  Osmani was a six-time league batting champion.  He retired at the beginning of the current 2009-2010 season.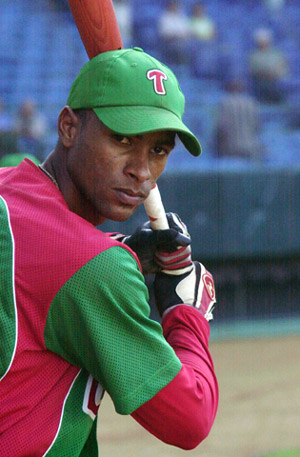 Trailing Urrutia in the batting race is slugger Alexei Bell of Santiago de Cuba (.391), Danel Castro (Las Tunas, at .381), Kenen Bailly of Guantanamo (.380) and Andy Zamora of Villa Clara (.377).
Yulieski Gourriel leads the league in homers with 23 and RBIs with 68.  He's also batting a health .351 average for Sancti Spiritus.  Infielder Jose Dariel Abreu is having a big year (20 homers and 61 RBIs) to put his team Cienfuegos in the race for a playoff spot.  Last year's homer champ, Alfredo Despaigne has 19 homers for Granma.
Among the pitchers, Ciego de Avila ace, Maikel Folch (9-3), has lost three of his last four decisions and fell to seventh with 2.38 earned runs per each nine innings.  The league leader is now Santiago de Cuba's Osmel Cintra (6-2 and 2.04 ERA).  Close behind is Angel Peña of Sancti Spiritus (6-2, 2.06), followed by Yulieski Gonzalez of La Habana (6-6, 2.18); teammate Jonder Martinez (5-3, 2.21), and Onelkis Garcia of Guantanamo (4-3, 2.35).
To keep up on all the action and statistics of Cuban baseball click here.