Cuba Baseball Playoff Schedule Set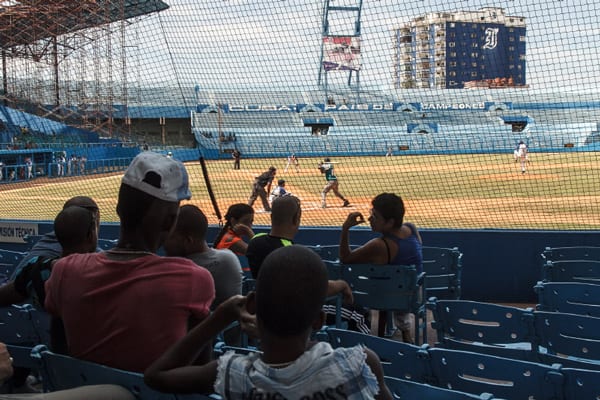 HAVANA TIMES — While busy preparing for the big exhibition game between the Cuban national team and the Tampa Bay Rays, the Cuban Baseball Federation also announced the schedule for the semifinal round of playoffs for the 2015-2016 local season.
The on-again-off-again season was halted four times to allow for the national team to train for international events.
League leader Matanzas hosts Pinar del Rio, the 4th place finisher, in games 1 and 2. The best-of-seven series moves to Pinar del Rio for games 3, 4, and 5 (if necessary). Games 6 and 7 (if necessary) will return to Matanzas.
In the other semifinal playoff, defending league champion Ciego de Avila (2nd place) hosts Havana's Industriales (3rd place) for games 1 and 2. The series then moves to the capital for games 3, 4 and 5 (if necessary). Games 6 and 7 would be played in Ciego de Avila.
Here is the full schedule for the two best-of-seven series:
| | | | | |
| --- | --- | --- | --- | --- |
| Game | Visitor | Home Club | Date | |
| #001    | Pinar del Río | Matanzas | 26 Mar, 2016 | |
| #002 | Industriales | Ciego de Ávila | 27 Mar, 2016 | |
| #003 | Pinar del Río | Matanzas | 27 Mar, 2016 | |
| #004 | Industriales | Ciego de Ávila | 28 Mar, 2016 | |
| #005 | Matanzas | Pinar del Río | 29 Mar, 2016 | |
| #006 | Matanzas | Pinar del Río | 30 Mar, 2016 | |
| #007 | Ciego de Ávila | Industriales | 30 Mar, 2016 | |
| #008 | Matanzas | Pinar del Río | 31 Mar, 2016 | |
| #009 | Ciego de Ávila | Industriales | 31 Mar, 2016 | |
| #010 | Ciego de Ávila | Industriales | 01 Abr, 2016 | |
| #011 | Pinar del Río | Matanzas | 02 Abr, 2016 | |
| #012 | Industriales | Ciego de Ávila | 03 Abr, 2016 | |
| #013 | Pinar del Río | Matanzas | 03 Abr, 2016 | |
| #014 | Industriales | Ciego de Ávila | 04 Abr, 2016 | |