Cuba Blanks P.R. Faces USA on Monday
By Circles Robinson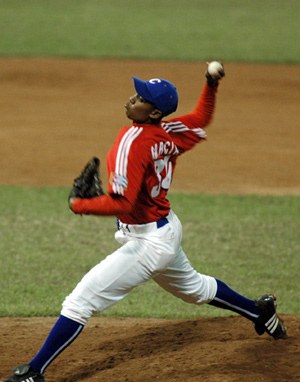 HAVANA TIMES, Oct. 11 — Cuba (5-1) shut out Puerto Rico 4-0 on Sunday and plays its arch rival, USA (6-0), on Monday in the quarterfinals of the World Cup/Panamerican Games qualifying tournament being held in Puerto Rico.
Freddy Asiel Alvarez pitched 6.2 scoreless innings against the Puerto Ricans allowing 7 hits and three walks while striking out four.  Reliever Yadier Pedroso was near perfect allowing one walk, no hits and striking out five in the final 2.1 innings.
The long ball provided two of Cuba's runs.  Solo homers came from first baseman Jose Abreu and outfielder Alfredo Despaigne, who has three in the tournament.  Despaigne also batted in another run with a double in the first inning.
Puerto Rican starter Efrain Nieves, who defeated Cuba in the last World Cup, was knocked out this time after four innings having allowed three runs on six hits and two walks.
Tonight's US-Cuba game is scheduled for 7:30 p.m. EST.  Cuba's managuer Eduardo Martin announced that righthander Vladimir Garcia would start the game.
Both teams have already qualified for both international events (World Cup and Pan American Games) and could also face each other again in the finals on Wednesday.