Cuba Continues Losing Ways in Baseball
With a 5 to 1 loss in second game of an exhibition series with a US university team, playing in North Carolina

By Eric Reynoso  (Café Fuerte)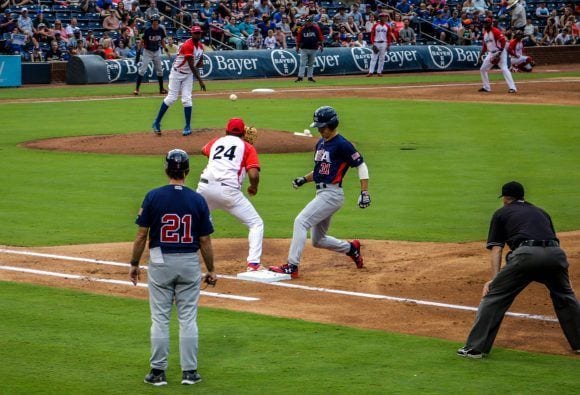 HAVANA TIMES – The Cuban squad managed by Roger Machado suffered its second defeat in the friendly series with a university team of the United States. Including the team's play in the Can-Am league in Canada, the islanders now have 18 losses in 23 games.
Monday's game in Durham, North Carolina, finished with a 5×1 score, with characteristics very similar to the first game of the series when they fell 5-4.
Again the Cuban bats went out. This time the production was only five hits, with a the only run obtained at the end of the encounter on a single by Raul Gonzalez, who arrived at third on an error by the centerfielder and scored with a roller by Yordanis Samón to short. Gonzalez is the only player who is batting for the Cubans in the first two games vs. the US team. He homered in the opening game on Sunday and on Monday had three of his teams five hits.
That was all the offense of Cuba, which played this time as the home club.
Quick Lead

The US team took a quick lead from the first inning against Cuban starter Vladimir Banos.
Steele Walker belted a two-run homer after Travis Swaggerty doubled. In the following inning  they added three more, sending Baths to the showers.
In came Camagüey hurler Jose Ramon Rodriguez, who threw a superb relief of five innings and a third, but the die was already cast.
Solid pitching

US pitching continued its dominance over the Cubans in recent encounters. Left-hander Steven Gingery allowed only three hits in five innings and relievers pitched the remaining four innings with only two hits while striking out seven.
On Tuesday, Roger Machado announced Santiago de Cuba lefty Ulfrido Garcia as his opening pitcher.
Hopefully the Cubans can get out of the bad stretch, which is not only this team but Cuban baseball in its entirety. But the picture looks very ugly, also thinking about the future.